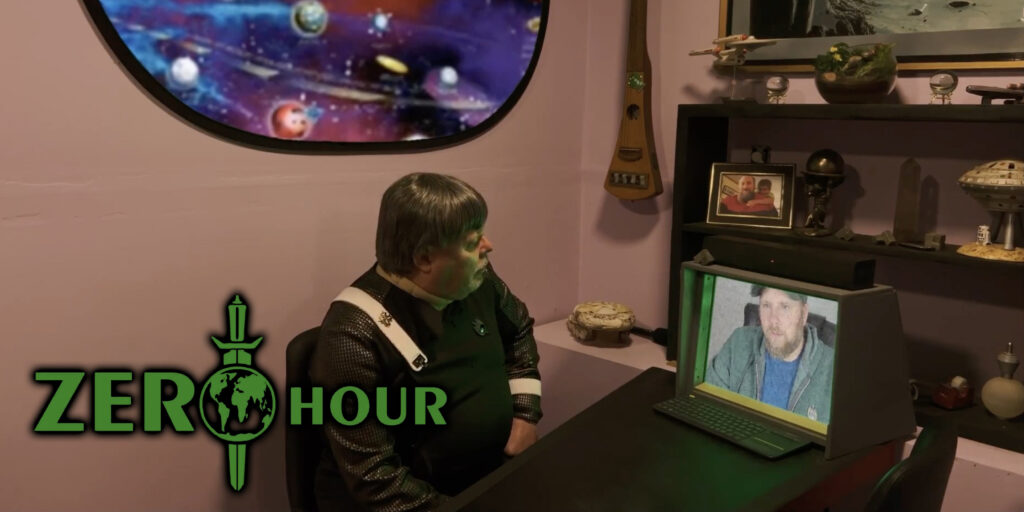 Next week, the eagerly-awaited CRISIS ON INFINITE EXCALIBURS, the latest fan film from THE AVALON UNIVERSE, will finally make its debut. And having seen an early cut, let me assure you that it will be a game-changer of a release, sure to be talked about excitedly by a LOT of fans for a very long time.
Avalon showrunner JOSHUA IRWIN and his team have poured a massive amount of time, effort, financial resources, and emotional commitment into getting this production perfect. And leading into its December premiere, Josh wanted to release a short promo "ad" on YouTube to tease the new film. But not just any ad, Josh had a clever idea.
As some folks know—and most others can very likely guess—Avalon's new fan film features a crossover of many different universes (one might say an infinite number!). And yes, one of those is the Star Trek "Mirror" Universe. VANCE MAJOR, who plays the character of Erick Minard across many fan films and series—including CONSTAR, VALIANT, DREADNOUGHT DOMINION, PROJECT GEMINI: CROSSROADS, ANTYLLUS, NATURE'S HUNGER, RAINCROSS, EAGLE, TASK FORCE 78, and of course, Avalon Universe, where that Minard is the chief engineer of the U.S.S. Excalibur.
But Minard also exists in the Mirror Universe as a villainous sociopath known as The Phantom, a character who will be appearing in the upcoming Crisis on Infinite Excaliburs. So Josh thought it might be cool to see The Phantom recording an ominous-sounding log entry for about a minute, hinting at some nefarious plan and ending with "A crisis is coming…" Josh tossed the log entry promo idea over to Vance, offering him complete creative control over whatever he would send back.
Now, technically, Vance officially "retired" from fan filmmaking last year, and this time he actually meant it. Well, mostly. He retired to spend more time with his son Royce, but now Royce wants to make fan films. So Vance is quietly working on CONSTAR: THE MOTION PICTURE, with Royce being the filmmaker in charge. But that's more of a project done for sheer fun and father/son bonding time.
However, Vance is also available for friends in the fan film community who'd like his help either in front of or behind the camera. In fact, that's how the "retired" Vance Major wound up appearing as various Minards in Crisis. So Vance was game to do the promo, as well.
But then, like Josh, Vance had a clever idea…
Continue reading

""ZERO HOUR" was supposed to be a one-minute PROMO, but it turned into a full seven-minute FAN FILM!"