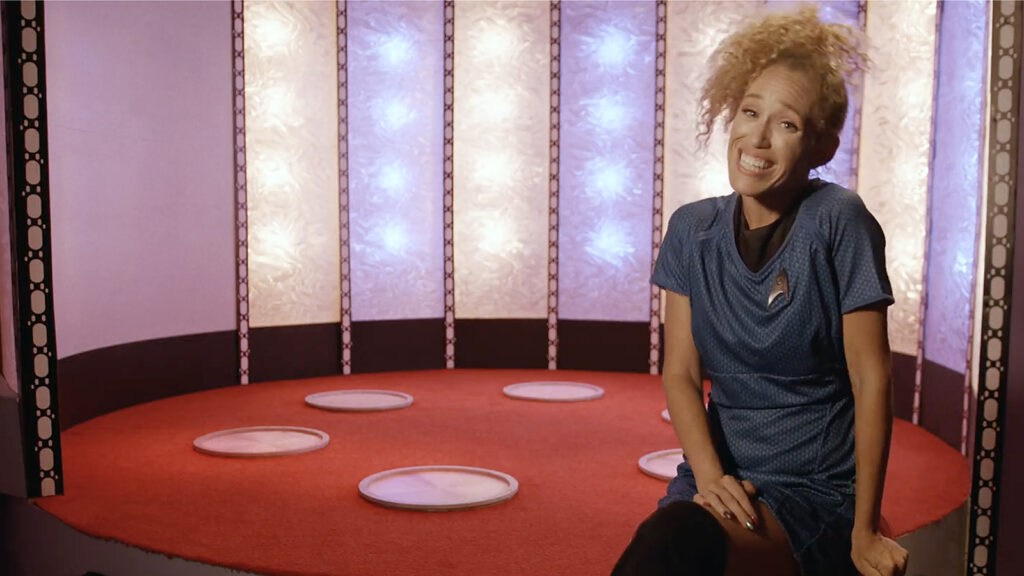 Finally! I get a chance to interview PIXI NEREID and share it with all of you…and it's a really FANtastic interview.
Last week, I was supposed to interview Pixi along with AVALON UNIVERSE showrunner JOSHUA IRWIN and angel-supporter RAY MYERS, who donated $3,000 to their current GoFundMe campaign as a match for $3,000 in fan donations that came in last week. The Zoom call interview was supposed to accompany the released of Pixi's new Avalon Universe music video STAR TREK IS REAL (edited by Josh), which debuted last Friday. You can watch it below…
Catchy, ain't it? Yeah, you're gonna be hearing that song in your head for hours!
Pixi (whose real name is Ilia McNeil—"Pixi Nereid" is her stage name when she's appearing at children's birthday parties as a mermaid…and yes, that's a thing) is a very busy woman, teaching high school, working on a Masters degree, teaching improv classes, and of course, the mermaid gig…all while starring in the next major Avalon fan film release AGENT OF NEW WORLDS (coming out October 31) and serving as producer on the fan series.
Unfortunately, Pixi's schedule unexpectedly exploded just before our Zoom call was supposed to start, and she felt so sorry that she had to bail at the last second. However, Josh was able to get Avalon actor TYLER DUNIVAN to fill in for Pixi, and we still managed to have a great interview discussion with the three of them (Josh, Ray, and Tyler). You can watch it here, if you'd like.
Speaking of Tyler, Josh released this fun "Shatneresque" interpretation of Star Trek Is Real sung by lounge lizard Tyler and his vape pen (hey, at least it wasn't an actual cigarette like Shatner smoked on Rocket Man). Have a look…
But I was still determined to interview Pixi…mainly because she is just so darn awesome! I know this because I've gotten to be friendly with her since she "drafted" me onto Team Avalon to help guide their crowd-funding efforts. It's tough to say no to Pixi—even if you're NOT looking at that irresistible smile! Anyway, I kept hounding Pixi for that interview, and I finally got it on Saturday afternoon.
It's hard to say why, but sometimes an interview just fires on all cylinders. This is not to disparage the interviews I've done with other fan filmmakers, but when you watch the recorded Zoom call below, you'll see what I mean. Pixi herself is fascinating to learn about, full of surprises that I never even imagined! We learn about her theater, acting, and dance background, musical albums she's released, and her oh-so-positive way to deal with her critics (not that there are many!).
Pixi also managed to draw out of me an unexpected 15-minute detour into my own background experiences with film production—which include some photos of when I stuck onto the sets of Star Trek: Voyager in 1996! Pixi and I just have a wonderful back-and-fourth, and I think you'll find her enthusiasm to to be absolutely infectious…
And remember that you can still donate to their campaign here: