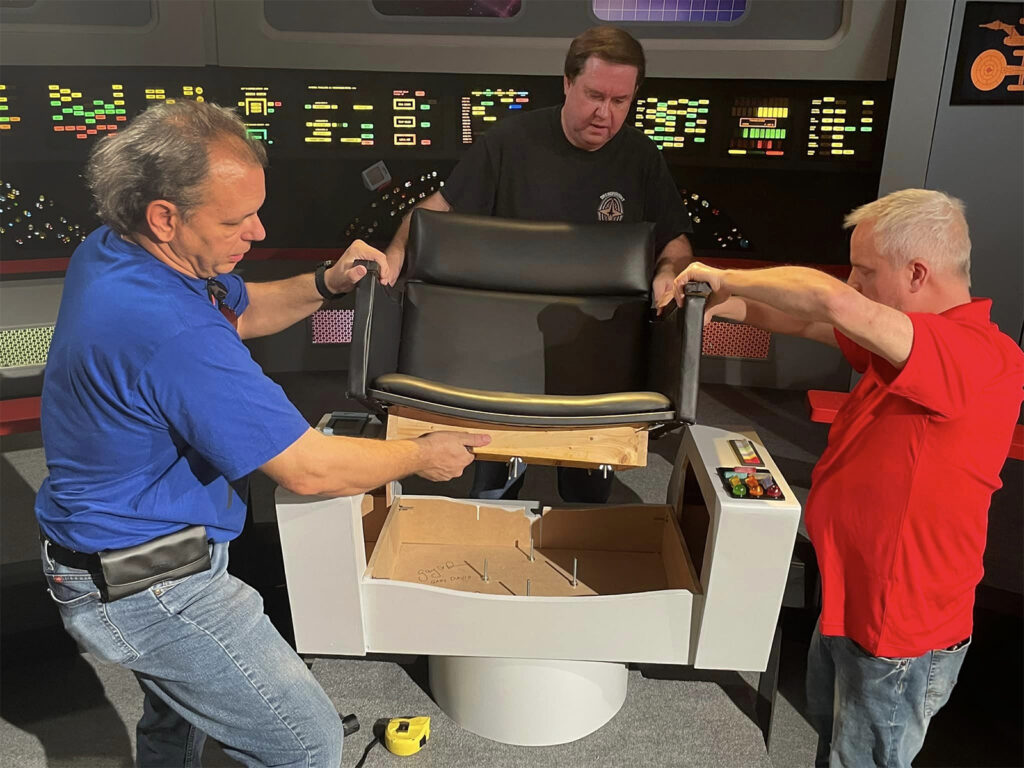 It takes a special kinda crazy to be a part of Star Trek (or any) fan films. But when I heard that GARY DAVIS, showrunner of the long-running fan series DREADNOUGHT DOMINION, and his wife Tracey had driven 12 HOURS from central Ohio to the southeast corner of Georgia, installed a chair, and then drove 12 hours back home, well, I just had to find out more!
Now, just to be clear, the chair was the iconic CAPTAIN'S CHAIR, the center of command on the bridge set recreation at NEUTRAL ZONE STUDIOS in Kingsland, GA, which is used for multiple TOS-era fan films and series…including Gary's. So he's sat in that chair a lot and would know as well as anyone that it needed replacing. (He also built the chair that was being replaced!)
But let's also make clear that Gary and Tracey drove down there, staying overnight in a hotel along the way, installed the chair, and then turned around and went back home, staying overnight in another hotel. They didn't film anything at the studio or hang out any longer than to have a quick chat with people there. According to Gary, he simply did a short walk around the studio looking for things to use in their next Dominion shoot on November 4-6 and then they headed out.
And yes, my friends, you read that right: Gary will be heading BACK to Neutral Zone Studios in two weeks! So he and Tracey made this 1,600-mile round-trip drive just to deliver and install a chair that they could have delivered and installed 14 days later! Huh????
I can't take it. Gary, get your butt over here now! We need to have a little chat…
Continue reading

"GARY DAVIS drives 12 hours EACH WAY to deliver a new CAPTAIN'S CHAIR to NEUTRAL ZONE STUDIOS! (interview)"