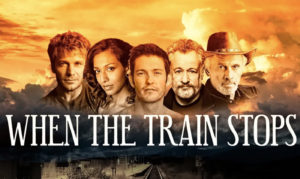 When STAR TREK CONTINUES completed its 11-episode run of superb Trek fan films, fans of the series wondered, "What's next?"  It seemed a shame that such a talented group of actors, writers, directors, and production crew would simply go their separate ways.  Alas, that is all too often the case in show business.  But not this time…at least, not for everyone.
Although many members of the STC team did, in fact, move on to other endeavors, a small number reunited for a special independent short film project titled WHEN THE TRAIN STOPS.  The cast included STC alumni VIC MIGNOGNA (Captain Kirk) along with veteran Trek actors JOHN "Q" DeLANCIE, REKHA SHARMA (from Star Trek: Discovery and the new Battlestar Galactica), and MICHAEL FOREST (who played Apollo both in the original series episode "Who Mourns for Adonais?" and also in the first full-length STC episode "Pilgrim of Eternity").  STC cast member (and writer) KIPLEIGH BROWN was initially slated to appear in Train… but had to pull out at the last moment due to a family emergency.  She was replaced by Rekha Sharma.
Also boarding the Train… cast were STC alumna ÉMIE MORISETTE, who appeared in the final two-part episode of STC, along with voice-over actor DARREN JACOBS, whose vocals were part of Guardians of the Galaxy 2, Dunkirk, and Papillon.  Directing Train… was STC director/writer/producer extraordinaire JAMES KERWIN, and STC's make-up supervisor and producer, LISA HANSELL, served as producer for Train…
An Indiegogo last November reached its $43,000 goal with just eight hours to spare, allowing the campaign to extend indefinitely as "In Demand" status.  Since then, their donation total has grown to more than $51,000…allowing them to not only film all the scenes but also to wrap up post production and release a completed film, which happened in mid-September in a special early release perk for certain donors.  The rest of the donors (like me) got to view it as a private download early this past week.  And let me tell you, it was EXCELLENT!  The 20-minute film was expertly crafted with an engaging story that provides a wonderful Twilight Zone twist at the end.  It's definitely worthy of viewing.
So when can YOU see it?
Continue reading "Life after STAR TREK CONTINUES – cast members REUNITE for WHEN THE TRAIN STOPS!"