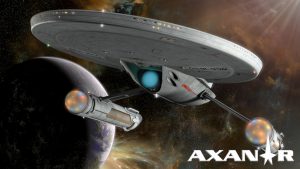 Yep, we can now safely assume that the two sides in the AXANAR copyright infringement lawsuit have NOT reached a settlement yet.
It came quite literally down to the wire!  I checked with the court at 11:30 pm Pacific Time and neither side had filed any motion yet.  I was wondering if they'd somehow managed to settle the case after all.  But when I returned shortly after midnight, I found multiple filings from both the plaintiffs and the defense.
There's a LOT to read through and analyze, but for right now, I just want to get the two main filings up for you all to look through.  Please note, before anyone starts doing victory laps or predicting this or that outcome, remember that each side gets to respond to the opposition's motion and then each side gets to then respond to that response.  And finally, the two legal teams present oral arguments before Judge Klausner before he finally rules shortly thereafter.  It is FAR from over, folks!
Okay, here's what was filed last night:
DEFENSE Motion for Summary Judgment
PLAINTIFFS Motion for Partial Summary Judgment
Each of these filings goes on for 20 pages, and they both reference other documents (including my own "History of Star Trek Fan Films").  However, there is a downloading/viewing charge for accessing each document (up to $3 per document), and I want to see if I can perhaps get the supporting evidence documents directly from the defense team (for free) before I spend all my Google Ad revenue for the year just getting PDFs for all of you (and me, of course).
And finally, yes, I intend to provide an analysis of both of these motions–their strengths, weaknesses, and any surprises I found (and there's quite a few).  But I'm traveling next week, so I don't know if I'll have enough down time to write up something thorough enough until after I get back.  We'll just have to see, but thanks for your patience and understanding.