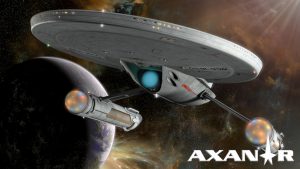 Yes, it's that magical time again!  Jonathan is going to play tour guide to take anyone who is interested on a  journey through the latest two major filings in the AXANAR lawsuit, each submitted to the Ninth Circuit Federal Court this past Monday.
For a better idea of what is going on at the moment, check out my (not so brief!) four-part blog on the motions for summary judgment (start here).  In that analysis, I flipped a coin and began with the defense.  This time, to be polite, I'm going to begin with the plaintiffs.
Before we begin, just a quick word about the two potential strategies of the opposition briefs.  Initially, each side wants the judge to rule in their favor BEFORE the trial even begins.  In the best of all scenarios, the judge rules on the entire case, awarding it to either the plaintiffs or the defense, and then there's never a trial at all (this is rare but not unheard of).
There are also pre-trial rulings the judge can make that can severely hurt the chances of one side or the other to ultimately win.  For example, if the judge rules that Alec Peters should be enjoined (forbidden) from making any more Star Trek fan films because of the potential financial harm to the studios, then that pretty much means the judge has already accepted that the studios will face real monetary damages from the Axanar works…and that'll put the ball in the red zone for plaintiffs (sorry, football season here in America) and make it much easier for them to win a big judgment.
If the judge rules instead that it is too early to determine anything about the full Axanar feature film because it hasn't been finished yet, then the plaintiffs are stuck having to argue ONLY about Prelude to Axanar and nothing else (removing Chang and Robert April as potential violations), giving a huge gift to the defense.  So these motions for summary judgment rulings can be real game-changers if successful!
But in order to get the judge to make such a ruling, each side has to convince him that the facts are indisputable.  The whole reason for a trial is for a jury to hear all the evidence and testimony and determine the facts.  But if the facts are so obvious that any jury would ultimately arrive at the exact same conclusion, then why waste everyone's time?
And thus will each motion for summary judgement essentially say, "What we're saying is just so completely obvious!"
Then it's time for step two, when each side responds to the others' statement of the "obvious" facts.  Now the strategy shifts from "We're obviously right" to "They're obviously wrong."  But there's also another strategy that you'll see play out a little more when we get to the defense briefs in Part 2.  And that's the, "Well, if we're both so diametrically opposed, maybe the facts aren't all that obvious after all.  Maybe we do need a trial after all."  This is a way of covering your flank.  Obviously, each side wants to win a summary judgement, but if there's a chance you could actually lose, better to take your chances on convincing a 6 or 12-person jury instead of just one judge.  So be on the lookout for elements of that strategy, too.
And now, let's look at how the plaintiffs chose to oppose the defense's arguments…
---
There's a lot of déjà vu in the plaintiffs' brief–for anyone who has read all of the other filings (Jonathan quietly raises hand).  So I won't go over the stuff they've said many times before.  Instead, I'll call attention to some notable quotes from their filing.
In trying to prove that Axanar is not "original" but instead is "substantially similar" to Star Trek, we have the following shot right out of the starting gate:
Defendants have faithfully recreated every possible element of the Star Trek universe, down to excruciating details.
I think I can just let the ridiculousness of that claim stand on its own as we consider a 22-minute short film with no sets and only six characters that takes place 20 years before TOS.  EVERY possible element of the entire Trek universe…really?
Further, while Defendants assert that they have included additional "original" characters in the Axanar Works, these additional characters are by no means "original" – they are Klingons, Vulcans, and Federation officers, and are, therefore, not "original" to Defendants.
Saying this is like saying that Worf is the same as Koloth or Spock is the same as Tuvok.  While, yes, the studios hold copyrights for Klingons and Vulcans in broad strokes, remember that the defense will be arguing for transformative use.  Is Kharn different from any other Klingon seen before?  Probably.  And what does he do that is really Klingony?  Mostly, he just sits and talks and occasionally bangs his staff on the floor.  Yes, he looks like a Klingon and dresses like a Klingon and is apparently talking from the surface of Qo'noS.  But really, is that all they got?  If so, then Kharn seems to be an original character who just happens to be a Klingon.  Is that enough to prove transformative?  We'll see.
However, giving the plaintiffs credit where it's due, Soval is unquestionably the same character that appeared on Enterprise.  But, as we'll learn in Part 2, the studios never registered a copyright specifically for Soval, and so, by law, they can't sue for infringing on that specific character.  Vulcans in general?  Yes.  But not Soval as a specific character.
And now, here's the strongest point the plaintiffs make…
Defendants also argue that their work should be protected as a "criticism" or "commentary" on the "horrors of war." This argument is specious and the Axanar Works themselves demonstrate the falsity of Defendants' position. The Garth of Izar character that Defendants have taken from Plaintiffs' Star Trek Copyrighted Works is not described as having "PTSD" or suffering from any other malady. Indeed, he is portrayed as a near-infallible hero and military strategist, who helps lead the Federation in The Four Years War against the Klingon Empire. This character and plot are taken directly from Plaintiffs' works, and there is no commentary, satire, parody or criticism whatsoever in the Axanar Works. It is surprising that Defendants would even offer such an argument to the Court, as their pre-lawsuit statements and admissions unequivocally stated that no such purposes were intended: "This is the story of Garth and his crew during the Four Years War, the war with the Klingon Empire that almost tore the Federation apart…This is Star Trek."
And here, just so nobody thinks I'm just shooting down everything the plaintiffs say, they make a solid point.  It's hard to argue now, only when Alec Peters and Axanar Productions are now in front of a judge, that their purpose all along was social commentary or criticism.  And yes, there was nothing specifically in Prelude to Aanar that said Garth was PTSD…then again, there was nothing that DIDN'T say it either.  And maybe that was still to come in the full Axanar sequel and the framing sequence that was shot (and now may never be seen).
And now, it's the plaintiffs' turn to invoke that other "star" franchise with the droids and the X-wings…
The Supreme Court has clearly held that a use is not rendered "fair" simply because a plaintiff cannot precisely quantify the damages resulting from the creation of unauthorized derivative works. Indeed, if that were the law, no owner of a successful copyrighted work could ever be expected to enforce its rights, as the precise damages from virtually any infringing use would be exceedingly difficult to quantify if compared to the revenue generated by say, the Harry Potter franchise, the Star Wars franchise, or even a long running television series such as Seinfeld.
On this point, the studios know they will never prove actual damages (there probably aren't any, to be honest, or they're so minor as to be fractions of rounding errors in a billion dollar franchise).  So instead, they say it's irrelevant in the eyes of the law, and that just because there's no proof of damages doesn't mean they get to claim fair use.
That's not entirely true but not entirely false either.  Direct financial harm is only one aspect of fair use, and by itself does not necessarily kill the fair defense (although it usually does).  But implied harm?  Assumed harm?  I'm not sure that's enough to kill the fair use defense either.  But I suppose it's at least worth a try.
But does Axanar really have that much power to harm the studios?  They go on to say:
Instead, if the proliferation of the infringing use would harm the market for the licensing of derivative works, the Ninth Circuit and Supreme Court have held that the use "is not fair." Here, if numerous producers were permitted to create "independent Star Trek film(s)" (so long as the main characters from Plaintiffs' works were not used), the adverse effect on the licensing of derivative works would be clear, and the economic harm to Plaintiffs would be self- evident.
Did you see what they did there?  Notice they said "independent Star Trek film(s)" so as to try to protect themselves against my favorite counter argument: "Then why are you encouraging Star Trek fan films with your guidelines rather than stopping them completely?"  Of course, the plaintiffs then have to make absolutely sure that the court sees Axanar as something OTHER than a "fan film," and the plaintiffs work VERY hard hammering that point…often using Alec Peters' own words to do so.  Here's one example of something Alec said:
But Axanar is not just an independent Star Trek film; it is the beginning of a whole new way that fans can get the content they want, by funding it themselves. Why dump hundreds or thousands of dollars a year on 400 cable channels, when what you really want is a few good sci-fi shows? Hollywood is changing. Netflix, Hulu, Amazon, and other providers are redefining content delivery, and Axanar Productions/Ares Studios hopes to be part of that movement.
This isn't quite as damning as the plaintiffs hope, however.  Alec specifically says "a few good sci-fi shows" and not specifically "fan-produced Star Trek."  In fact, here's something else Alec said and the plaintiffs quoted:
We intend to turn this warehouse and office space into a fully functional sound stage. This will allow us to not only make 'Axanar' but other Star Trek projects after Axanar and other Sci-Fi projects."
While it's all conjecture what MIGHT happen in the future, it is obvious from the statements that Ares Studios would not be exclusive to Star Trek fan films.  That said, it's still possible they would be creating at least a little fan Trek…however, remember that, at the time he wrote that statement, Alec thought the studios were okay with fan films.  Now that he knows they do have a problem, my guess is the plans for Ares (or Industry) studios will likely shift toward general sci-fi created by fans.  So again, I don't think this statement is quite a damaging as the plaintiffs hope it is.
Next up, I have a very interesting technicality that is going to annoy the plaintiffs to no end.  They spend about five pages specifically describing all the similarities between content in Axanar and the original source material from Star Trek.  They even use photos: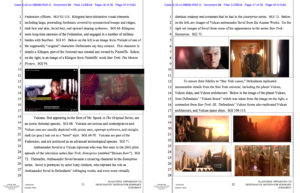 The photos will certainly help, but here's something that like;y won't help:
Defendants argue that Garth of Izar is an "obscure" character, but they do so by disingenuously ignoring the fact that Plaintiffs published an entire Star Trek novel devoted to (and entitled) Garth of Izar. Further, the Motion does not address the undisputed fact that Defendants borrowed their plot and characters regarding Garth and the Four Years War from Plaintiffs' Four Years War publication. Moreover, even if Garth of Izar was featured in only one television episode, that would not render that character unprotectable, and Defendants have not cited to any law to support that assertion.
So here's the problem: the novel Garth of Izar and the publication The Four Years War were never mentioned in the original or amended complaint.  They might be "juicy" items on the plaintiffs' GOTCHA! list, but as been explained to me by an intellectual property attorney, the plaintiffs can only use what was in the original complaint.  The judge won't (or at least shouldn't) allow these two works to be admitted and used to prove a specific violation.  A technicality?  Yes.  But it is the law.
Also, note that, they called Garth "protectable" and not "protected."  There is no specific registration of copyright on the character of Garth.  More on that in Part 2.
We're nearly done in our "rocket tour" of the 20-page filing.  And while this blog analysis is intended to "save" you from reading through both 20-page filings completely, I do recommend that you give them a look-over, as they're worth diving into more thoroughly than I have time or space to.  But here's a few final choice quotes:
Moreover, the mere fact that Prelude includes fictional "interviews" with Star Trek characters, in addition to scripted dialogue and action sequences, does not render that work "transformative."
And my snarky response would be, "Moreover, the mere fact that the plaintiffs state an opinion like this does not make it true."  And perhaps this is why I'm not a lawyer, since yes, it is pretty snarky.  But to be fair, the entire case pretty much hinges on this one throwaway sentence, and so I would hope the defense team calls the plaintiffs out for saying so matter-of-factly something that is really just their self-serving opinion.
Peters unquestionably engaged in a commercial endeavor, raising and spending almost a million and a half dollars (much of it on his own personal expenses). Peters also sought to produce Star Trek content for Netflix….
The "much of it on his own personal expenses" part is misleading and is resulting in a lot of negative press about Alec Peters lately.  I would expect some push-back about both this and the "sought to produce Star Trek content for Netflix" comment.  Both statements endeavor to twist the actual facts into something inaccurate, but I'll let Alec and/or his legal and PR team tackle this.  I'm not at liberty to speak on the point further.  (Man, I so want to do an interview with Alec!!)
Defendants argue, without any basis in evidence, that the Axanar Works "offer free promotional value to Plaintiffs."
Well, d'uh, but actually, the plaintiffs kinda have a point here.  The defense should try to find a way to back up their claim that fan films help the studios with free promotion.  In my mind, the best way to do so would be to point out the studios' tolerance of (and in the case of Star Trek Continues' "The White Iris," assistance to) Star Trek fan films and fan series to at least show there isn't necessarily harm…or else the studios wouldn't be so permissive of fan films…especially high-end ones.
---
Next time, we turn our attention to the defense's opposition brief.  You're gonna wanna be here for that one, folks, as Team Axanar has pulled out all the stops for this one!  Soval as James Bond?  Garth as Godzilla (Garthzilla)?   And is this really a first amendment case???  Possibly!