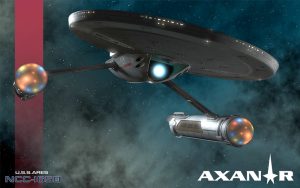 Last time, we took a look at what the plaintiffs had to say in their Plaintiffs Opposition to the DEFENSE Motion for Summary Judgment.  Now it's time to flip over to the Defense Opposition to the PLAINTIFFS Motion for Partial Summary Judgment.  As I did yesterday, I'm going to conduct my review by gathering together some choice quotations from the filing and commenting on them individually, starting with this very important one…
Moreover, even if the Court were to construe Plaintiffs' unsubstantiated and self-serving speculation that they could theoretically be harmed by Defendants' Works as "evidence," this would only create a factual dispute on fair use.
This shows that the defense isn't just opting for a "We're obviously right, and they're obviously full of crap…" approach like the plaintiffs did.  (That's not an actual quote from the plaintiffs' filing, but it's a pretty good summation.)
Instead, the defense is going to also cover their flank and protect themselves against the judge going with the plaintiffs.  In other words, yes, they're saying "We're right and they're wrong," but they are also saying, "But if you think they're right, then we really need to let a jury decide."  Summary judgments only happen if there is clearly NOT a factual dispute.  So pay attention to how many times the defense suggests that a the facts need to be brought in front of a jury.  The plaintiffs don't do that at all.
Two legal teams…two different strategies.  Fascinating, ain't it?  (Well, I think it's fascinating, at least!)  So, let's look at what the defense has to say…
Rather than set forth how each of the allegedly infringed works at issue in this action is actually substantially similar to Defendants' Works, Plaintiffs impose upon the Court to make that determination by spending approximately 300 hours watching these television episodes and films. ("The Axanar Works and the relevant Star Trek Copyrighted Works are before the Court, and the Court may make its own comparison of these works").
The plaintiffs really need to hope Judge Klausner is already a Trekkie because, yes, by their statement (which the defense quoted above), they are asking for the judge to watch a LOT of Star Trek!  Now, you might love it if your job was to watch 300 hours of Star Trek, but the judge might not appreciate the amount of homework he's being given.
Fortunately for the plaintiffs (and the judge!) they did include more specifics this time–and photos!–to help guide the judge: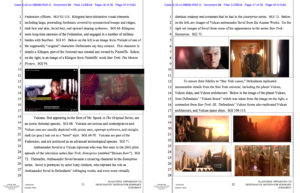 If this does end up going to court, what will probably happen is that the jury will be shown "Whom Gods Destroy" and Prelude to Axanar back-to-back and asked whether this Garth guy seems the same in both cinematic works.  Take a minute to picture both films in your head and imagine what the jury might think of the raving psychotic lunatic murderer versus the quiet and pensive Starfleet captain.  Are they"substantially similar" to someone who has never (or seldom) seen TOS before?
Fortunately, neither the judge nor the jury will need to review the lengthy "The Four Years War" supplement  for the FASA Role Playing Game.  Why?  Because it's inadmissible…
Plaintiffs' claim that Defendants took their plot from the subject matter of a supplement to Star Trek: The Role Playing Game, titled, "The Four Years War," is wholly irrelevant to this lawsuit, given that Plaintiffs have not even named this as an allegedly infringed work.
This is true, folks.  The original amended complaint did not list the FASA RPG among the 57 alleged violations, and it's too late to amend the amended complaint now.  This player is likely to be benched for the entire trial.
As for Garth (and Soval), the defense's next point is one of the most important that I will cover…so pay close attention:
Plaintiffs have sought federal copyright protection for characters central to the Star Trek universe, such as Spock and Kirk.  Plaintiffs have not, however, sought federal copyright protection for either Garth of Izar or Ambassador Soval.
Let's stop for a moment here and visit this web page from the U.S. Copyright Office and pull out the following quote:
Do I have to register with your office to be protected?
No. In general, registration is voluntary.  Copyright exists from the moment the work is created. You will have to register, however, if you wish to bring a lawsuit for infringement of a U.S. work.
Yep, that last sentence is critical, folks.  I've been getting a LOT of comments from people either not understanding or not believing that one must first register a copyright before he, she, or they can sue someone for infringement.  Paramount did register the main central characters from Star Trek, like Kirk and Spock (which are now owned by CBS), but scores of minor characters are not registered and therefore cannot, according to U.S. law, be singled out specifically in a copyright infringement lawsuit.  (By contrast, Marvel–now owned by Disney–has registered literally thousands of characters.  Want to use Fin Fang Foom in your fan film?  Forget it!)
The defense hammers home this point about how minor Garth is by invoking none other than Star Trek Beyond director Justin Lin (a self-described longtime Star Trek fan) and J.J. Abrams himself:
Indeed, these characters are so minor and esoteric that Justin Lin and J.J. Abrams—Star Trek fans who are intimately familiar with the Star Trek universe—have admitted that they are unfamiliar with them or otherwise consider them unimportant. The director of the latest Star Trek movie, Justin Lin, despite being a Star Trek fan since childhood, testified that he had never heard of Garth of Izar.  J.J. Abrams, the producer and/or director of recent Star Trek films, testified that while he would consider Kirk, Spock, Bones, Uhura, Zulu [sic], Chekov, and Scotty to be central characters, he would not consider Garth of Izar a central character.
And while Defendants barely feature Soval in Defendants' Works, the only concrete references to a character named Soval in the entire Star Trek oeuvre is a 2001 pilot episode of the television series Enterprise, and a couple of other brief appearances.
Actually, Soval appeared eleven times over the four seasons of Enterprise, but as it happens, only his first appearance counts.  A copyright claim stems from only the first use…all subsequent uses are derivative.  So even if the USS Enterprise NCC-1701 appeared in 79 TOS episodes, that doesn't count as 79 violations.  It's only one violation of either "The Cage," "Where No Man Has Gone Before," or "The Man Trap," whichever episode the studios say came first.  As for Soval, the only episode that counts for him is his first appearance in "Broken Bow"…and of course, Garth only appeared on screen in "Whom Gods Destroy."
Now, I can already hear some of you typing angrily and urgently about how wrong I am because both of those episodes that I just mentioned are registered copyrights and, therefore, anything that appears in them must ALSO be registered, right?
Well…not exactly.
Again, I'll hand the microphone back to the defense attorneys (and I'm going to leave out all the case citations, but I invite to you read the full text starting on page 11 of the Defense Opposition brief:
The Ninth Circuit has explained that "not every comic book, television, or motion picture character is entitled to copyright protection." Instead, "only those characters that are highly delineated with constant traits qualify for protection separate from the works in which they appear." ("[T]he less developed the characters the less they can be copyrighted, that is the penalty an author must bear for marking them too indistinctly.")
This means that, no, not every red shirt or navigator or sexy yeoman is automatically copyrighted.  Continuing…
In order to meet the "especially distinctive" standard, a character must be "sufficiently delineated" and display "consistent, widely identifiable traits." Characters that have been "lightly sketched" and lack descriptions may not merit copyright protection.
Characters that have been found sufficiently delineated and distinctive to be protected by copyright are James Bond, Batman, Godzilla, and Rocky Balboa.
(The brief lists a whole bunch of specific legal citations to cases involving all four of those characters presented as examples.)
There are at least factual questions about whether the obscure characters of Garth of Izar and minimal use of Ambassador Soval, or any other use of an obscure character that can be classified as a certain species, meet the required threshold of distinctiveness that characters like James Bond, Batman, Godzilla, and Rocky Balboa have met to afford copyright protection. The differences between Garth of Izar and Ambassador Soval and the characters courts have found copyrightable are stark. James Bond, Batman, Godzilla, and Rocky Balboa are the main protagonists in a number of films spanning generations and are fixtures of popular culture recognizable by many, and the titles of the works bear the characters names. Conversely, Garth of Izar and Ambassador Soval are minor characters barely mentioned in Plaintiffs' Works. These characters simply have not appeared often enough to have "consistent, widely identifiable traits." Indeed, Plaintiffs have not copyrighted any of these characters, though they have copyrighted separately other central characters that are not used in any of Defendants' Works.
Again, neither Garth nor Soval are registered.  And then there's the question of whether or not Garth and Soval even are even copyrightable characters in the first place:
Moreover, to the extent that the characters of Garth of Izar and Ambassador Soval have appeared, they are not sufficiently delineated or differentiated to warrant copyrightability. Other than giving the characters names and noting the few instances in the Star Trek universe where those names have been referenced, Plaintiffs have, through their works, provided very little information on either of these characters, let alone information that would distinguish them. Garth of Izar is merely one of a large number of starship captains that happened to be a hero of Captain Kirk, appeared in only one episode, and never had an episode or film named after him. Ambassador Soval is merely one of a large number of Vulcans. This is largely all we know about either of these characters from Plaintiffs' Works and Motion, and these lightly sketched descriptions do not meet the threshold required for copyrightability.
To translate: what do we really know about Soval other than he is a Vulcan and an ambassador?  What do we know about Garth other than he is a fellow starship captain and Kirk's hero and won a major battle at Axanar (and gained shape-shifting powers that made him lose his mind)?  Are these limited facts about the characters enough to justify a copyright?
"But Soval is a Vulcan!  Kharn is a Klingon!  Those are aliens in the Star Trek universe!  Alec Peters can't use a Vulcan or Klingon and claim he's not ripping off Star Trek!"  (I'm just imagining that I'm hearing that shouted in the distance somewhere.)
Well, my friends, it turns out that things might not be quite that cut and dried…
In Plaintiffs' two-page discussion of substantial similarity in their Motion, Plaintiffs simply repeat their broad allegation that Defendants took plots, characters, sequences, themes, mood, dialogue, and settings from Plaintiffs' Works while failing to set forth exactly how Defendants' Works are substantially similar to the forty television episodes, two full series, eleven motion pictures, and four novels that Plaintiffs claim have been infringed.
Get ready to watch 300 hours of Star Trek, Judge Klausner!
Furthermore, Plaintiffs cannot show substantial similarity as a matter of law by briefly mentioning a few specific examples of allegedly infringing elements. Defendants' works are only a "derivative work" if they appropriate protected expression from the Plaintiffs' Works. ("If there is no copying of copyrighted material, the fact that a work derived from, in the sense of being inspired or suggested by, a previous work does not make the second work an infringement of the first."). Indeed, "[a] work is not derivative unless it has substantially copied from a prior work."
In other words, Kharn may be a Klingon, but he was only inspired by Kang, by Gorkon, by Martok and others.  He was not directly copied from any one, specific Klingon.  And it might (might!) be the case that the "idea" of Klignons cannot be copyrighted, only specific expressions of that idea, such as Kang or Gorkon.  Can you copyright bumpy-headed warriors with bad teeth?  Or do you actually need a specific warrior character with a bumpy head and bad teeth?  I suppose we'll find out…
Plaintiffs acknowledge that Defendants sought to create their own story about the obscure character Garth of Izar and general events surrounding him. Plaintiffs do not, however, offer any further details regarding how Defendants' Works are substantially similar to Plaintiffs' Works. It is well-established that "a defendant may legitimately avoid infringement by intentionally making sufficient changes in a work which would otherwise be regarded as substantially similar to that of the plaintiff's."
So here's where I give you guys some homework (don't worry; it's optional).  Go back and read the PLAINTIFFS Motion for Partial Summary Judgment and the Plaintiffs Opposition (I did say it's optional) and decide for yourself just how specific the plaintiff's are being when they discuss exactly what elements of Star Trek that Axanar copied.  You see, THAT is going to be a huge part of what the jury will need to decide.  Have the plaintiffs done enough to explain EXACTLY what they're so pissed about.  In the case of copyright infringement, you can't just be generally pissed; you must be very specifically pissed.
And here's a taste of how that will go if/when this gets to court:
Even if Defendants' use of the elements alleged here by Plaintiffs is sufficiently substantial to be infringing, which it is not, each appearance of an element would, at most, extend to one infringed work (not 55). (any "[c]opyright in a … derivative work extends only to the material contributed by the author of such work, as distinguished from the preexisting material employed in the work").
In other words, there are 55 (by my count, 57) alleged violations…or are there?  It could turn out that Axanar is only infringing on a small handful of specific Star Trek works:
Garth from "Whom Gods Destroy"
Soval from "Broken Bow"
The USS Enterprise, Starfleet and the United Federation of Planets from "The Cage" (or whatever is considered to be the first TOS episode)
The Klingon D7 from "Elaan of Troyius"
The Klingons (in general) from "Errand of Mercy" (their first-ever appearance)
The planet Vulcan from either "Amok Time" OR "Star Trek III" (not both–one or the other)
This list is just hypothetical on my part, but it illustrates how the number of alleged violations could drop from 50+ down to just 6 depending on specifics (or lack thereof).  And that could reduce Alec's potential worst-case verdict from $8.5 million to $900,000 (still bad) or his best-case losing verdict to as little as $1,200 (pretty good!).
And remember that Alec would have to lose on ALL SIX violations (assuming that's all that is left).  We've already discussed how Garth and Soval might be non-violations because they aren't registered.  So with only four guilty counts, that could drop a verdict to as low as 800 bucks.  (Wouldn't THAT be embarrassing for the studios!)  Alec could write the studios a check on the spot.
The defense continues to question the number of actual violations…
Plaintiffs' Motion does not mention the exact number of infringements they are claiming and further fails to distinguish among Plaintiffs' Works to show substantial similarity. Thus, there are factual disputes surrounding not only whether the requisite substantially similarity exists, but also how many infringed works there are for purposes of any statutory damages sought. These issues are closely tied to the question of any damages that must be decided by the jury, including that a jury may only determine statutory damages where Defendants' Works are substantially similar to Plaintiffs' Works.
And that brings us full circle back to my first point: the defense is covering their flank by telling the judge that, even if he agrees with the plaintiffs, this still needs to go before a jury and not be decided simply by a summary judgment.
---
I think this is a good place to end Part 2.  It looks like there's gonna be a Part 3 after all, folks, as there's still a lot to cover!  And I know it looks like I'm favoring the defense here (and yes, I am an Axanar supporter), but their legal team really has created a spectacularly dense and legally complex document with some really important points.
Had the plaintiffs submitted something as chock full of new and major issues to examine and explain, I would have given them a second part, as well.  But theirs was a much simpler, more direct document.
That doesn't mean that one legal team did a better or worse job than the other…only that, if we want to understand what is likely to happen at trial, we're going to need to take some extra time with the defense filing.  And so…
---
Next time, we'll take a look whether or not it actually makes a difference that Alec Peters set up a "for profit" studio (and what is "profit" anyway?), whether Axanar serves as a "substitute" for real Star Trek (as the plaintiffs claim), if the studios' prior lack of action against other fan films is relevant, and finally, are the plaintiffs trying to trample on Alec's (and others') first amendment rights?