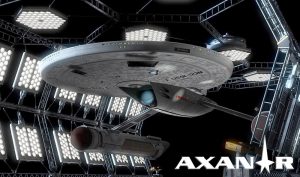 In Part 2, we started looking more deeply into the fascinating points made in the Defense Opposition to the PLAINTIFFS Motion for Partial Summary Judgment.  In Part 1, we had looked into the Plaintiffs Opposition to the DEFENSE Motion for Summary Judgment.
Both documents are 20 pages long and intelligently written.  However, there's a lot more to cover in the defense brief, so I had to split that portion into two parts in order to cover everything properly.  This isn't to say one side or the other made better arguments–only that there's more to go over with the defense.
So let's jump right back in!  First up: profits…
If you're reading this, it means you're probably interested in the AXANAR case.  And if you're even passingly familiar with what's been going on, a HUGE controversy has been swirling around the fact that Alec Peters used donated funds to construct a studio in which to film Axanar (something explained to donors on the Kickstarter page itself):
We have two potential locations we are negotiating for to serve as our sound stage in Valencia, CA, just north of LA.  This will be the permanent home of Axanar Productions and allow us to do more than just Axanar, from other adventures in the Star Trek universe and beyond.  David Gerrold (author of "The Trouble with Tribbles") is already lined up to shoot his sci-fi series "Running Dark" here.
Of course, the plan was for those other productions to pay for the rental of the space, suggesting a "for profit" business built on the donations from fans wanting to see a Star Trek fan film.  While other productions like Star Trek Continues and New Voyages had permanent sound stages of their own, their weren't renting them out for money or profit.  What Axanar was planning was new in the world of fan films…and apparently, CBS and Paramount didn't like it one bit!
And so the plaintiffs have made it a point to describe the "for profit" nature of Axanar Productions and Ares Studios and try to point out how Alec Peters personally profited.  While the defense's opposition brief doesn't end the controversy completely, it does finally address the matter…and in an (I think) intriguing way:
Plaintiffs' Argument That Defendants' Works Are "Commercial" Are Based On A Misapplication of "Profits"
There's an old joke about trying to decide on what the proper definition of "is" is.  But this is actually not one of those times.  To wit:
As an initial matter, Plaintiffs have not provided any law to support their argument that anticipated future profits derived from the space leased, and equipment purchased, to produce an allegedly infringing product are sufficient to show profit from an allegedly infringing product. Indeed, such an argument defies logic.
"Defies logic," huh?  I think the defense just slipped in a Trek reference.  But I digress.  This next sentence is going to make certain people's heads explode:
Future anticipated profits from a studio leased and built to create Defendants' Works are not only incalculable, but completely irrelevant to a copyright infringement analysis.
Okay, no head explosions just yet!  Let's take all this apart slowly and see how the defense team explains it…
Plaintiffs seek to treat the funds raised by Defendants using Kickstarter and Indiegogo as "profits." "The term 'profit' was not defined in the Copyright Act and therefore must be assumed to have its ordinary or usual meaning."
Okay, first we need to define the word "profit."  There's no special definition within copyright law, so let's just go to the general law dictionary:
Black's Law Dictionary defines "profit" as "the excess of revenues over expenditures in a business transaction."
Fair enough.  I think we can all agree that is what "profit" means.  So let's take a look at where Axanar made its "profit."  Certainly not from showing Prelude for free on YouTube:
The undisputed facts show that Defendants did not make any profit from the free distribution of Defendants' Works, and had and have no intention to do so in the future.
True.  No money coming from YouTube…not even those annoying video ads.  So that leaves only the donor money filling up the bank account.  But were those "profits" or something else?
The resources obtained through Defendants' use of crowdfunding platforms were used solely for production and costs associated with the Potential Fan Film, and were not, as Plaintiffs allege, profits.  There is simply no evidence that Defendants stand to profit from Plaintiffs' Works. Therefore, Defendants' Works are non-commercial.
This is actually true, but I need to explain.  Donor funds have been used to produce two tangible things: 1) Prelude to Axanar (the full-length Axanar feature film does not exist yet), and 2) Ares Studios.  Whether or not Alec paid himself a salary is irrelevant.  He was an essential part of building that studio, so Alec himself is a business expense associated with the cost of the studio itself.  (Yeah, go ahead and screen cap that; I don't mind.  It's still true.)
So donor funds paid for a short film and a studio.  Did either of those things make a profit?  Prelude is obviously generating zero revenue.  Ares Studios, right now is generating zero revenue.  So there is no profit.  Both entities are completely non-commercial at present.
But let's assume that someday the studio does make a profit.  Don't write me hate mail for saying this but: SO WHAT?  At no point in the complaint are CBS and Paramount suing Alec Peters for building a studio.  They are suing him for creating an allegedly infringing work: Axanar.  This is a copyright infringement lawsuit, after all.  A physical studio and sound stage is NOT, in and of itself, an infringing work.  So even if Alec Peters ends up making a billion dollars from Ares Studios, if Prelude to Axanar charges nothing on YouTube and makes no money, then that is the only thing copyright law cares about.
Let's see if I turn out to be right…
---
Since we're on the subject of money, how about we look at the other big financial question: does Axanar represent "market harm" to CBS and Paramount?  To illustrate their point, the plaintiffs present a copyright infringement lawsuit tried and won by Loeb & Loeb attorney Jonathan Zavin back in 1998: Paramount Pictures Corp. v. Carol Publishing Group.  And get this: it was all about Star Trek, too!
Déjà vu?  Well, not quite.
In that case, a book called The Joy of Trek argued for fair use and lost on all four elements.  For two of those elements, it lost because it essentially retold the entire story of Star Trek without being original or transformative in any way.  As I discussed in Part 2, Axanar could very reasonably be considered transformative and certainly does not use "all" of Star Trek.
But the plaintiffs use this particular case to hammer home one particular point above all else: the book The Joy of Trek was "expressly designed to serve as a substitute for the plaintiffs' works…"
In Carol Publishing, the court found that the plaintiff licensed "a number of guide books that appear to be derivative works, such as The Star Trek Encyclopedia" and the defendant's book stated that "[t]his book provides you with more than enough information … [y]ou do not need to consult encyclopedias."
Well, geez, if the book authors are gonna say THAT…no wonder they lost the case!  But here's where Axanar is different (according to the defense):
Here, there is no evidence whatsoever that Defendants' Works, which were not sold to anyone, were serving as a "substitute" for Plaintiffs' Works. In fact, Defendants continued to promote and consume all of Plaintiffs' official works, and if anything, Defendants' Works and other fan films increased the buzz and purchase of official merchandise. Unlike in Carol Publishing, Defendants made no statements whatsoever that their viewers would not need to see Plaintiffs' Works, and instead, they continued to do so and encourage others to do so.
All true…except for this one short quote from Alec Peters: "Why dump hundreds or thousands of dollars a year on 400 cable channels, when what you really want is a few good sci-fi shows?"  However, he didn't reference Axanar nor Star Trek specificallyin that statement.  And to be honest, Alec Peters has always encouraged fans to support ALL Star Trek…from the J.J. Abrams rebooted films (which many fans detest) through classic Trek and on to fan films.  He has never encouraged anyone to boycott any Trek property…not even Star Trek Beyond, which was being produced by one of the two studios suing him.
And frankly, I don't know of many fans planning to give up on Star Trek solely because of Axanar.  Most fans I've heard from who are disillusioned with the franchise point the finger of blame squarely at CBS and Paramount.  So again, we'll see if the plaintiffs can get any traction from this argument.  Personally, I doubt it.
---
Okay, moving onto the next topic: what is a fan film and how did the studios' previous lack of action against other fan productions affect Alec Peters' state of mind?
The plaintiffs have tried very hard in their filings to draw a line in the sand separating "fan films" (which are allowed and encouraged by the new guidelines) from the Axanar works.  They've quoted Alec Peters' own words multiple times describing Axanar as "a professional independent Star Trek production"…whatever that means.
And indeed, "whatever that means" is an important remark to make, because there is no generally accepted definition of what a "fan film" is.  Indeed, the defense brings up the fact that the plaintiffs themselves concur with that assessment:
There has been no agreed to definition of what a "fan film" is in this case, as demonstrated by Plaintiffs' own discovery responses, in which Plaintiffs object that the phrase "fan film" is ambiguous.
Of course, that didn't keep the plaintiffs from trying to sneak a new definition of "fan film" into their PLAINTIFFS Motion for Partial Summary Judgment ("amateur works created by fans simply for the fun of it" – see page 2).  But the defense doesn't miss a trick and included this snippet in their opposition brief:
 Defendants believed that their works were fan films because they were created by fans and were given away for free.  Plaintiffs' ad hoc position that a "fan film" is now only an amateur pursuit without a professional look was never communicated to fans until the release of the "fan film guidelines" long after Plaintiffs filed this lawsuit. In any event, the fact that a work may be of a certain quality, or have a professional look, has no bearing on the copyright analysis in this case.
Obviously, the plaintiffs will disagree, but there is another, much more important item to consider.  If Alec Peters is found to have violated the studios' copyright, was it willful or non–willful?  In their Motion for Partial Summary Judgment, the plaintiffs want the judge to rule that it was willful.  Period.  Do not pass GO, and definitely pay $150,000 per violation.
But if the infringement was non-willful, the penalty drops to as little as $200 per violation.  That is a HUGE, potentially $8 million difference.  And so the defense REALLY wants to fight back hard on this point.
Fortunately, the plaintiffs' own words could very well help the defense (and I suspect that Axanar lead attorney Erin Ranahan might be reading my blog, as I kinda mentioned this myself last week):
Plaintiffs argue that Defendants' alleged infringement was "clearly willful" because Defendant Mr. Peters "had worked with CBS before"; had previously "reached out to CBS" to report infringing activity; and "is a trained attorney." However, the question of Mr. Peters' willfulness presents many triable issues of fact. For instance, Mr. Peters relied on the longstanding fan film tradition in creating Defendants' Works. Mr. Peters also understood from his volunteer relationship with Plaintiff CBS and his extensive communications seeking guidance on his projects, that as long as Defendants' Works stayed "non- commercial"—which he believed they had because he was not charging anyone to view them—Plaintiffs would tolerate Defendants' Works like the rest of the fan fiction celebrating their love for Star Trek.
Remember that this lawsuit was filed BEFORE the guidelines back when most fan films assumed that as long as you didn't charge for viewing your fan film and didn't make any "profit" (and remember that we just discussed profit), that the studios were okay with fan films.
Even assuming there was an agreed-to definition of a "fan film" (which is belied by Plaintiffs' own objections to that phrase in discovery as vague and ambiguous), there is at the very least a factual dispute about whether Defendants' Works qualified. Indeed, there is no dispute that Mr. Peters is a huge Star Trek fan, that Axanar Productions was created by huge Star Trek fans, and that Prelude was distributed for free, as Axanar would have been. The fact that Mr. Peters had reported infringing activity to CBS in the past, in response to which CBS took no action, only furthered Mr. Peters' belief that he was acting within the realm of tolerated activity.
I said that here, too!!  Seriously, Erin Ranahan's gotta be reading my blog!
His legal training from law school decades ago does not mean that Mr. Peters had extensive understanding of complex copyright issues. If anything, his legal training furthered his understanding that using more obscure characters and infusing originality would weigh against infringement or in favor of fair use.
Also a good point.  And just to be sure to cover their flank again in case the judge doesn't agree, the defense reminds him that the law itself discourages him from issuing a summary judgment on willfulness based solely on the plaintiffs' arguments:
Deciding willfulness "requires an assessment of a defendant's state of mind," and questions "involving a person's state of mind . . . are generally factual issues inappropriate for resolution by summary judgment."
So I don't expect the judge to issue a pre-trial ruling that Alec Peters willfully infringed.  But as a reminder, folks, I am not a lawyer and I am certainly not a judge.
---
And finally, the plaintiffs asked for one last HUUUUUGE ruling from the judge.  There's the legal order they they want him to issue (their wording):
The Court orders that Defendants, their agents, servants, employees, attorneys, successors, assigns, subsidiaries, and all persons, firms, and corporations acting in concert with them, are hereby restrained and enjoined from directly or indirectly infringing the copyrights in the Star Trek Copyrighted Works, including but not limited to continuing to distribute, market, advertise, promote, produce, sell, or offer for sale the Axanar Works or any works derived or copied from the Star Trek Copyrighted Works, and from participating or assisting in any such activity.
Whoa-nelly!!!  Aside from the implication that Alec Peters and Robert Meyer Burnett might actually have "servants," what strikes me the most from the above order is how ludicrously over-the-top it is.  Lawyers do like to cover EVERY possible contingency, but this one feels like a true overreach…and possibly fatally so.  Let me explain…
…or better yet, let's have the defense team explain:
It is well settled that any "injunction must be narrowly tailored to remedy only the specific harms shown by the plaintiffs rather than to enjoin all possible breaches of the law."
In other words, if Prelude to Axanar is a threat to the studios' bottom line, then tell them to pull down Prelude to Axanar.  But all that other stuff?  Well, the defense has more to say, so I'll let them continue:
Plaintiffs' proposed injunctive relief is vague inasmuch as it does not specify the types of acts from which Defendants' would be enjoined. Plaintiffs' demand to enjoin Defendants from "promoting" and "marketing" the Axanar Works could be interpreted as prohibiting Defendants from talking about the Axanar Works in the future, such as at conventions or in connection with newsworthy content, which would amount to an unconstitutional restraint on Defendants' free speech.
Plaintiffs' proposed injunction also does not even define what their "Star Trek Copyrighted Works" are for purposes of the injunction. It also purports to extend to numerous individuals not subject to this lawsuit.
Yeah, like Alec the Rob's servants!  (Sorry, shutting up now.)
It broadly seeks to restrict all of Defendants' Works, even a script that Defendants have no intention of proceeding with.
The broad injunction Plaintiffs seek would potentially prohibit Defendants from the distribution of works that do not constitute copyright infringement, and further do not specify what elements of the script are prohibited. Plaintiffs cannot prohibit Defendants from undertaking any Star Trek fan film project no matter what the content, style (such as if it is a mockumentary or another form of parody or originality). Plaintiffs cannot prohibit Defendants from proceeding with a future project that qualifies as fair use, and yet this is precisely what Plaintiffs' injunction intends to do.
Of course, to justify an injunction, the studios made the situation sound pretty dire for them financially if the court didn't issue the order ASAP.  So the defense made sure to address that, too:
Plaintiffs also claim that they will suffer irreparable harm because Star Trek fans will view the Axanar Works instead of paying to watch the Star Trek Copyrighted Works. However, Plaintiffs are unable to show even a single shred of evidence supporting their contention that any consumer is paying for Axanar Works in lieu of the Start Trek Copyrighted Works. Absent any such evidence of irreparable harm, Plaintiffs' allegation is merely a theory, insufficient to support its demand for injunctive relief.
I still maintain that it's a tremendous stretch to assume that just because I donated to Axanar that I suddenly didn't buy a ticket to see Star Trek Beyond (I four four), pay 500 bucks for a Creation Las Vegas Con pass, or order the Ships of the Line calendars the past three years (plus all those Hallmark ornaments!).  And I'm happy to testify to that on the stand…which could happen.

I made one final point on FAN FILM FACTOR that the defense also included:
Prelude has been available on YouTube since 2014, and still is today. Plaintiffs had the option—but declined—to submit a takedown notice with respect to Preclude or The Vulcan Scene shows that Plaintiffs do not believe that these works are likely to cause them irreparable harm.
Bingo.  It's gonna be tough to convince the judge the studios face such imminent financial peril if they weren't even concerned enough to make a five-minute call to YouTube.
And to finish up, I promised you a first amendment case, and here it is.  The defense argues against the injunction being "in the public interest" (as the plaintiffs claimed):
Further, the public interest of would not be served by the permanent injunction requested by Plaintiffs inasmuch as such a restraint on free speech cannot be in the public interest.
Issuing an injunction that cuts off Defendants ability to ever create anything in the Star Trek universe without fear of additional legal action would send a chilling effect against not only Defendants, but countless creators who are operating within the confines of copyright law and fair use.
Finally, Plaintiffs' proposed injunction would essentially act as a "prior restraint" on Defendants' speech, which is presumptively unconstitutional.
---
And there you have it.  A bit on the long side, so my apologies and appreciation for sticking with this blog posting to the very end.
Next week, both parties get one last chance to argue on paper, as each is allowed one final response to the other side's opposition brief.  Then on December 19, it's off to the actual courtroom for oral arguments in front of Judge Klausner…to which I have only one last unlicensed comment: