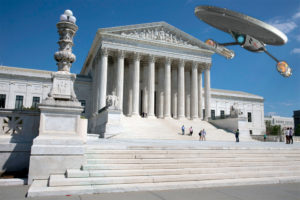 Yesterday I began taking you on a journey through 250 years of fair use in copyright law.  My information came primarily from this excellent 70-page article by University of South Carolina School of Law Professor Ned Snow: "Judges Playing Jury: Constitutional Conflicts in Deciding Fair Use on Summary Judgment."
For more than two centuries, the determination of fair use in copyright infringement trials was left to juries to decide.  After all, the Seventh Amendment of the U.S. Constitution guarantees citizens the right to a jury trial in civil cases (like copyright infringement).  But sometime between the 1970s and 1990s, fair use suddenly and inexplicably switched to being a matter of law determined by judges before trial at summary judgment.
This just happened last Wednesday to Alec Peters in the AXANAR infringement lawsuit, as I explained in this recent blog entry.  Judge R. Gary Klausner ruled that, in his opinion, fair use was invalid in this particular case and could not be used as a defense during trial (taking away the primary path to victory for Alec Peters in this lawsuit).  Although Judge Klausner also provided his personal opinion that Axanar was substantially similar to Star Trek, in that matter, at least, he chose to let the jury decide the ultimate question of whether there is substantial similarity.  But on fair use, his opinion also became a court order and took that decision entirely out of the hands of the jury.
Two days ago, I told you that this ruling by Judge Klausner gave Team Axanar valid grounds to request an appellate review of the case to the Ninth Circuit Court of Appeals.  But as I said, judges invalidating fair use before trial is now a commonly accepted practice in federal courts throughout America, and has been for three decades.  There's a fairly decent chance that Alec Peters' appeal will be denied at the federal level.  And that leaves only one more stop on the train…
The Supreme Court of the United States.
But why would the high court even care about this case?  It's a frickin' Star Trek fan film!  And even if Team Axanar is upset about not getting to use its fair use defense at trial, why would a case like this get to be one of the 2% of the 7,000 hopeful cases each year that the nine Justices agree to hear?
Well, it wouldn't be the first time.
The Supreme Court actually cares about cases like this one…or at least it did back in 1998 when the justices heard a copyright case (Feltner v. Columbia Pictures Television, Inc.) and ruled there was a Seventh Amendment violation when a decision was issued at summary judgment rather than being put before a jury.  Here's what happened…
C. Elvin Felter owned three TV stations and ran episodes of several television series owned by Columbia Pictures, which he licensed.  But then he became delinquent on his license payments and kept airing the shows anyway.  The trial court ruled that Felter and some other named defendants were liable for infringement, so Felter petitioned the court for a jury trial to determine statutory damages.  The court refused his request, instead arbitrarily setting statutory damages at $20,000 for each of the 440 times his stations aired episodes after he lost his license.  That's $8.8 million dollars folks…OUCH!
Felter appealed to the Supreme Court, arguing that the denial at summary judgment violated his Seventh Amendment right to a jury.  Justice Clarence Thomas wrote for an eight-member unambitious majority (with a concurrence by Justice Antonin Scalia) that courts were violating the Seventh Amendment in determining damages awards in copyright cases without a jury.
Well, who cares?  Alec Peters isn't complaining about statutory damages; he's complaining about fair use…totally different things, right?
Let me turn the virtual microphone over to Professor Ned Snow to explain the problem…
Feltner's holding as to statutory damages in copyright actions strongly suggests that the Seventh Amendment also requires jury consideration of the fair use issue.  Like the issue of statutory damages, fair use represents an issue that determines whether copyright holders may exercise their legal rights.  But unlike the issue of statutory damages, fair use is more fundamental to the legal right of copyright.  That is, the issue of statutory damages arises only after the scope of a copyright holder's right has been determined, or in other words, only after a defendant's liability has been determined . By contrast, the issue of fair use arises during the very process of determining the scope of a copyright holder's right, or in other words, it is the very basis for determining liability.  Therefore, if the Supreme Court views the issue of statutory damages as subject to a jury trial under the Seventh Amendment, then certainly the Supreme Court must view the issue of fair use likewise, for the latter issue is more fundamental to the exercise of a copyright holder's legal rights.
Short form translation: if the Supreme Court thinks statutory damages should be considered by a jury, then fair use is even more deserving of Seventh Amendment protection!
Back to the professor…
If a judge resolves fair use issues as a matter of law on summary judgment, one person's life experiences control the relevant cultural standard of fairness; if a jury resolves those issues at trial, a plurality of life experience controls that standard, and such a plurality more likely reflects the views of society.
And that's what the Seventh Amendment is all about: the views of society and not just a single guy wearing a black robe at work each day.  (Do YOU wear a black robe at work each day?  Didn't think so!)  And that's why fair use spent more than 200 years being determined by juries and not judges.  But then–BAM!–suddenly the judges are in charge of it.  And was there any particular reason given for this change?  Apparently not…
[T]his change in the classification of the inferences arose without deliberation or reasoned analysis.  Neither courts nor scholars have ever provided any basis for changing the classification of these inferences from factual to legal.  The change simply occurred. Overnight and without consideration, courts discarded the centuries-old method for deciding fair use — the jury — as they relabeled factual inferences to be conclusions of law.
So it's not just a question of whether Alec Peters got a jury trial.  It's a question of whether he was afforded a jury to consider his fair use defense.  Indeed, by completely removing the jury from the fair use equation, not only is Alec Peters' Seventh Amendment right to a jury trial being removed, so is full consideration of his First Amendment right to free speech.  Last quote from Professor Snow…
A risk therefore exists that summary judgment will foreclose a fair user from realizing an otherwise meritorious defense. Given the speech nature of fair use, this risk represents a threat to constitutionally protected speech.  By failing to recognize an inference in the fair use analysis, a judge fails to recognize the possibility that speech is protected. A judge who disposes of a fair use argument on summary judgment necessarily ignores the wide disparity of opinion that arises in the factfinding process of the fair use analysis, and in so doing, the judge may impose liability on protected speech.
Ya hear that, Klausner?
Anyway, I've just saved you having to read a 70-page law review article.  You're welcome.  (But you really should look it over if you want to understand the full implications of this fascinating issue of judges rendering fair use rulings.)
---
So where does this leave Axanar?  Well, I freely admit that there's no guarantee that this case will ever reach the Supreme Court.  However, Professor Snow's impassioned arguments at least call attention to the national merit of such an issue.  In other words, it's not ridiculous (after reading what I've just written) for someone to say that Paramount Pictures Corporation et al v. Axanar Productions, Inc. et al merits the attention of a Supreme Court hearing.  After all, the question of whether or not judges deciding fair use violates Seventh Amendment rights to a jury trial could affect countless cases in the future.
And remember, the Supreme Court can't, on a whim, take aim at bad laws or judicial procedures and arbitrarily invalidate them.  A case first needs to be brought before the high court before it can rule on any specific issue.
So Axanar represents a unique opportunity for the Supreme Court to weigh in on this relatively recent trend of judges hijacking fair use rulings from juries after 200 years of legal precedent.  As the Vulcans say, "Only Nixon could go to China."  And perhaps only Axanar can go to the Supreme Court.
But why only Axanar?
Because first you need a copyright infringement case where a judge has invalidated a fair use defense at the summary judgment stage, removing it from jury consideration.  That allows the Supreme Court to look into the matter and rule on it.
Second, you need someone who can afford to keep a case going long enough to take it all the way to the Supreme Court without going broke.  Alec has a top law firm willing to continue his appeals pro bono as long as they need to.  So the money won't run out.
Third, you need someone patient enough to stay with a case for years.  Alec is in no rush.  His only chance to actually make Axanar happens (assuming he loses at trial next month) is if his appeal works, he gets a new trial, and earns a winning verdict from the next jury on fair use.  But there's no ticking clock on this.  The studio lease runs out in December of this year (long before an appeal to the Ninth Circuit could ever happen).  So Alec either keeps the studio running by renting it out or gets a new studio later on if his wins in four or five more years.
Now, will CBS and Paramount want to be dragged all the way to the Supreme Court?  That I can't tell you.  But understand that the nine justices (by then, I assume we'll be back to nine) will not be ruling on whether Axanar infringed on or copied Star Trek.  If you're expecting them to say, "Yes, this was fair use," or "Forget it, Peters, you copied Star Trek," don't hold your breath.
Instead the high court will simply decide if Judge Klaunser was improperly applying the law when he ruled fair use invalid to attempt as a defense at trial.  If the Supreme Court says he goofed, then they can order a new trial, and we're back where to we are right now…only with a new jury being seated to hear the case again but this time with the fair use defense in play.
And after all of this, Alec could still lose the new trial, too!  There, I said it.
Yeah, it sounds like a lot of time and hassle just to make sure Axanar never gets made.  But it's Alec's dream, and it's certainly worth the shot…or so he told me when I mentioned I was writing this blog.  Y'see, I wasn't gonna spend the time reading 70 pages of legalese and researching dozens of law websites and Wikipedia entries if Alec was just gonna tell me, "Aw, I don't need to take this case all the way to the Supreme Court.  That's crazy!"
But no, he's actually excited to read this blog and said he'll take this case as far as he needs it to go.  He's got nothing to lose at this point.
As for his legal team, well, many lawyers dream of one day climbing the steps of the Supreme Court in Washington, DC and arguing a case in front of the nine justices (even though they interrupt constantly!).  In fact, the one lawyer I ever knew who did argue a case in front of the high court (coincidentally also an intellectual property attorney) said it was one of the high points of her career.  So I wouldn't expect Winston & Strawn to suddenly bail out of this case either.
That leaves CBS and Paramount.  And what they're thinking, I have no idea.  But for me, even if Alec Peters ultimately loses, I just think it would be the coolest thing in the galaxy if a case about a Star Trek fan film actually makes it all the way to the Supreme Court!