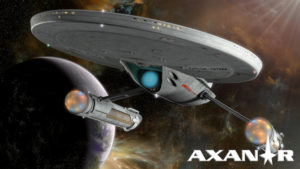 While we wait for my interview with Alec Peters for be reviewed and approved by the AXANAR legal team (yes, they're taking the confidentiality aspects of the settlement agreement quite seriously…as they should), there was a posting made yesterday morning addressing some of the questions many Axanar fans (and detractors) have been asking.
ALEC PETERS answered four frequently-asked questions and also provided a link to a special blog about the Axanar financials (coming really soon…right, Alec???).
Here is yesterday's post in its entirety…
Questions will keep popping up in regards to the settlement, and so we want to make sure you all get the answers to those questions.  Here are a few I have seen:
Q:  Since the Guidelines do not allow DVDs/Blu-Rays to be distributed, what happens to the ones promised as perks in the Kickstarter and Indiegogo?
A:  Donors will get the DVD/Blu-rays as promised!  All perks are allowed to be delivered after we complete making Axanar in the revised format.
Q:  The Kickstarter and Indiegogo said you would deliver a 90 minute movie, but now you can only make 30 minutes of Star Trek Fan Film.  What can the donors expect here?
A:  Oh there will definitely be 90 minutes of content that we know fans of Axanar will love. While adhering to the settlement agreement, we will also make sure we give Axanar fans what will make them happy and be as close as possible to what we said we would deliver.
Q:  What will happen to the Vulcan Scene?
A:  The Vulcan Scene will remain publicly available on YouTube, as well as being on the Axanar DVD/Blu-Ray.
Q:  What will happen to the Studio?
A:  The Studio was built out specifically to allow us to make Axanar.  When we were served a lawsuit 30 days before the beginning of principal photography, we decided to finish the studio in order to be able to rent it out in order to pay the rent.  We are now close to being able to rent the studio out.  However, that will only allow us to fulfill the terms of the lease through the end of the year.  If we are successful, and we can make money off of the studio, then we will use that money to help fund the obligations of Axanar.
Finally, if you haven't read it yet, please read this…
Financials:  http://www.axanarproductions.com/axanar-finances-the-truth-of-the-matter/
Thanks for your support!
Alec