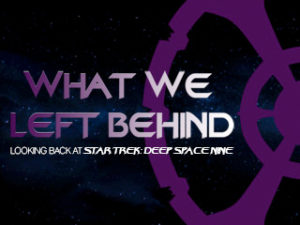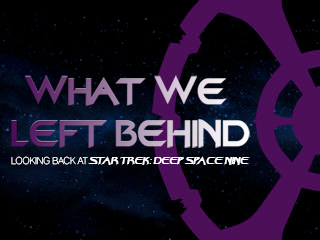 When last we checked in on the new Deep Space Nine documentary WHAT WE LEFT BEHIND, their Indiegogo campaign had kicked off with an initial goal of $150,000 and zoomed past that in less than 24 hours to $170,000 with 29 days still to go!
Well, now there's just 9 days left to go, and the project has just crossed the $400,000 milestone!!!  This has allowed them to reach a couple of exciting stretch goals…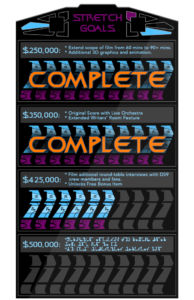 CROSSING $250,000 –
Allowed them to extend the length from 60 to 90+ minutes and add in a whole bunch of new, cool 3D graphics and animations.
Crossing $350,000 –
Allowed them to now have an original score and hire a live orchestra to perform it.  It will also allow them to extend their "Writer's Room" feature where the original DS9 writers will reunite to brainstorm a story-arc and episode ideas for what a hypothetical season eight would have looked like.
And if they cross $425,000 (almost a certainty at this point!) –
They will be able to film additional round-table interviews with DS9 crew members and fans.  Oh, and it will unlock an additional bonus item for donors, as well.
And if they reach a half million dollars???  Well, we don't know yet, but the milestone is there on the Stretch Goal graphic above.  (Just click to enlarge it.)
You've still got 10 days to make a donation of your own (or increase the one you've already made) to show CBS that DS9 is truly loved by us fans:
https://www.indiegogo.com/projects/what-we-left-behind-star-trek-deep-space-nine-doc
And make sure to watch this hysterical video featuring Ira Behr and "Mr. F"–it is the FUNNIEST crowd-funding video EVER!  I kid you not!!!