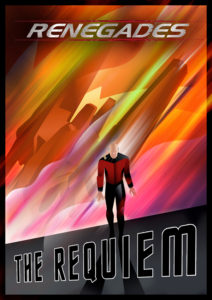 You might recall back in February that I posted that RENEGADES: THE SERIES (formerly known as Star Trek: Renegades) had released the first part of its two-part debut episode "The Requiem"…but only to donors at a minimum $35 contribution level.
Having been a donor myself, I was able to watch and enjoy the 25-minute long, professionally-made fan production (no, that is NOT an oxymoron!) that starred Walter Koenig as an admiral named "Pavel" and Nichelle Nichols as another unnamed admiral of the "Confederation of Planets."  The episode also featured a number of other veteran Star Trek actors, including Tim Russ (who also directed the episodes), Cirroc "Jake Sisko" Lofton, Aron "Nog" Eisenberg, Terry "Jadzia" Farrell, Robert "Chakotay" Beltran, and Gary "Soval" Graham.
The new fan film guidelines forced the production to surgically remove all references to the Star Trek universe, but if you go into it with the right mindset, you can kinda mentally edit those changed elements back into a Star Trek narrative.  Or you can try to watch it as an original creative reality unto itself.  Your choice.
Of course, that required one to actually watch it, which was not possible for non-donors…until today.  The ATOMIC NETWORK, which is distributing Renegades, is now offering "The Requiem, Part 1" for FREE exclusively on their website:
There's just one catch: you have to first sign up for their newsletter by providing your e-mail and SMS (mobile) phone number.  There's no other commitment, though, and it's not like you're signing up for something you're completely not interested in.  According to their website:
Atomic Network is a premium on-demand streaming service catering to techies, early adapters and sci-fi, fantasy, horror and pop culture enthusiasts. We offer a wide variety of pay-per-view scripted series and advertiser-supported non-fiction programs. At Atomic, there's always something new for our audience of techies, Trekkies, geeks and gamers — our kind of peeps!
Hey, this could be the start of something big!  In fact, one of their other upcoming sci-fi series, Cozmo's (starring Voyager's Ethan Philips with a cameo by Robert Picardo), is worth checking out the trailer for on this web page.
In the meantime, "The Requiemm, Part 1" has been released to the general public just in time for a new crowd-funding campaign to complete the final bit of work on Part 2.  According to a recent announcement:
Part two is shot, edited and in post production. We are so close! But we need to raise a little more to finance the final mixing, color correction and VFX. 
This final crowd-funding campaign will launch on April 5, and if successful, the producers promise a completed Part 2 within 60 days of reaching their funding goal.  Exciting!