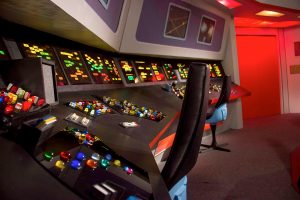 Ever since STAR TREK CONTINUES released its 11th and final episode last November, fans have been asking, "What will happen to those amazing TOS sets???"  They can't be turned into a Star Trek set tour because there's already one of those in upstate New York, and James Cawley's license with CBS is exclusive.  And despite some fans suggesting the sets just be sold/donated to a museum or to CBS itself, there are use too many set pieces to make relocating them anywhere near practical or cost effective.
The challenge for VIC MIGNOGNA, the showrunner for STC, is that the sets are currently housed in a building in Kingsland, GA that costs about $5,000 a month in rent (according to their 501(c)(3) non-profit filing from 2015).  As much as Vic wants to keep the sets open and intact, $60K per year is a LOT to ask any Trekker to pay to keep those sets open.
Enter: RAY TESI.  Ray will be the new owner of the TOS sets that were used by STC.  Ray is the executive producer behind STARSHIP REPUBLIC, which released its first fan film vignette, the 9-minute "Serpent of Yesterday" almost one full year ago.  I interviewed Ray here on Fan Film Factor when he was trying to generate funds through an Indiegogo campaign to complete their first episode.  The plans were to shoot the scenes on the Starbase Studios sets in Arkansas.  But with the current uncertainty regarding those sets, Ray wasn't certain he'd be able to rely on Starbase to film his fan project.  Now he'll film in Georgia instead.
Ray has decided to keep the name STAGE 9 STUDIOS, which is what STC decided to call their facility (named after the location of the original TOS sets on the Paramount lot back in the late 1960s).
Obviously, there's more news to come on this (including plans to restart Starship Republic later this year).  I've requested an interview with Ray, but right now, here's the press release that was just circulated by Star Trek Continues…
Continue reading "STAR TREK CONTINUES transfers OWNERSHIP of their TOS sets!"