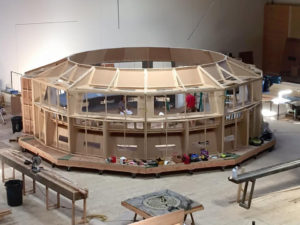 As I reported previously, ALEC PETERS of AXANAR PRODUCTIONS worked out a deal with his landlord that was unexpectedly positive in that it allowed him to vacate the Valencia, CA studio (where he has been paying $12,000/month in rent) eight months early with no financial or legal penalties. And the landlord has even offered some partial reimbursement for the donor funds that were used to improve the facility and convert the warehouse into a studio and sound stage.  Industry Studios will continue, and Axanar Productions will still be allowed to film in it, but the landlord will now be in charge, and the sets will need to be removed.
Ah, the sets.  Nearly complete, they really are quite gorgeous and very well constructed.  They are also quite large and can't simply be stored in someone's living room or garage.  So Alec has been forced to find another home for them, and apparently, that home has been found in Atlanta, GA.
Axanar Productions just released the following statement to donors…
Over the past month, Team Axanar has been working through the issues surrounding our studio lease in California and the disposition of the amazing bridge and other sets built for the AXANAR feature film project. As we have noted previously, our landlord has agreed to not only let Axanar Productions out of the lease, but to take over Industry Studios and continue to operate it as a sound stage. As part of this deal, Axanar Productions will still be able to use the facility as well as recover a portion of the investment we made to convert the warehouse into a sound stage. Those funds will go back into Axanar Productions so we can continue telling the story of Axanar and fulfilling our commitments to donors.
As you probably know, we are also approaching the end of our current Indiegogo campaign which has generated over $20,000 in new donations. Originally intended to help fund the rent and overhead related to operating the Industry Studios sound stage, we've had to change our purpose for the funds raised to cover our transition out of that space and our move to something new. We asked donors what they thought and a overwhelming majority of them indicated they were happy to let us decide how to best move forward. Fewer than 2% of all donors to the campaign asked for a refund.
So we are happy to announce that Axanar Productions will be relocating to Atlanta, Georgia at the end of this month. Atlanta is the third largest film production city in the US and our new facility will cost approximately 25% of our current lease, giving us both the time and space required to finish production of Axanar. The 6,000 sq. ft. of space is in fantastic condition and is fully air conditioned, a must for shooting in hot Atlanta summers. We are very excited about the new facility and think it will make a great long-term home for both Axanar and the other Star Trek and science fiction projects we have planned.
So, Team Axanar will be loading trucks and moving out of our Los Angeles facility April 28-30th. If you are a Los Angeles local, we would love to have your help! In addition, we move into our Atlanta facility May 6-7th and if you are an Atlanta resident, we would love your help there. In fact, the team from another Star Trek fan film is coming over to help us unload the trucks and move in!
So if you are interested in helping in either location, please email me at [email protected] and let me know. There will be food and swag for everyone who helps!