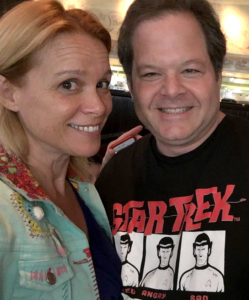 My life isn't usually all that interesting or exciting…at least, not all in one week.  But what a week it was!
(Actually, it was only really exciting if you happen to be a Trekkie interested in fan films.  If you're my wife, it's more like, "That's nice, honey.  I'm glad you had such a good time.  Did you remember to empty the dishwasher?"
And that's why I'm writing this blog—because I have now emptied the dishwasher, and I really want to tell you guys about the fan film filled week I just had…because you care, right?  (Aw don't answer that; it'll just kill my buzz.)
As some of you already know, I spent last Wednesday evening attending the premiere of Renegades: The Series' first full episode "The Requiem" at the Laemmle theater in North Hollywood.  I included photos from the event on this blog page, along with a list of the celebrities in attendance.  But along with them were a bunch of people from the Trek fan world that I hadn't seen in a while, like Star Trek author/editor/archivist/consultant/producer/fan-about-town Larry Nemecek.  In the fan film world, you might remember Larry as the actor who played Dr. McCoy in the first two episodes of Star Trek Continues.  I've known Larry for, geez, almost 15 years now!  And he's one of my favorite people on the planet.
Also in attendance were two of my fellow Axanar volunteers, Derek Allen and Martin Horowitz.  In addition, I reconnected with Ryan T. Husk, who has appeared in multiple fan films, including Renegades, Star Trek Continues, and Star Trek: Horizon.  Oh, and I finally introduced myself to Manu Intiraymi, the actor who played Icheb on Voyager, whom I interviewed recently over the telephone but still hadn't met in person.
By far, though, the highlight of the evening (aside from watching the premiere of "The Requiem" on the big screen and seeing that Walter Koenig and Nichelle Nichols are still doing well), was when Renegades producer and co-writer Sky Conway walked over to me, called me Jonathan, gave me a hug, and thanked me for coming.  I hadn't realized that Sky even knew who I was!  But apparently he did, and he was very appreciative of the support I've given Renegades on this blog site.
That was Wednesday.  On Thursday, I spent 90 minutes on the phone being interviewed by a reporter for Los Angeles Magazine for an article on Star Trek fan films.  The article won't be out until October, and I'll let you know when it's available.  Apparently, he'd already talked to both Vic Mignogna and Alec Peters…so goodness knows what the final written feature will look like!
My fan film frolic continued on Friday for an evening with fan filmmaker Gary O'Brien, director/producer/co-writer of Chance Encounter, which is a MUST SEE fan film produced for an unbelievably low budget of just $2,500 (or whatever the equivalent is in pounds, since Gary is British).  I had featured his Kickstarter campaign and updates here on Fan Film Factor, and Gary wrote to thank me.  He mentioned that he'd be coming to L.A. in a few months, as he'd won a contest last year as the U.K.'s "Ultimate Trekker" (part of the 50th anniversary hoopla), and the prize was a trip to L.A. and a V.I.P. tour of Paramount Studios.  I told him to let me know when he was coming, and we could get together.
He contacted me a few weeks ago to tell me he'd be here in Mid-July, staying downtown.  I was available on Friday afternoon/evening, which was the same day as their studio tour.  He and his friend Scott wouldn't be renting a car, but if I didn't mind driving to their hotel after the tour, there was a bar across the street, and we could get a drink.
Two things popped into my mind: 1) it's a schlep to downtown in Friday afternoon rush hour traffic, and 2) I don't drink and drive…especially not on a Friday evening in L.A.  Also, I felt bad that finances wouldn't allow them to rent a car, limiting the amount of L.A. they could see during their time her.
"Hey, would you guys like a fun tour of some Star Trek filming locations instead?" I asked Gary.  "It'll be a tour AFTER your tour!"  Gary was more than happy to take me up on the offer, so I picked him and Scott up outside Paramount Studios at 6pm (we rendezvoused at Astro Burger, if you're curious), and then I drove us to nearby Bronson Canyon in Griffith Park…a filming location for MANY Star Trek episodes and movies (take a look at this list), and it was also the exterior of the Batcave from the 1960s TV series.  Then we grabbed a quick dinner at my favorite Thai restaurant on Hollywood Blvd.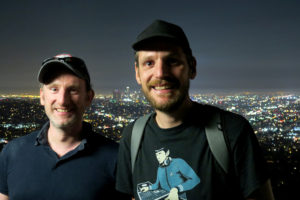 After that, it was up to the Griffith Observatory (shooting location for the Voyager episode "Future's End"), passing Fern Dell on the way up (Fern Dell was the shooting location of the Bajoran Monastery on DS9).  Once at the observatory, I took a cool photo of Gary and Scott with the lights of L.A. behind them.  On the way back, I drove them past the historic Chinese Theater.  All of these things were within a 3-mile radius of Paramount to minimize traffic and maximize the fun.  We still had some traffic because L.A. is just crazy, but we also got a LOT in.  And since Gary's mate Scott didn't know much about Star Trek fan films, we spent part of dinner catching him up!  But walso talked about a wide range of things, and it was just a great night getting to know two new friends with awesome accents!
The next day, my old friend Adam "Mojo" Lebowitz, Emmy-winning visual FX artist for Battlestar Galactica and Voyager (he also worked on Babylon 5 and Ds9), was in town for interviews for the DS9 documentary that Ira Behr and Adam Nimoy are doing.  Mojo has been living in Boston for the past few years and was missing his old L.A. friends and colleagues.  So he invited a bunch of us for lunch at the Cheesecake Factory followed by War for the Planet of the Apes (or, as I later called it: The Great EscAPE…you'll get that joke when you see it).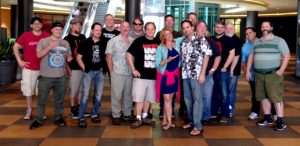 About 17 people showed up, many of them folks who work in the visual FX and computer animation industry (not me; I've just known Mojo since we were kids).  From the world of fan films, there was Robert Meyer Burnett of Axanar fame and also Gabe Koerner (of Axanar detractor fame, but he was on his best behavior), who worked on the first three episodes of Star Trek Continues and currently is working at Fox on The Orville.  Also in attendance at this fun lunch was Chase Masterson, "Leeta" from Ds9.  (That's her with me in the photo at the top of this blog entry.)
---
I'd like to interrupt this blog for a quick moment to ask you to check out Chase's charity to help victims of bullying, racism, misogyny, LGBTQ-bullying, cyber-bullying, and other forms of hate:
http://www.popculturehero.org/
Consider making a small donation if you are so inclined.  Chase says that it has actually saved lives.
---
It was a fun gathering (despite Gabe taking endless selfies of himself with everyone), and I chatted with Rob Burnett about upcoming plans for Axanar…and no, I can't share anything.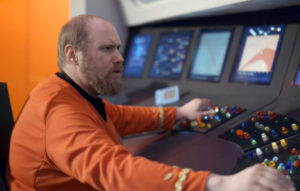 And as if that weren't enough, my fan film-filled week of fun and friends was not yet over!  At 12:30am on Saturday night, I had a call with Vance Major, who recently released FOUR different Trek fan film vignettes in just two and a half weeks!  (That might be a record.)  Vance works late night shifts at a meat-packing plant in Kansas, so the late start of the call (2:30am his time) was right at the end of his workday!  We had a great hour-long interview (which I'll have posted in the next week or two) and then chatted for a whole other hour!
So that was my exciting week, everyone.  This coming week is much less frantic.  While everyone else I know goes to San Diego for Comic Con, I'll be right here at home…unloading the dishwasher