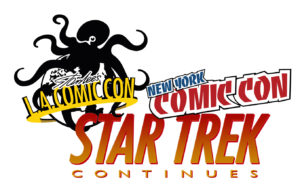 And then there were two…only two more episodes of the cutting-edge and widely-celebrated fan series STAR TREK CONTINUES.  The final duo of episodes will be a two-parter entitled "To Boldly Go" and will bring a long-awaited conclusion to Captain Kirk's 5-year mission on board the U.S.S. Enterprise…something fans never got to see when the original series was canceled in 1969 after only three seasons.  The story of Star Trek picked up again a few years later (Trek time) with the first motion picture, but fans never got to see how the 5-year mission actually ended.
Now they will…thanks to the folks at Star Trek Continues.
STC has a long-standing tradition of premiering their new episodes at conventions before releasing them onto YouTube.  Their most recent offering, "What Ships Are For," was shown to cheering fans at Florida Supercon in Ft. Lauderdale the weekend of July 27-30 and then uploaded to the Internet shortly thereafter.
The initial plan was to debut "To Boldly Go (Part One)" at the Salt Lake City Comic Con the weekend of September 21-23…and then to bring their marvelous series to a triumphant conclusion with a screening at the New York City Comicon the weekend of October 5-8.
However, those plans were made before it was announced that Star Trek: Discovery would premiere that same weekend as the Salt Lake City con on September 24.  Not wanting to step on the toes of CBS with an unnecessary Trek distraction, STC decided to move the Part One premiere to New York and then debut Part Two a month later (or so) at a convention to be determined.
Now that finale date and location have been announced, and it's a biggie:  STAN LEE's L.A. COMIC CON!  It's not quite San Diego's Comic Con (thank Zod!!!), but it's a major event here in Los Angeles and one I've attended for the last few years with my son.  Naturally, we will both be going this year, and on Sunday just before the convention ends, stars VIC "Kirk" MIGNOGNA, TODD "Spock" HABERKORN, CHUCK "McCoy" HUBER, and GRANT "Sulu" Imahara will be on hand to screen the series finale for convention attendees!
Currently, plans are set to release "To Boldly Go (Part One)" onto the Internet on October 18 and "To Boldly Go (Part Two)" on November 13.  If those dates change, I'll be sure to let you know.