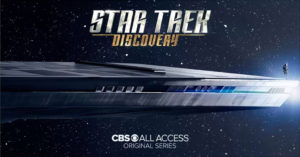 (NOTE FROM JONATHAN – I've decided to take a two-part break from fan films to answer the question I keep getting asked: "What do you think about the new Star Trek series that's coming out?")
Many Trek fans are hotly debating whether or not it was the right move to "modernize" the production design of the new STAR TREK: DISCOVERY series and put a TV-MA rating on it.  I've read passionate posts going back and forth arguing about the new uniform styles not matching those worn by Captain Pike in "The Cage" back in 1965; how the "hairless" Klingons don't look like the ones we've seen on TNG, DS9, Voyager, and Enterprise; and why after 50 years we're only just now finding out that Spock had an adopted human sister!
In my opinion, none of that is the problem.  That's not where I think CBS has steered the wrong courae, and that's not what I'll be discussing in this blog.  I'm actually planning to check out Discovery at some point down the line.  But am I the exception or the rule?
I honestly think I'm going to be the exception, and that CBS made an unwise decision to offer their new series solely through their ALL ACCESS subscription service (at least here in the U.S.).
It's not that Trek and sci-fi fans aren't ready for CBS ALL ACCESS—it's that ALL ACCESS might not quite be ready for the fans!
Let's discuss…
"Yesterday's Fan-Base"
Back in May, CBS President and CEO Les Moonves, after acknowledging that the ALL ACCESS subscribers already skewed about 20 years younger than the audience that typically watches the regular CBS network, said: "Star Trek will bring us even younger."
Yep, old farts like me (I'm fifty) and others who have been with Star Trek for three or four or five decades…well, we aren't the droids CBS is looking for.  Sure, we're fiercely loyal to Star Trek, but we come from another generation.  We are "yesterday's fan-base."  We're used to turning on the TV, changing the channel, and watching a program.  Or maybe we set the DVR to record it and we watch it later.  And hey, maybe we even have NETFLIX.
But for the most part, we watch our shows on the TV screen.  Unfortunately for us, however, CBS ALL ACCESS isn't exactly "TV-friendly."  In fact, on their sign-up page, the images CBS shows for their subscription service include a computer, a tablet, and a smart phone.  There's no television anywhere in sight!  Take a look…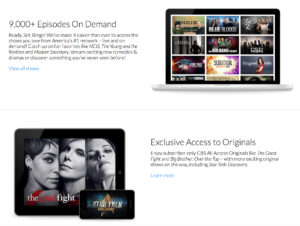 And even though not everyone in "yesterday's fan-base" is a complete Luddite, we're still not as likely (as yet) to own any of the devices needed to watch ALL ACCESS on our TV screen: Roku, AppleTV, Chromecast, Xbox, Fire Stick, etc.  And since we're probably less likely to adjust our viewing habits to suddenly watch Star Trek on our computer screen or smart phone, it's a safe bet that only a fraction of us long-standing, die-hard Trekkers will go through the hassle of subscribing to ALL ACCESS in order to watch the new series.  Yeah, some probably will, but CBS needs 2 million new subscribers to ALL ACCESS by 2020 (less than 28 months away!).  And considering that a fair percentage of fans are downright hostile to the new show and have said they plan to skip it entirely, well…relying on hard-core Trek fans to get to that 2 million subscriber number likely ain't gonna cut it.
CBS knows this.  That's why they went younger and hipper, treating Star Trek "canon" as optional and not the top priority.  In short, they don't care much about the Trekkies who are shaking their fists and yelling that Discovery looks and feels all wrong for Star Trek.  As I said, we're not the droids they're looking for.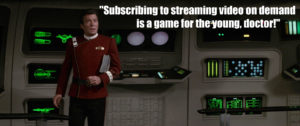 "The Next Generation"
These days, the broadcast networks and cable/satellite TV providers live in almost constant anxiety over the concept of the "cord-cutters."  These are (mainly) young people who are choosing in ever greater numbers to cancel their 3,000-channel/$100+ per month television services and just stream their favorite shows from the Internet.
Unlike "yesterday's fan-base," the "next generation" doesn't have a problem watching TV shows and movies on their computer screen or tablet or phone.  Eventually, they won't bother watching those "outdated" networks at all but only the shows they want to when they want to.  And—POOF!—there go the ratings and the ad dollars.
In response, companies like CBS and the other networks have looked at streaming services like NETFLIX and HULU and AMAZON PRIME and said, "Hey, let's do that, too?"  And thus was born ALL ACCESS…with others quickly following suit.  Already Disney has announced that they will be pulling all of their content from Netflix in 2019 when their current licensing contract expires and will be launching their own subscription service.
But there's a big difference between Disney and ALL ACCESS.  Disney will offer 75 years of Mickey Mouse, animated film classics from Snow White to The Lion King, every Pixar movie ever, plus all the Star Wars and Marvel movies/shows including specials and new features.  A subscription to Disney's service will likely be money well-spent…especially if you have kids.
And it's not that ALL ACCESS doesn't offer an extensive menu of content for their subscribers.  They've got the entire catalog of all CBS shows still in first-run like The Big Bang Theory, Young Sheldon, CSI, and NCIS.  Plus they've got 60 years worth of reruns from shows like I Love Lucy, The Brady Bunch, the Odd Couple, Cheers, Frasier, 7th Heaven, Beverly Hills 90210, The Twilight Zone, the Young and the Restless, and Wings.  Oh, and you get access to all 262 episodes of the weekly news show Face The Nation and 162 episodes of 60 Minutes.  There's also NFL Football, the Emmys, Grammys, and Tonys.
The big question is: will the typical "next generation" of subscriber who wants to watch Star Trek: Discovery really care about all that?  Is the $5.99/month (or $9.99/month for the commercial free option) "money well spent"?
---
Come back tomorrow when we look at what this "next generation" subscriber really wants…and does CBS ALL ACCESS have the goods to offer it?  We'll also take a look at some of the other headwinds facing the new Star Trek series, including having only one realistic chance to attract a mass audience and whether the field on which Discovery is competing is simply too crowded already…