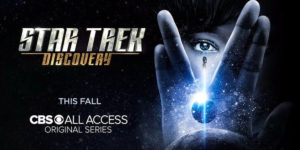 The news seems to be REALLY great for the premiere of STAR TREK: DISCOVERY.  According to a press release quickly and enthusiastically circulated by an exuberant CBS, the premiere of the newest Star Trek TV series has resulted in record-breaking sign-ups for the ALL ACCESS streaming service:

Tonight's premiere of STAR TREK: DISCOVERY on CBS All Access, the CBS Television Network's digital subscription video on demand and live streaming service, broke a new record for subscriber sign-ups in a single day, eclipsing the previous record held by the 2017 GRAMMY Awards®.
In addition to its single day subscriber sign-up record, CBS All Access experienced its best week and month ever for sign-ups due to the launch of STAR TREK: DISCOVERY, the fall kick-off of the NFL ON CBS on the service's live local feeds and the season finale of BIG BROTHER and the BIG BROTHER LIVE FEEDS.
Also, the free premiere on the regular CBS network was watched by 9.6 million people.
But before people start gulping down too much champagne (although there is certainly reason for celebration), I'd like to mention a few things that CBS and fans should be noting.
Now, I realize this blog is going to sound like a wet blanket, but please make no mistake: I am ABSOLUTELY, SINCERELY HAPPY that so many people liked the new show!  (I personally wasn't thrilled with it, although I do plan to watch more episodes eventually.)
But I'm also a business strategist trained to look at multiple aspects of a situation.  As I did in my previous blog about Star Trek: Discovery, I want to take a look at the whole picture…which is, of course, impacted significantly by CBS's decision to offer their new Star Trek series exclusively as a paid streaming video-on-demand service.
So yes, the news is definitely good for CBS.  But it might be a little too soon to consider the game won…
First, my sincere apologies for having to use the "O" word, but we simply can't ignore The Orville, as it serves not simply as a parody of Star Trek (or an homage…call it what you will) but also an ALTERNATIVE to Star Trek that is available for free and without the need to subscribe to a separate streaming service.
Not that things are going all that smoothly for Seth MacFarlane's pet project at the moment.  After an incredibly strong post-NFL debut on FOX three weeks ago—where 8.5 million viewers tuned in to watch the premiere of The Orville—ratings dropped by 50% when its third episode moved to its new Thursday night time slot.  So only 4 million people watched The Orville last week.  We won't know until Friday whether this is the start of a disastrous downward trend, the "new normal," or simply a ratings hiccup.
However, as a comparison, CBS is hoping that Star Trek: Discovery will attract 2 million new subscribers to ALL ACCESS, raising their total to 4 million subscribers by 2020.  So in two years, CBS hopes to RISE to a level of viewership for Discovery equal to the number that The Orville DROPPED TO after falling 50%.  Think about that for a moment.  Done?  Okay, moving on…
Now, the fact that there were record sign-ups Sunday night (and that whole week) is actually not really news.  The real news would have been if there had NOT been record sign-ups!  Indeed, that news would have been devastating—for fans, for CBS, and for everyone in their marketing department who would have likely been fired on Monday morning.
That is to say, when CBS puts so many eggs into a single basket—$120 million in production budget, tens of millions in advertising, huge online social media campaigns, big Hollywood blue-carpet premieres—heck, you'd BETTER get record sign-ups!  And so they did.  Yay.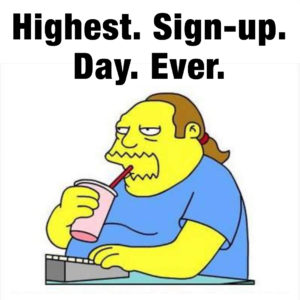 But what exactly does that mean…"highest sign-up day ever"?  There's a lot that CBS is NOT telling us…most notably, the actual NUMBER of sign-ups.  Based on the current 2 million subscribers and the fact that ALL ACCESS has been around about 2 years, they're probably averaging 3,000 new subscribers a day.  Of course, it's ridiculous to think that new subscriptions would be coming in at the same amount each day.  So naturally, there will be special events (like the GRAMMY Awards®) when sign-ups would spike.  But does that mean 10,000 in one day?  100,000?  A million?
Now, if CBS had just gotten a MILLION new sign-ups Sunday night, I would have expected that number to have been plastered all over their press release.  The fact that it wasn't, and that CBS continues to be reluctant to share hard data (unlike, for example, Apple with sales of iPhones), leads me to believe that the sign-up number was more likely in the hundreds of thousands…still good, but that still leaves a way to go to get to 2 million.
And that also raises the question: how DO they get to 2 million subscribers now that the "spike" is over?  Sure, it's been a record-breaking day/week…but what now?
---
Tomorrow, we take a look at the four things Star Trek: Discovery needs to live long and prosper.  Does it have all four?  If not, what's missing…and is it a fatal flaw?