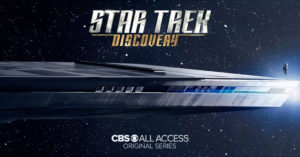 Rather than writing a review of STAR TREK: DISCOVERY (that's coming tomorrow), I decided to take a look at the bigger picture.  Were the record sign-ups right after the premiere really "big news" or simply the inevitable result of hundreds of millions of dollars in production and advertising/marketing budgets?  Also, what does it tell us that CBS remains so reluctant to provide hard numbers about how many people actually subscribed last night?
As I said in yesterday's blog, my goal here is NOT to try to snatch defeat out of the jaws of victory for CBS.  I'm actually very happy that Star Trek: Discovery did so well in both ratings and sign-ups.  This means that the worst-case scenario—CBS simply assumes that Star Trek has run its course and is no longer a viable sci-fi franchise—has been avoided.  Nearly 10 million people watched the free network TV premiere on Sunday night.  So anyone accusing me of sour grapes is wrong.  Wet blanket, yes.  Sour grapes, no.
My desire, to be honest, is to simply take a wider look at this new series…beyond just Sunday night or this one week.  Now that the horse is fast out of the starting gate, what are the challenges facing Star Trek: Discovery in terms of keeping and growing its viewership?  Obviously, CBS is in a unique situation due to its decision to require viewers to pay to see episodes of the new series.  How does that affect their goal of attracting and keeping viewers?
As I said in a previous blog, good word of mouth can really help a show increase its viewership.  That's what The Orville is hoping for (oops, I used the O-word again, sorry!)  Many viewers who stuck with the new FOX series found the third episode to be significantly better than the pilot.  But 4 million people didn't stick with the show long enough to see that third episode, as viewership dropped by 50% when The Orville moved from Sunday to Thursday night.  Can some of those 4 million be won back?  Can new viewers be found?
The answer depends primarily on four things:
Continuing quality and improvement of the episodes – The Orville pilot was, many thought, weaker than the following two episodes.  That show can't afford to slide back on quality lest people say, "I told you it sucked.  I'm outta here."
Good word of of mouth – I've been telling many friends who gave up after the first episode of The Orville to check out the show again.  I even got one to do just that, and now he's hooked (as are two of his teenaged kids).  The more viewers who "spread the gospel," the more likely viewership will stabilize and even increase.
Ongoing advertising – Most series do best when they have frequent commercials reminding people to watch them, showing all the cool stuff coming up.
Ease of access – The easier it is for new or returning viewers to check out the show, the more chance they will do so and become regular viewers.
Now, let's look at these four items from the point of view of Star Trek: Discovery and CBS's decision to make it available only through subscription after the series premiere…
Episode quality – I am certain Discovery will have that.  Even though I personally wasn't thrilled with the first episode, I thought the second was an improvement…and critics have said that the third episode is even better.
Word of mouth – Here things get a little more problematic.  Some fans really LOVE Discovery and will sing its praises…but how many?  That's the hundred million dollar question!  The Orville is trying to claw itself back from having dropped to 4 million viewers in week three.  At best, Discovery has about half of that number of viewers to work with right now.  And it seems that, at least initially, fans are pretty split on whether or not they even like the new series.  The audience score on Rotten Tomatoes remains at 65%.  The Orville is at 89%, for comparison.  That doesn't mean there will be no word of mouth for Discovery, but it's likely that The Orville will get more positive word of mouth from more viewers than Discovery will…simply because more people are watching the FOX series and liking it more(at least on average).
Ongoing advertising – This one, I admit, I'm really curious about.  Naturally, I see ads for The Orville all the time on FOX during other shows and football games.  The question is, now that the Discovery premiere has been aired, will we see any more ads for that series on regular CBS TV?  You'd think CBS would want to do just that, but if you look at The Good Fight (the only other original series airing exclusively on ALL ACCESS), you don't see many (if any) ads on CBS telling people to subscribe to watch it .  Will CBS figure with Discovery, "Well, we've built it, now they will come…" or will they feel the need to keep the outreach going?  I suppose that'll depend on the number of sign-ups, which I suspect will return to more modest levels quickly.  And that leads us to…
Ease of access – Want to check out The Orville?  It's on Thursdays at 9pm.  If you're already watching Gotham at 8pm and you see an ad for "The Orville – coming up next on FOX!" then simply don't change the channel when Gotham is over.  Easy!  Now let's head over to CBS, and you're checking out The Big Bang Theory (which probably attracts a similar young adult target demographic) when you see an ad for Discovery.   You can't simply keep watching CBS after Big Bang is over to check out Discovery…or even set your DVR to record it later.  You'll need to stop watching TV (or pause it), go to your computer or smart phone/tablet, and sign yourself up for All Access, creating a user account and password.  Or you can leave all that until later…assuming you remember to do it.
And of course, there are so many other unknowns.  What percentage of the people who just signed up did so only to see the conclusion of the pilot episode and then immediately canceled once they did so?  How many of those first night record sign-ups were people on the East Coast of the United States who had set their DVRs to record Discovery only to find that the game ran late and they only got the first 12 minutes of the new show.  (I suspect that number is actually pretty high!)  How many are waiting until the end of the season to binge watch…paying for only a one-month subscription before canceling?  (That's my plan.)
And although I hate to mention the elephant in the living room, but how many people are just going to download the episodes illegally?  (And I in NO WAY encourage or endorse such practices!)  But multiple news sources have reported that Discovery has quickly cracked the TOP 10 on the Pirate Bay's list of MOST PIRATED SHOWS!  In fact, the pilot episode has actually been pirated more than the second episode of Discovery…which kinda supports my theory that a lot of folks on the East Coast missed the first episode and wanted to see how it ended.  And the fact that the second episode has fewer pirated downloads than the pilot implies that the first episode didn't exactly leave a bunch folks wanting more…even though they were illegally downloading it anyway!
Ironically, the high rate of piracy could actually be a help to CBS!  Sure, they are going to lose potential revenue from subscribers, but the WILL expand their viewer base.  And with more people watching the show, there's more potential for good word of mouth, right?  Of course, CBS simply has to hope that the good word of mouth FROM the pirates doesn't simply go to OTHER pirates!  Instead, with luck, those pirates will convince viewers with actual moral compasses to go and legally subscribe.  We'll see.  If that does happen, then the cloud of online piracy ends up with at least a small silver lining for CBS.
In the end, Star Trek: Discovery is the canary in the coal mine right now.  There's no instruction manual for CBS, no rule book.  Every decision they make will either turn out brilliant or idiotic, and it'll be tough to know anything for certain immediately.
So yes, the news was really good for the premiere.  But as the weeks and months go by, CBS might need to get creative in finding ways to keep Star Trek: Discovery in the spotlight, dangling it temptingly in front of potential new subscribers.  Otherwise, there might have been record sign-ups on September 24, but that could also end up being the last hurrah when it comes to bringing viewers to ALL ACCESS to pay to watch Star Trek: Discovery.