WARNING!  SPOILERS AHEAD!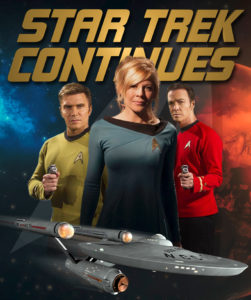 Last time: we took a look at the first three episodes of STAR TREK CONTINUES to be filmed with $126,000 in funds donated from their first "Kirkstarter" campaign in late 2013: "Lolani," "Fairest of Them All," and "The White Iris."
The last of these three episodes was filmed in January of 2015, just as STC was launching its second Kickstarter campaign (Kirkstarter 2.0, as they called it) to fund their next episode….and possibly more.  But before we get to the crowd-funding campaign, something even more significant was about to happen in the Georgia Studio where STC shared space with Farragut Films.
Farragut Films wanted out, and was ready to let STC take over the studio completely (along with the $4,000/month rent!).  The only problem: Farragut Films wanted to take their bridge with them.  After all, they built it!  But how was STC going to make more episodes without the most important TOS set of them all???
Later on at the end of 2015, STC would file for 501(c)(3) tax-exempt status, and their submitted paperwork became public record.  As such, we now know all of the details of what happened behind-the-scenes when Farragut Films moved out of the studio…
BREAKING UP IS HARD TO DO
The following comes from a really interesting Addendum filed to expand on STC's submitted IRS Form 1023.  It's full of fascinating tidbits about STC.  Want to know exactly how much of their own money Vic Mignogna and Steven Dengler put into the production?  Want to know the average discounted rate most of the professionals who worked on STC over the years were charging?  It's all in there.
And this is what it says about the bridge set…
[The Starship] Farragut group owned just the bridge set which they graciously "loaned" to STC. At first it was "free" but then FFH [Far From Home Productions, the original name for Trek Continues, Inc.] had to start paying some of the rent, which was eventually paid by a fan.
Quick interruption.  That last part is actually a fascinating story that not many people know about.  Initially, STC had an agreement where they would just borrow Farragut Films' studio and sets for a few weeks each year to film a couple of episodes of their fan series.  Farragut would be paying the entire $4,000/month rent on the warehouse facility-turned-studio.  In the meantime, Vic Mignogna and Steven Dengler had put $41,000 into production costs during 2013, and some of that money went into expanding and improving the standing sets.
But $48,000 a year is a lot of money.  And when, at the end of 2013, STC pulled in over $100,000 (after fees) from their first cr0wd-funding campaign, Farragut Films thought it was time to start splitting the rent evenly.  The only problem was that STC had budgeted their three episodes based on the assumption of free rent.  But Farragut insisted that the rental costs now be shared (which, to be honest, seems fair).  However, that would likely cost STC one of their three promised episodes.
But then, sometime in early 2014, the studio landlord received an anonymous payment of $24,000 covering STC's half of the rent for the year.  The addendum lists it only as being paid by "a fan."  Since Vic's and Steve's donations to the production are thoroughly recorded in the IRS filing, it's unlikely either of them was the anonymous fan.  And it sure as heck wasn't me!  So the identity of this anonymous benefactor still remains one of the mysteries of the fan film world!
Okay, back to the story of the STC/Farragut break-up…
The bridge was good and sturdy but, for example, the (computer) lights at the various officers' stations did not mimic the ones from TOS to the satisfaction of STC volunteers and professionals. For the STC shoots, they made several major upgrades. The lights on the bridge were upgraded as everyone wanted. There were sets added around the bridge, just as in TOS. You'll have to take the set tour but behind the bridge there is an elevator opening, a conference room to the left and a long hall to the right which has a crew quarters room, a transporter room and a sick bay. Now, there is also an engineering room set farther down the hall.
If somebody came "to repossess" the bridge, the expensive new light set would get wrecked and the rest of the sets would fall like a bunch of dominos. Stated another way, the bridge set is the solidly built "keystone" that keeps the rest of the sets in place and sturdy. Eventually in 2014, it became obvious that STC could not have the bridge set "repossessed." This led to the $50,000 deal to have full title to the bridge and assure the continued availability of the other set.
That price was pretty much determined by the SS Farragut group. That's what they felt they put into the bridge set in hardware (not counting time) and they wanted their costs back. The set is beautiful and the first price of $40,000 was a really good deal. Then they decided they wanted more, $50,000, and the TCI [Trek Continues, Inc.] board voted unanimously to authorize Vic to do what it took, literally, to keep the bridge "nailed down." Before they upped the price again, Vic entered into the $50,000 contract which is at E52-53 and the set was "safe."
KIRKSTARTER 2.0
On January 17, 2015, STC launched their second "Kirkstarter"—again with a goal of $100,000—but this time, they pulled out all of the stops!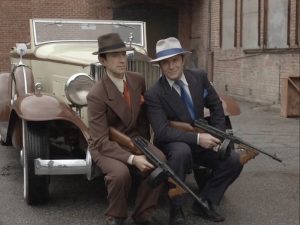 Their new crowd-funder was supported by a huge social media campaign and a series of some of my favorite-ever Trek Kickstarter videos. Wearing 1920s-era gangster suits, Vic Mignogna and Todd Hebrkorn played Kirk and Spock from "A Piece of the Action"; they even had a beige 2-door jalopy coupe! (Granted, it's not the 1931 Cadillac 370A V12 that was used in the original Trek episode, but it's pretty close.) Take a look at a couple of their shorts:
The other videos in the series can be viewed here.
Even though Trek Continues, Inc. was not yet a 510(c)(3) tax-exempt organization (that application would be filed nearly a year later), they were still operating as a non-profit organization, a fact that was mentioned frequently in their messaging to potential donors (and something that Axanar Productions would likewise do later that same year for their next crowd-funding campaign).
There's no way to know whether the non-profit nature of the production company had any effect on the donations, but regardless, Kirkstarter 2.0 blew away all expectations, taking in nearly $215,000 from 2,916 backers!  Having more than doubled their goal number, STC would now be able to construct an amazing full Engineering set along with an alien planet set.  They also brought in enough to cover the $50,000 buy-out of Farragut Films and afford the full studio rent (increased from $4,000 to $5,000/month to give them more room to build Engineering) for the entire year.  And with the remainder, STC would be able to produce TWO new episodes in 2015.
But first, there was still one episode from the previous Kickstarter still in post-production.
Wait a second!  Didn't STC already produce and release the three episodes from the previous Kickstarter: "Lolani," "Fairest of Them All," and "The White Iris"?  Where did this extra episode come from?
EPISODE #5 – DIVIDED WE STAND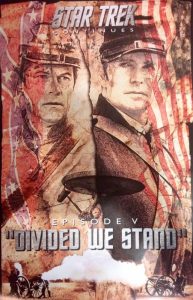 "Divided We Stand," was actually filmed back-to-back with "The White Iris" in order to save money on travel and hotel costs, as well as on equipment rentals and other expenses.  And that's how STC managed to squeeze out a fourth episode from the donations raised in the first Kirkstarter.
Each episode usually took about 8-9 days to shoot, but "Divided We Stand" required an extra little "field trip" to nearby Olustee Battlefield Historic State Park in northern Florida (about an hour from the studio in Kingsland, GA).
A couple of years earlier, Vic got an idea to do an episode where the crew visit a specific period in history…which some of his favorite episodes of TOS had done. But where (or rather when) had the Enterprise crew NOT gone before? When Vic came up with the answer, he also came up with the solution of how to recreate another time period without blowing the budget: the American Civil War.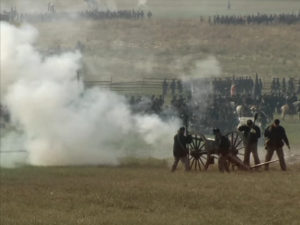 It turned out that a local Civil War reenactment group would be staging the Battle of Olustee just a few days after studio filming wrapped on "Divided We Stand." Hundreds and hundreds of extras would already be fighting in period uniforms with guns (shooting blanks, of course!) and cannons exploding…surrounded old military tents set up in army camp style. All STC needed to do was to convince a couple dozen reenactors to show up a little early to film some scenes in the studio and a few extra non-fighting scenes out near the battlefield. Then they filmed the battle reenactment itself.
Released onto the Internet in late September of 2015, the result is an episode that has probably set an almost-insurmountable bar for other Trek fan series. The Civil War battle footage was as realistic as anything you'll ever see in Hollywood.  Add in a great story focusing specifically on Kirk and McCoy, masterfully acted by both Vic Mignogna and Chuck Huber, and you've got yet another MUST-SEE fan film effort.
EPISODE #6 – COME NOT BETWEEN THE DRAGONS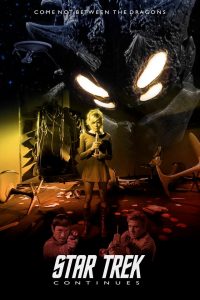 Star Trek Continues had now reached the mid-point of its planned run of 13 episodes.  Vic Mignogna, born in 1962 according to his IMDb page, said during a CNET interview, "I can't speak for anybody else, but at least for me — I'm not going to be able to play a 35-year-old Captain Kirk forever."
So the plan was always to do about 13 episodes or so, with the final few episodes gradually leading to the end of the five-year mission and setting up the situations that would lead the characters to where they were at the beginning of Star Trek: The Motion Picture.
This seventh episode featured the first hint of that ongoing story arc.  The story opens with Scotty informing Kirk that the USS Lexington had to be scuttled after an accident, leaving only eight Constitution class starships of the original fleet intact (Constellation, Defiant, Intrepid, Excalibur, and Valiant were all destroyed/lost during TOS episodes).  Fans didn't know it at the time, but this stand-alone reference to the destruction of another starship would play a larger role in the remaining episodes.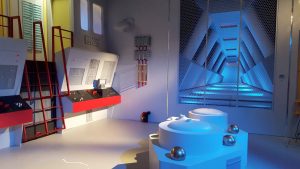 It was another ground-breaking episode by STC, one of their best yet with a very true-to-TOS feel.  They tackled a real social issue with a morality tale, employing many of the tropes that TOS used (like alien mind control and a "monster" who turned out to be more of a victim).  Guest star Gigi Edgley (of Farscape fame) gave a powerful performance.  The regular cast by this point were becoming much more comfortable in their roles, no longer simply mimicking the original series regulars but finding their own rhythms playing these characters.  It was also the first episode (of any fan series) to feature a full Engineering set.  (Although the fan series Star Trek: New Voyages had built an Engineering set, it was never used in an actual completed episode.)
Five days after the release of "Come Not Between the Dragons" on May 28, 2016, STC released this really fun (and somewhat emotional) behind0-the-scenes video spotlight of creature designer and episode writer Greg Dykstra (no relation to special effects legend John Dykstra) that you should really take a few moments to watch…
EPISODE #7 – EMBRACING THE WINDS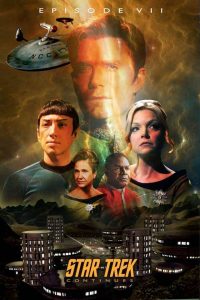 The eighth episode of STC, "Embracing the Winds," was also the first to be released after the announcement of the fan film guidelines by CBS and Paramount (more about that in Part 5 of this blog series).  The guidelines weren't an issue for this episode, however, as it had been filmed and was already in post production long before the guideline announcement.
The episode, released just two months prior to the 2016 presidential election, was also very timely, as it dealt with the role of women in Starfleet and being awarded command of a starship.  Back in the 1960s, Gene Roddenberry was able to convince the network that men of color could command starships (Commodore Stone and Captain Chandra from "Court Martial"), but he was never able to convince the executives to put a woman in the center seat…at least not of a Starfleet vessel (Romulans, it seems, did not the same problem).  In fact, the first woman commanding a starship wouldn't happen until the very beginning of the FOURTH Star Trek feature film nearly two decades later.  And the first woman to run for president representing a major U.S. party…that wouldn't happen for another three decades after Star Trek IV!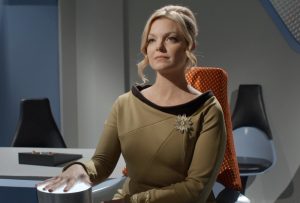 The parallels between the character of Commander Diana Garrett (masterfully played by professional actress Clare Kramer, best known to genre fans for her role as "Glory" on 13 episodes of Buffy the Vampire Slayer) become obvious early in the episode.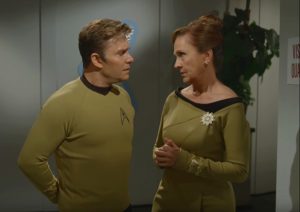 And while James Kerwin and Vic Mignogna's script remains a bit heavy-handed in places, you could say the same thing about many episodes of TOS.  And this issue is not a simple one, something the episode did not shy away from either.  Indeed, Buck Rogers actress Erin Gray makes her triumphant return as Commodore Gray, who outranks Kirk and yet has resigned herself to never commanding a starship.  It's a very powerful episode.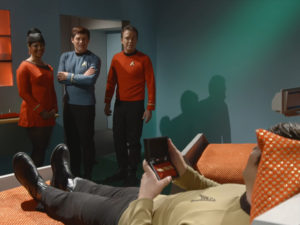 Finally, it should be noted that this is yet another episode that continues the march toward the inevitable conclusion of the fan series and the set-up for The Motion Picture.  Chekov gets a promotion to Lieutenant Junior Grade and a suggestion that he might want to consider a transfer of specialties from navigation to tactical, a position he had in the first Star Trek feature film.  And look out, because yet another starship is lost in this episode: the USS Hood (leaving only six heavy cruiser-class starships in service…with Farragut and Constitution being decommissioned and the others lost).  Some fans complained about sloppy writing, as the reason for the Hood's destruction was never revealed in the episode.  But guess what?  The answer was still to come…viewers just needed to be a little more patient.
---
Next time: Star Trek Continues sets up its third crowd-funding campaign just as another major fan production is sued by CBS and Paramount.  (Yeah, you know who.)  And then there were those pesky fan film guidelines released by the studios!  How would STC handle the fact that an ongoing fan series was now a "no-no," and all future fan films were suddenly given a time-limit of just 15 minutes?  Would fans end up missing the end of the five-year mission after all?
All of the amazing offerings of STC can be found on their website at this page: