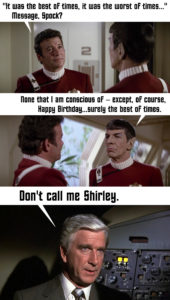 Today I turn 51 years old…and FAN FILM FACTOR just turned two.  This blog doesn't have an official birthday, but my earliest posts are dated January 10, 2016.  It's two years later, and in that time, I've published 465 blog entries!!!  Holy shat!
Although some of my blogs are just 200-400 words, others get well over a 1,000 or even 2,000 words.  (If they reach 3,000 words, it's time to split them into Part 1 and Part 2!)  So assuming I average a little over a thousand words per blog, that means I've probably written nearly a HALF MILLION WORDS in two years…mainly about fan films!
Some folks out there criticize me for writing blogs that are too long, but think of it this way: that's dedication!  Do ya know how long it takes to research, plan out, organize, and write a half million words of blogs???  (Don't make fun of me; it's my birthday.)
About 15 months ago, I added Google Ads to the site to help generate some revenue.  Since then, my ads have earned me a whopping $529.65…or about a tenth of a penny per word.  If you check online, most freelance writing assignments pay about 10 cents a word (maybe a bit higher for more high profile work).
So I'm making 1/100 of what a gainfully employed freelance writer makes!  And yet I still do this.  Why?
Well, there's a few reasons…
I've grown to really love fan films…especially Star Trek ones.  And I love getting to know the people who make them and introducing those folks and their projects to the readers of this blog.  The passion and dedication that goes into even the most humble of fan films speaks to the very essence of why most of us became Trekkers in the first place.
When I began, there was really nothing else remotely like Fan Film Factor out there.  Oh sure, there was Barbara Reader's excellent and invaluable Star Trek Reviewed blogspot site, which covered every Trek fan film and audio drama ever!  But that site usually only scratches the surface, providing mainly links to fan films and articles about them.  Fan Film Factor dives in deeper…telling the stories behind the stories, interviewing fan filmmakers, and doing a whole lot more.  Fan films deserve BOTH Star Trek Reviewed AND Fan Film Factor.
Because I can.  I'm an entertaining (and obviously very humble) writer, and I'm good at organizing and presenting information.  And hey, it's fun to actually have people read  what I write!  Even on a slow day, this site gets a few hundred visitors.  On good days, I'll easily get into the thousands.
But it's a lot of work…and I mean a LOT!  So far, I've had the time to do it nearly full time, as I haven't been working a regular job.  But that's potentially about to change (hopefully I didn't just jinx it!).  Soon I'll find out if I'll be picking up a part-time gig…still working from home and leaving me time to take my son Jayden to and from school, play dates, and other activities.
But how this new job will affect Fan Film Factor, I don't know yet.  I'm guessing the frequency of my posts might slow a little.  Maybe grace will shine down upon you and my blogs will get shorter!  And I might be slower to read, approve, and respond to posted comments.  Maybe nothing will change.  It's just too early to predict anything.
One thing will not change, though: my love of fan films!  This blog will NOT be going away.  I'm gonna try my darnedest to keep it as fresh and interesting for all of my readers as it is now.  All you have to do is keep visiting every so often.
---
And hey, if you find there's not enough new blog entries for you, check out some of the old ones!  Things like the history of Starship Farragut or a spotlights on Star Trek: Aurora aren't likely to go out of style anytime soon!
"And where might I find all of these blogs on your website, Jonathan?"  Glad you asked!  Look up.  Higher.  No, higher.  Just scroll to the top of the page.  See the third item on the top menu bar?  BLOG ENTRIES.  That's where nearly all of my main blogs are:
Or maybe you're looking for that perfect fan film or series to watch and read about.  The fourth menu item is LIST OF FAN FILMS.  You can view all of my fan film focused blogs in order…
Or maybe you want stuff to be quick and amusing?  No problem!  I have a whole bunch of mini-blogs spotlighting various FUNNY Trek and sci-fi video shorts…all laid out in the FUNNY STUFF section.
Next up, if you want to learn more about your favorite fan film blogger, check out my BIOGRAPHY blogs about my many interesting experiences as a professional Trekkie.  Actually, there's only two bio blogs posted so far, but I swear I'm going to write more…just as soon as things slow down a bit around here!
Don't get too attached to the CROWDFUNDING NOW section, as I'll be dumping it soon to make room for Vance Major's FAN FILM REVIEWS (starting in March).  I usually spotlight crowd-funding campaigns on the main page while they're active.  But keeping them up-to-date in a separate section of the site has been a hassle, and few people were ever clicking on that link anyway.
Oh, and did you know I have an ONLINE SHOP?  Yep, you too can get awesome Fan Film Factor shirts and headwear!  And if you do, send me a selfie!
And finally, CONTACT US.  There's no actual blogs on that page, but you are more than welcome to shoot me a message or ask a question.  Insults, however, are better when posted on Facebook because more people will see how clever you are at mocking well-meaning bloggers.
And that's my Birthday Blog…which doubles as a tour of this website.  Take a look around!  Click on a few online ads and generate a few pennies in revenue for me!  C'mon, it's Jonathan's 51st birthday!!!