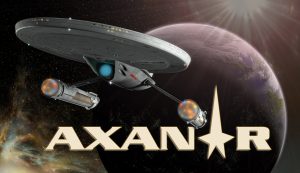 Last October, it was announced that Marvel Comics writer PAUL JENKINS would be joining ALEC PETERS as co-writer of the 2-part Axanar fan film allowed by the settlement with CBS and Paramount.  I interviewed Paul shortly thereafter, and you're welcome to read what he had to say here.
But then Axanar went pretty quiet over the holiday season and through the entire month of January.  But last week, Alec posted a flurry of updates, and suddenly I've got LOTS to report on!
If you regularly visit the AxanarProductions.com website, chances are you already know most of what I'm about to tell you.  In fact, I'll be taking a lot of the updates verbatim from there.  But since not all my readers go there, I'll be providing all of the updates here in one convenient blog post.
So let's jump right in…
THE AXANAR SCRIPT IS LOCKED
Here's what Alec had to say: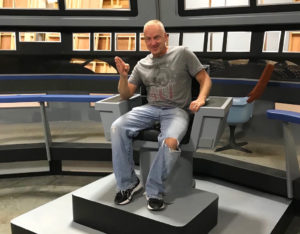 Well, I can finally report that the Axanar script was locked last month!  Paul Jenkins, legendary comic and game producer (he wrote the origin of Wolverine!) made his revisions to the script, and we consider the script "locked."  Now what does that mean?  Well, in Hollywood terms, that means there will be no additional scenes, cast or sets added to the script.  Dialogue can and always does change, but the script is basically set.
Now it goes to budgeting, and then we will ask you, our loyal fans, for help making the two 15 minute episodes.  And let me tell you, they will be better than Prelude!
I pointed out to Alec that the script was locked previously in late 2015, just before Axanar Productions got sued. That script was never filmed and went through several additional iterations even after being locked. So I asked Alec: "What's different this time? How do donors and fans know that THIS locked script will actually be made into a fan film?"
Here was Alec's answer:
When we had a locked script for the Axanar feature, we were in the middle of pre-production and we were getting everything ready to actually shoot at the end of January 2016. Then, 30 days before we were ready to start shooting, we got sued! And of course, that meant we couldn't move forward. Now, with a settlement with CBS that allows us to make two 15 minute episodes, we won't have any such roadblock.
---
AXANAR GETS A NEW DIRECTOR OF FULFILLMENT
Back in the days when Axanar Productions was still based in southern California (and I would drive up to Valencia to volunteer, roll posters, sort patches, and stuff envelopes), I nicknamed the lovely DIANA KINGSBURY the "Goddess of Fulfillment."
But when Alec moved the Axanar sets and resources (including items still needing to be fulfilled) to Georgia, Diana stayed in California and could no longer carry out her duties of actually fulfilling merchandise.  So Diana has stayed on to handle donor relations, which can be done remotely via e-mail, but someone was needed to keep track of all the unfulfilled merchandise and get it out to donors when the time comes.
(And why haven't items already been fulfilled if the crowd-funding campaigns took place back in 2014 and 2015?  Because those donors were promised DVDs/Blu-rays of the finished Axanar production.  Until it's completed, the discs won't actually exist.  And it's not cost-effective to double the postage cost by sending out some perks early and then mailing the discs separately once the final fan films are completed.)
Last week, Alec announced that Axanar has found a new Director of Fulfillment to work with Diana: NATALIE ARMSTRONG…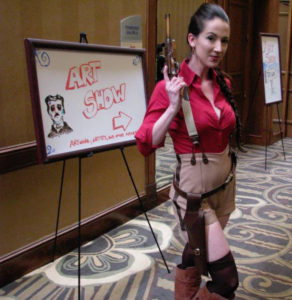 Since moving to Atlanta, we really need someone who can work with Diana, fulfilling everything that is owed from the Kickstarter and Indiegogo campaigns.  Since the perks we do have are now in Atlanta, and everything new we produce will be housed and shipped from OWC Studios here, it makes sense to have someone local who can drive this process and organize volunteers to help.  Natalie has a lot of experience in this area, and we are excited to have her on board.  Plus she is a crazy Star Trek fan and amazing cosplayer!
In a mini-interview on the Axanar website, Natalie described her real-world job, which is not too different than what Axanar needs her to do:
I am the business manager for a Sci-fi/Geek/Comic e-commerce store called Starbase Atlanta.  My daily job runs the gamut from Accounting and Statistics to HR and Customer Service.  We are a small company, so I have to wear many hats!  I get to assist in the buying process, handle all fulfillment, be the business accountant, the product photographer, just to name a few.  I stay busy, but I love it.  There's also the perks….I get all my props, Star Trek, and Harry Potter stuff at cost!
The mini-interview also asked the somewhat obvious question: "What made you want to volunteer for such an enormous job as fulfilling all the perks?"  After all, Axanar has over 10,000 donors who will need to get their stuff once the production is completed!  Here's what Natalie had to say…
After seeing the love that was put into Axanar, I knew I wanted to be a part of it.  I wanted to work with people like Alec who have the same passion for Trek that I do.  Alec had told me that it was time to start fulfilling all of the perks for the supporters of Axanar.  Since fulfillment is part of my grown up job, I know the process inside and out!  It's a perfect place for me to work with Axanar.
---

BUILDING A BRIDGE
In recent updates, various people, including Alec Peters himself, have commented that the bridge set for the USS Ares looks to be about 80%-90% complete.  But what exactly does that mean?  What specifically is left to do?  Alec provided this update:
Well, we have three jobs that we are doing to finish the bridge.
 Install all the electronics and view screens.
 Install carpeting.
 Create and install control panels.
So first up is the view screens. Curtis Short who has been our Studio Manager since California, is in charge of the overall finishing of the bridge. Back in 2015, Curtis was able to buy all the screens needed for the bridge.  Now the lower screens were out-of-production monitors, as they are the old 4×9 aspect ratio screens no longer used.  Curtis was able to find a dealer who bought old government computers and equipment and got a great deal on them.  While we need 48 for the lower monitors, Curtis bought extras.  He also bought 13 current model HD TVs for the upper monitors.
So now Curtis is working on installing the lower monitors and getting an electrician to help make sure everything is up to spec!
We have a couple of electricians who have volunteered to help with the breaker panel and making sure everything is set up correctly.
Here are some photos…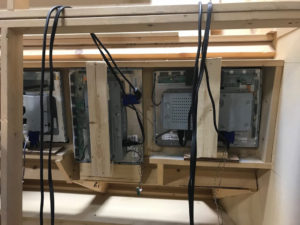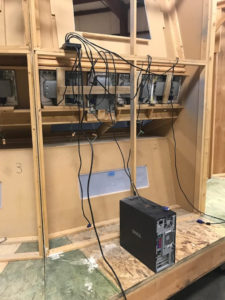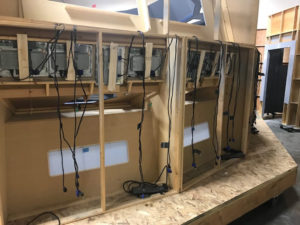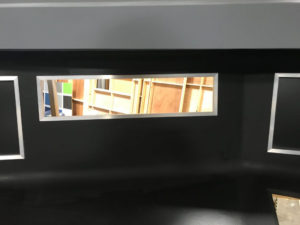 As for the console graphics and control panels, we've got an update on that, too…
While Curtis Short is in charge of the electronics, Alexander Richardson (who we interviewed on our blog here) is in charge of the control panels.  He is designing every single station so that they actually look real if you sit and look at them!
Here is one of his first test stations:

Alexander also did the bridge schematic next to the Turbo-lift!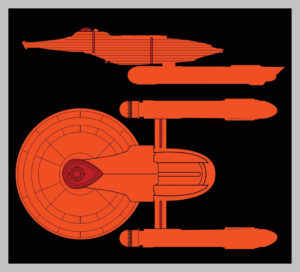 Alexander is our chief graphic artist for the bridge and does everything screen-related.  Thanks to Alexander for all is hard work!
I asked Alexander how far along he is in getting everything designed, and he said he was about 90% of the way done.  And then he added, "Pending revisions by the boss." 
Assuming all goes well, those designs will be e-mailed from Alexander in the U.K. to Alec in Georgia where they will be specially printed onto clear mylar and placed under plexiglass.  When lit from below, the console controls will look amazing
---
AN EDUCATIONAL RESOURCE
One of the things that Alec Peters had always imagined for Industry Studios when it was still located in Southern California was that it could be used as a place of teaching and learning for aspiring film students.  (L.A. is loaded with film schools, of course!)  But even though everything has been moved to Georgia and the facility renamed as OWC Studios, the dream of making the sets available to teachers and students has remained very prominent in Alec's heart and mind.  And that leads us to the next update…
OWC Studios, the home base of Axanar, has begun to work with the heads of the Gwinnett County Video Production program.  28 secondary schools in Gwinnett County (the county just northeast of downtown Atlanta) have programs for students to learn film and TV production.  Allison Falch, one of Axanar's amazing volunteers, is a teacher at South Gwinnett High School and invited me in to talk to her video production class.
Allison then introduced me to Pasha Souvorin, who loved the idea of using the studio for the betterment of the students.  One idea floated was what about getting students to make their own Star Trek fan films!  We already have one group of students coming to see the facility, and we hope to have more.  We are a little late for this semester, but we hope to be able to create a regular program for the students for the fall.
Other World Computing, our amazing sponsor, also loved the idea, and we hope to make this studio a dynamic asset for the Gwinnett County schools.   I also had a meeting with a high profile businessman in Atlanta, and we are hoping we can eventually make this available to students all over the city.  As Spock would say, "There are always possibilities!"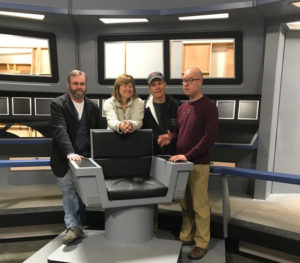 ---
AXANAR ILLUSTRATED
As I announced last week, this Thursday will feature the debut of the first-ever Axanar short story,  "Why We Fight"…written by yours truly and illustrated by Mark McCary.
But things don't stop there!
Trey McElwain and Daniel Fu, who released the first-ever Axanar fan comic book story,  the 4-page "Trial By Fire," will be continuing their efforts with more comic book stories beginning in another month or so…with one new page of the story coming out each month thereafter.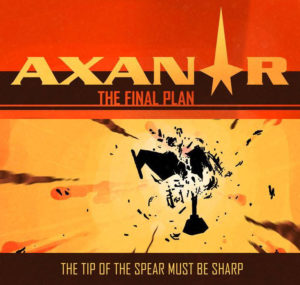 ---
There's no question that the past two years have been challenging for Axanar and its fans.  But things are beginning to really come together now, and once again it's a very exciting time to be an Axanerd!