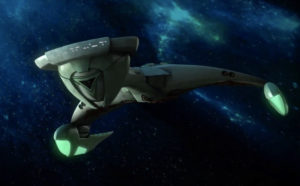 As you've probably noticed over the past five weeks, I've been very prolific in my support of THE ROMULAN WAR and its current Indiegogo crowd-funding campaign.  A week ago, show-runner MARK NACCARATO announced that he was extending out the campaign for an additional 30 days because they had not yet reached their $10,000 goal.  (Yes, Indiegogo lets you do that now.  Really!)
The extension has proven to be a real blessing, as the total raised has increased by nearly $2,000 in just six days to (as I write this) $7,785 from 66 backers…just 22% away from being fully funded.
To increase excitement and antici…
…pation for the fan production—and of course, to encourage more donations—I suggested to Mark that he "liberate" some of the special features that had, up until now, been hidden in a donor-only section.  I joked to him, "That's like showing a commercial for your restaurant only to people who are already seated at your tables eating their dinner!"
Mark agreed, and the first special feature was posted to the public earlier this week.  It shows some CGI model tests for a few of the NX-era starships, Roumlan ships, Federation vessels, and space stations that will be appearing in this fan film.  It also shows the mysterious Stormbird-class flying by…looking very much like a Klingon D-7.  How did the Romulans and Klingons come to use such similar designs a century before Romulans started using Klingon designs?  Mark actually answered that question in this awesome chat/interview we had a few weeks ago.  Take a listen if you haven't already.
Mark has also been on not one but TWO podcasts in the last two weeks:
CONTINUING MISSION: http://trek.fm/continuing-mission/46
THE FINAL FRONTIER: http://www.podcasts.com/the-final-frontier-b29b64d07/episode/The-Final-Frontier-Podcast-18-Interview-with-Mark-Naccarato-0e1a
Meanwhile, the video of the fly-bys looks AMAZING (see below).  And what blows my mind most of all is that these aren't even close to final sequences…they're just test renderings!  The finished VFX are, I'm told, going to look even better…incredibly better, in fact.
I don't know—these look pretty awesome…
(And if you can't donate, then please share the link with your friends.)