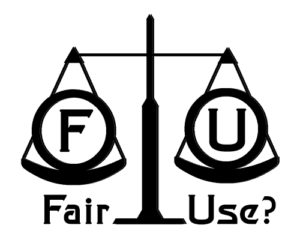 Last week, this was going to be a very different blog! Last week I was going to report on how CBS was enforcing a copyright hold on a fan-made video that was critical of STAR TREK: DISCOVERY. The fan had tried to monetize the video on YouTube (showing ads), and because there were clips from Star Trek episodes (from multiple series) in the critique, it got automatically flagged for a copyright hold.
The fan, who goes by her YouTube account name PsychoSpider, challenged the copyright hold claiming an exemption for Fair Use. Ah, fair use! Ever since AXANAR fought back against CBS and Paramount when sued for copyright infringement, numerous fans (including yours truly) became "armchair experts" in the fair use defense. In short, there are certain cases where it's okay and even legal to use someone else's intellectual property without first getting their permission. And one of those cases is when the person is using copyrighted material for purposes of criticism, even when the criticism might generate revenue.
(Don't just take my word for it! Read about Fair Use on the website of the U.S. Copyright Office.)
One of the reasons that Fair Use exists for criticism is because it is generally assumed that a copyright holder would be unlikely to ever grant permission to someone to use their intellectual property only to complain about it. So Fair Use was created to try to balance the opposing forces of copyright protections and freedom of speech. It's not always an open-and-shut case, and on websites like YouTube, there are always going to be cases of the unreliable algorithm flagging innocent posts, but in general, critical speech is protected even when copyrighted intellectual property is used. The problem is, you usually have to pay a lawyer lots of money to get a court to agree with you.
That wasn't an option for PsychoSpider. Instead, she simply filed her hold challenge, claiming Fair Use, and waited. It didn't take long for CBS to respond with a big, fat "NO!" She tried again, and again her challenge was rejected. She would not be allowed to monetize her video on YouTube.
I was all ready to write a blog about this outrage. I'd interviewed PyschoSpider, contacted CBS for an official comment (didn't get one), and was nearly ready to hit "Publish." And then something totally unexpected happened…
About six weeks after having her second challenge rejected, PsychoSpider received an e-mail from YouTube. CBS was no longer placing a copyright hold on her video! It is now allowed to be posted with ads, meaning PsychoSpider can make a little bit of revenue (probably not too much, though) even though she is using clips from Star Trek episodes.
Yes, my friends, sometimes CBS does allow for Fair Use! And credit where credit is due: rather than tearing into the studio with an acerbic blog editorial, I am enthusiastically praising their decision as being proper, reasonable, and if I may use the word, fair. So believe it or not, I say
HOORAY FOR CBS!
(Never thought your see those words on this blog, did ya?)
Naturally, I am going to include the video in all of its Fair Use glory. But I am also going to share most of the interview I did with PyschoSpider because it's quite thoughtful and provides an interesting insight into why she fought so hard just to make a few dollars in online ad revenue.
First, though, here's her very well-crafted video. Even if you're a fan of ST: Discovery and think it's the best Star Trek ever, you can't deny the quality of the editing and overall presentation of the commentary…
And now, let's hear from PsychoSpider. Remember that the majority of this interview was conducted before the video was cleared…
JONATHAN – What is your film/cinema background? Are you a writer or filmmaker? Did you go to film school?
PSCYHOSPIDER – I studied media arts and animation in college, and I watch a lot of shows and movies. So between the two, I picked up basic rules and guidelines on how to make a competent story. These instincts were screaming when I watched Discovery, so I suppose that side of myself couldn't help but be critical about it.
JONATHAN – With all of the blogs, podcasts, posts, and videos out there that contain negative commentary about Star Trek: Discovery, what is unique about your specific point of view?
PSCYHOSPIDER – Well, I'd like to think that my criticism comes from a specific place. I love Star Trek, I always have, but there's another part of me that can't ignore things like the language of cinema. While a TV series or a movie can go about telling a story in any way possible, there are certain unspoken rules of how you present a character, unfold a story, or establish a threat. My love of past Star Trek series also inspired a certain anger at how terribly these current tales are told…not because it was "different" but because the language of cinema was ignored, and all logic ceased.
JONATHAN – How long did it take you to make your video?
PSCYHOSPIDER – It took about 2 weeks. It took time to find images, footage, and just the right music. Editing is also very time consuming.
JONATHAN – Well, I think you did an excellent job. So how long was the video posted before you were contacted about a copyright violation? On what date were you contacted?
PSCYHOSPIDER – About a week, although it wasn't a directed contact. It was more just noticing that YouTube had de-monitized my video. I disputed it through Youtube on March 19th, the first of two disputes. If I attempted it a third time, my video would surely be taken down, and I could receive a strike on my channel. And knowing that YouTube never sides with creators, I left it alone.
JONATHAN -What did your communication with YouTube look like? Did you ever speak with anyone at YouTube directly, or was it all done via e-mail/digital messaging?
PSCYHOSPIDER – At first, I was just a number in the automated YouTube system. I tried to reach out to YouTube support, but they were unhelpful. The only person I talked to at YouTube was through an email, who failed to understand my questions and was probably copy/pasting answers.
Believe me, I searched for some sort of call number, but it doesn't exist. I suppose a corporation like YouTube has no idea how to handle it. YouTube is notorious for being creator-unfriendly…and squeezing out smaller YouTube channels by making monitizing them harder to start out with. Animation channels in particular are harder to turn into a financial success because of the YouTube algorithm system. These copyright disputes are common, and usually creators have no chance against a large company like CBS, even if it is fair use.
JONATHAN -Did you make any money on your video during that first week it was monetized? And about how much do you get per viewing? How much were you hoping to make?
PSCYHOSPIDER – As far as I can tell, no money was made, youtube was fairly quick in shutting that down. I wasn't hoping to make a whole lot, it was much more of a vent of frustration into a video of sarcasm, logic, and an endless amount of questions that should have been asked before the writers made Discovery.
JONATHAN -If you weren't really planning/hoping to make much money from your video critique anyway, they why did you get so upset about YouTube forcing you to turn off the monetizing option for the video? After all, they still let you keep the video up, even if you can't profit from it. Isn't the message the most important thing?
PSCYHOSPIDER – I got mad because I felt that my video fell under "fair use," which includes protection of videos made for comment and criticism. I wanted to make my stand because I believed that I was right in that sense.
After the first appeal failed, I tried reaching out to determine if there was a particular part of the video or image that was problematic to CBS. I would have been willing to change it. But as I've said, YouTube was unhelpful in that area, and no one on their side thought it was appropriate to inform me what CBS thought I did wrong. It was like rubbing salt in a wound, like saying, "We are going to take what little money you got from this video, we're NOT going to tell you why, and YOU can't do anything because we're CBS."
Eventually I came to my conclusion to leave it un-monitized because I didn't want a take-down of my video. If the video was lost, it would defeat the purpose of everything I had in mind. I tried to take a stand and I failed, but that's okay. Because me keeping the video up anyway is my middle finger to both CBS and YouTube help.
It's now about principle and logic. By principle, I'll keep it up to stick to my viewpoint and honor. And by logic, I know that keeping it up would be my own form of resistance to this show that boiled my blood.
I fought, but I did not lose my honor. Q'plah.
---
That was all a month ago. I contacted CBS twice during that time to get a comment from them. Neither time did I receive a response. But a couple of days after sending out my second request to CBS, I received the following e-mail from PsychoSpider:
Good news, CBS released the copyright claim! I can now monetize my video! I know my interview was a while back, but I thought I'd let you know. I have no idea why they finally changed their minds, but I'm glad. All that was provided as an explanation is that they "reviewed it" and released the claim. Hope you're doing well.
I have no idea whether my second e-mail to CBS triggered this review, but that really doesn't matter. CBS didn't have to decide to release the hold at all. As blogs go, I'm not exactly The Huffington Post or Time Magazine. The important thing is that CBS made a decision that was kind and fair to a Star Trek fan…and that should be acknowledged. PsychoSpider was very surprised (and happy, of course), as she didn't expect a reversal of the decision to ever happen.
Since about six weeks had gone by since our interview, I decided to ask PychoSpider one final question…
JONATHAN -Did you hear about the recent shake-up with the showrunners of Discovery? If not, here's the article:
https://trekmovie.com/2018/06/14/star-trek-discovery-showrunners-berg-kurtzman-named-showrunner/
What are your thoughts about this shake-up? Do you think bad leadership was the cause of the problems you perceived with the series? And if so, do you think the shake-up could help improve the quality of the episodes?
PSCYHOSPIDER – I haven't heard of the shakeup until now, no. Bad leadership MIGHT have been the cause of my frustration with this new series, but I think there's more to it. There are still other writers, other leaders involved in making this, that had a big say in what this new Trek was going to be like. A story in a television series is usually made by several people instead of one or two; the blame could spread to a dozen different people.
I'd like to hope it gets better after a leadership shakeup, I really do. I WANT this to be good, but after hearing rumors that they are ALREADY dragging out Spock for season 2, my hope is a bit muted.
JONATHAN – Well, I guess we'll find out next year…