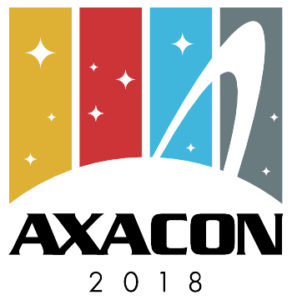 Perhaps "torpedo" isn't the right word.  Sabotage?  Interfere with?  Mess up?  Mock?  Belittle?  Bash?  Brutalize?  Bully?  Eliminate?
Whatever you call it, at least a couple of dozen AXANAR detractors (possibly more) seem to be making a concerted effort to convince the organizers of SphinxCon in Atlanta not to host the first AxaCon as a "con-in-a-con" on November 2-4.  Earlier this year, detractors had made similar efforts to pressure Eric L. Watts of Treklanta to disinvite ALEC PETERS as a guest…so much so that Eric asked to write a guest blog addressing their behavior.
The same day I was conducting my interview with ALEC PETERS about AxaCon and how it came to be an "add-on" to SphinxCon, the detractors were descending on the SphinxCon Facebook page with a wave of attempts to throw a monkey wrench into the works.  Last time it was Eric Watts.  This time they needed to get their message out to DAVE WEINER, the organizer and chairman of SphinxCon 2018.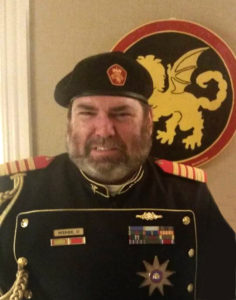 Dave lives in Decatur, GA with his wife Joanna and what he refers to as the "two house cats of the apocalypse."  He has been active in The Royal Manticoran Navy: The Official Honor Harrington Fan Association since 2014.  He is responsible for TRMN's online infrastructure and branding.
TRMN has held two conventions a year for the past 5 years–one in Raleigh, NC called HonorCon and one in Minneapolis, MN called MantiCon.  SphinxCon will be their first in Atlanta, although Dave and many of the directors and deputies have experience running and working on other cons (including Dragon*Con).
Dave wanted to share what's been going on since this past Friday because it has been very disturbing to him as a fan and as a convention organizer.  Having now observed the detractors firsthand and their attempts to try to put a positive "spin" on their actions, Dave would like set the record straight on exactly what has happened.
To do this, he has provided me with a large number of screen caps of posts, messages, and other communications…and those will make up the majority of this blog.  You can then decide for yourself how you feel about all of this…
Before I begin, Dave asked me to include the following statement to open the blog:
I've kept this focused to the attacks on the convention about Alec and Axacon. The official position of SphinxCon is that we think Alec and Axacon will put butts in seats and help make us a financial success, which is our only concern and motivation.
Thing started getting ugly shortly after Dave posted the Axacon guest list on the SphinxCon site, which included Alec, Paul Jenkins (Axanar director), Steven "Admiral Slater" Jepson, fan filmmaker Mark Largent, and…oh, yeah…me.  Well, apparently, detractor SHAWN P. O'HALLORAN felt strongly that he needed to say a few things about that last choice…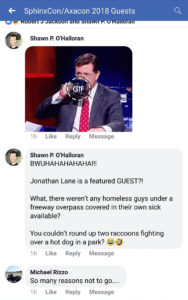 Classy, huh?  It's funny, but I don't ever recall having said anything personally insulting directly to or about Shawn in a public forum.  (I challenge folks to find a screen cap.)  Unlike Shawn—who has turned the cyber-mocking of "Slow" Lane into a lifestyle choice—I don't bash him back.  He's a dad (like me), doesn't want to be wrong (like me), and he's a big fan of a lousy New York sports franchise that ends in "ETS" (like me—go Jets!).  I don't feel like I need to add to Shawn's anguish with the Metropolitans ten and a half games back in the NL East having just dropped three straight to the Dodgers.
Anyway, even though Dave Weiner had never met me, he didn't want his convention Facebook page being used for such insults.  So he immediately deleted the post and wrote a new rule pinned to the top of the page: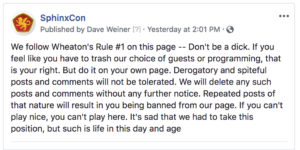 Within 20 minutes, Shawn was back with this gem…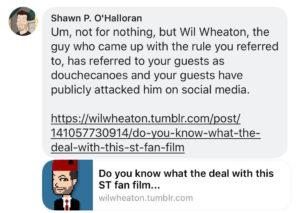 Although technically Shawn was only "relaying" what Wil Wheaton had said, this was still outright negative posting, which really doesn't belong on a Facebook page promoting a convention.  So Shawn was banned.
Later on, in the Axamonitor Facebook group, Shawn admitted the following…

At least he's honest about being really snarky; I can't fault him on that.  Anyway, Shawn wasn't the only detractor to jump onto the banwagon (yeah, that's a pun).  Within the next 24 hours, Dave had to ban another 7 people for similar insulting posts, all of them familiar detractors names or sock puppet accounts.  There were also a number of posts/comments that were deleted without a ban, perhaps one or two dozen.  (Dave isn't certain because he isn't the only moderator.)  "And despite the rumors probably started by Axamonitor," added Dave, "Alec is not one of them."
But it didn't end there…far from it!
As the insults and name-calling was ramping up, some folks decided to try a different approach: attempt to talk SphinxCon out of hosting AxaCon with a two-step strategy…
Step 1 – Ask what Star Trek has to do with the Honor Harrington series.  After all, they're two such different franchises.  Why would fans of one possibly want to check out the other?  (Keep in mind that those attendees who go to SphinxCon and don't care about Axanar simply don't pay the extra $25.)
Step 2 – Plant "seeds of doubt" in the mind of SphinxCon about teaming up with Alec Peters.
The first one to do this was Matthew Miller of TrekZone Spotlight in Australia, who has an Ayer's Rock-sized chip on his shoulder when it comes to all things Axanar.  Here was his oh-so-subtle attempt…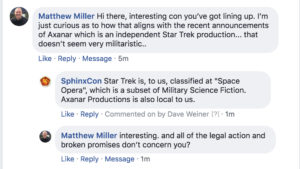 A short while later, another detractor followed almost the exact same script…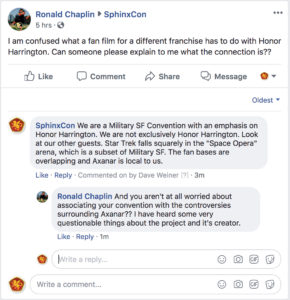 And once posts like this started getting deleted like whack-a-moles, detractors decided to switch to using the "Contact" form on the SphinxCon website…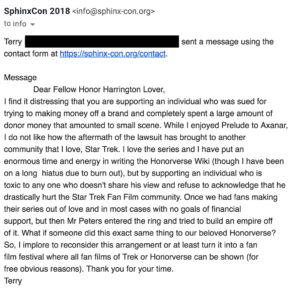 As the day went on, it seemed like the detractors were getting more and more hostile as they began to use even Instant Messenger to get their point across (whatever that point might be!)…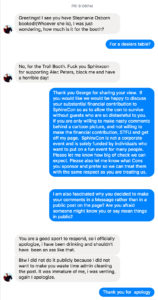 Disturbing, right?  A big, loud middle finger followed by a humble apology and admission of drinking.  That's new.  But it got even weirder when the day went on as this fellow, George Silsby, began coming to the defense of SphinxCon and Dave Weiner on the Axamonitor page.  George also reached out to Alec Peters to hear his side and seemed to be genuinely interested in making a fair and reasonable judgement.  But later in the day, George posted his conversation with Alec to the Axamonitor group (not that anything Alec said was confidential or even much of a surprise…it's just nice to tell someone if/when you're planning to post their IM conversation to a group of detractors on Facebook).
Anyway, I'll leave you with this screen cap of a series of comments from George Silsby and let you all draw your own conclusions…
In my experience, detractors don't change their minds so quickly or easily, but as I said, I'll leave this to you to decide.
By Saturday, Dave Weiner was certainly disturbed by all of this buffeting behavior…but also a little curious.  Having now heard about the Axamonitor Facebook group from Alec, Dave checked it out, read a number of posts there (including George's above), and decided to join the group in the hopes of talking to these people directly without having to do it on the more positive SphinxCon page.
A couple of hours after making the request to join the group, Dave was sent the following message from Shawn O'Halloran via Messenger.  You don't need to read the whole thing, as I've highlighted in yellow the part that made Dave's jaw drop to the floor…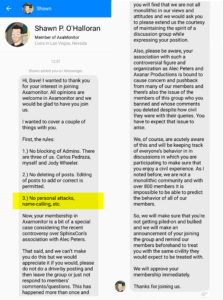 It's not that Dave was planning to go on a insult rant or anything like that, but he just couldn't believe the hypocrisy!  Here was a group that regularly mocked Alec Peters with name-calling, disgusting vulgarities, tasteless memes, endless accusations, and God knows what else!  Heck, this whole mishegoss began when Shawn himself insulted one of his convention guests by comparing him (well, me) unfavorably to a homeless person covered in vomit.  And now Shawn had the gall to tell Dave "…no personal attacks, name-calling, etc."???
Eager to welcome Dave, Shawn laid out the digital red carpet for Dave's arrival…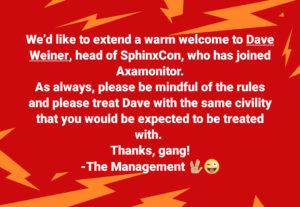 And the initial comments from the detractors were indeed warm and friendly.  Some said they loved the Honor Harrington series, others wanted to learn more.  Sandy Greenberg even invited Dave to, "Come read the posts and the legal documents to see how the rest of the world views Peters, then stay for the pie."
But Dave just still couldn't get over the audacity and hypocrisy of that "Rule #3."  Dave had spent the last 24 hours dealing with and deleting all kinds of angry and attacking posts and messages from these people littering his own convention page.  How dare THEY tell HIM not to do something they'd been doing to him, his convention, and his guests?  So instead of sticking around, Dave's first post to the Axamonitor group was also his last…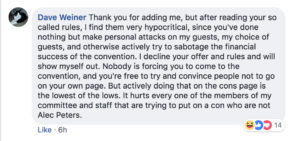 Dave and I were both somewhat flabbergasted to read Shawn O'Halloran's "what did I do?" version of the events I've just described that he posted in the Axamonitor group…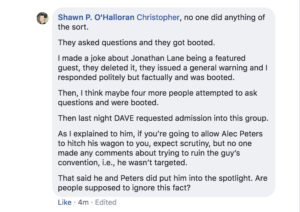 That posting by Shawn is one of the reasons I'm being so thorough in this blog.  You can read what Shawn calls "a joke about Jonathan Lane" at the top of the page and see some of their "questions" suggesting concerns that HH and ST don't mix or that working with Alec/Axanar is risky for SphinxCon and decide for yourself if the detractors were paragons of virtue in all of this…
---
As I conclude this blog, I just wanted to mention a trend I've seen recently—a new strategy used by the detractors to justify their actions (which they've acknowledged in posts like this one are "assholish"…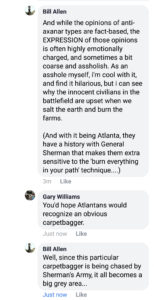 (Carpetbagger, huh?  You detractors know that Alec went to law school in North Carolina for four years and lived in Atlanta from 1998-2008, right?)
Anyway, back to the strategy to justify their actions.  The detractors are beginning to use the argument that the Axanar supporters are "just as bad" (if not worse!) with their personal attacks and bannings and threats, etc.  But is this even true?
Well, certainly not in my case.  The biggest threat I ever make is to blog about someone.  Ooooooo…scary!  And folks make fun of Fan Film Forum for having a policy that gives, like, five "second" chances before we ban from the group.  As for personal attacks, as I said, I challenge you to find a screen cap of me calling Shawn O'Halloran anything derogatory, let alone a homeless person covered in vomit.
And even you you do manage to find a moment of weakness where I call someone an insulting name, well, that's one.  Shawn and the detractors bash me almost hourly.  Take a look at this beauty…!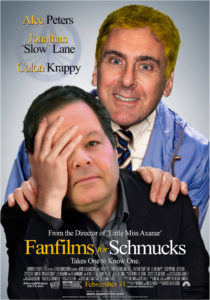 Actually, don't tell Marcus Blazingstroke (the detractor who makes all of these mocking posters), but I really love his work…amazing Photoshopping!  He just did a version of "Bill and Ted" with me and Alec that was so awesome that I RE-Photoshopped it, reqrote the insulting  bits, and now it's a real keeper…!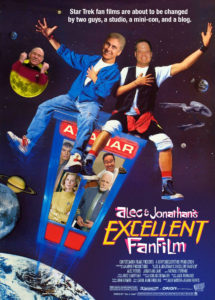 Anyway, let's assume for a moment that everyone EXCEPT me is attacking and insulting and bullying and whatever.  So that means the detractors' argument is now "Yes, we admit we are acting badly" AND "We think two wrongs make a right."
To me, neither is something to brag about.
But really, I can't imagine any Axanar supporter, let alone a dozen or more of them, doing something like ganging up on the organizers of SphinxCon and, a couple of months ago, Treklanta.  Seriously, what is the point?  It's not YOUR con.  Why try so hard to sabotage it and/or bring down Axacon?
I just don't get it, and frankly, I think any attempt to justify the detractors' actions is going to sound as ridiculous as Shawn's we didn't do anything wrong post above.
But there might be at least some hope.  On Sunday, noted detractor JASON KOVALIK posted this farewell message to the Axamonitor group…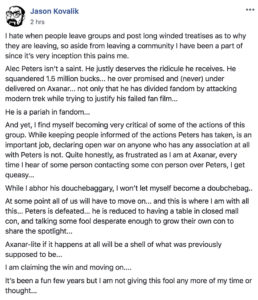 Is a glimmer of self-realization, shame, and possibly even regret beginning to shine through from the darkest depths of the detractors' minds and hearts?  Might they finally be realizing that, after putting so much time and energy—hour after hour, day-after-day, week-after-week, year-after-year—into this one silly fan film that maybe, just maybe, they really have just wasted their time…and perhaps they should, as Jason is doing, finally move on?  Only time will tell…
---

I shall end by quoting a notification that was just added to the SphinxCon website…
SphinxCon supports the movement that is sweeping fandom that once a guest is invited and a contract is signed, that no convention should give in to a vocal minority that objects to a guest.
If your objection to that guest is that strong, you are free not to attend. 
Amen.