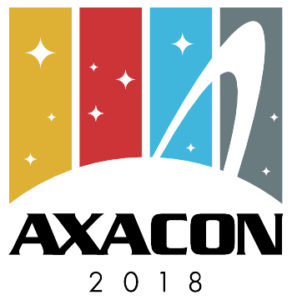 Welcome back to another emotionally-charged episode of "As The AxaCon Turns"…the fan film controversy that asks the eternal question: Is Lane ever gonna stop blogging about this crap???
Well, I thought I was finished on Monday when I posted this blog about the detractors trying their darnedest to interfere with any chance of success for AxaCon by inundating the host convention, SphinxCon, and its chairman, DAVID WEINER, with all sorts of negative public and private comments about ALEC PETERS, AXANAR, and the invited guests (including yours truly).
Because it's important to today's blog, let me remind you what started the whole upheaval.  Noted Axanar detractor and frustrated New York Mets fan SHAWN P. O'HALLORAN posted this lovely comment onto the SphinxCon Facebook page…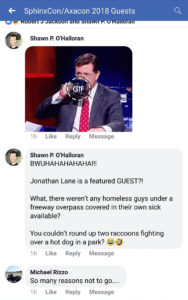 Yeah, that happened.  Then everything else happened.  Then I blogged about it.  That lit up the fan film quadrant of the Internet for many hours on Monday while I took my son to see the King Tut exhibit at the California Science Center.  There were literally hundreds of comments waiting for me to read when I got home!
But one message stopped me in my tracks.  It was an APOLOGY from Shawn O'Halloran to Dave Weiner for disrupting his convention page!
It's probably best if I let Shawn speak for himself with this screen cap that Dave sent me…
There's a lot to unpack here, and I'll get to some of Shawn's points about the court "ruling" later (as he's only telling a small and misleading part of the story), but for right now, I'd like to focus on what happened immediately next.
Dave told me that he was very surprised to receive this apology, and at first, he wasn't entirely certain how to respond.  So he asked me whether or not Shawn O'Halloran had reached out to me in any way with an attempt to apologize, as well.  After all, I was the guy whom Shawn had compared to a homeless person covered in his own vomit.
But no, Shawn had made no attempt to reach out to me in any way with an apology.  And it wouldn't have been all that difficult to contact me.  Shawn is a member of Fan Film Forum and could easily have posted there.  Likewise, he could post a comment here at Fan Film Factor or even use my "Contact Us" submission form.  He did none of those.
Also, although Shawn and others did move quickly to put the brakes on an ill-advised idea by SANDY GREENBERG to contact the main guest of SphinxCon, DAVID WEBER (author of the Honor Harrington series) and "warn" him about Alec, Shawn didn't exactly speak up when the name calling and attacks in absentia shifted to Dave Weiner after he had left the Axamonitor Facebook group…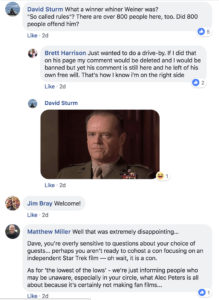 So not feeling much sincerity or commitment in Shawn's "apology," Dave wrote the following response…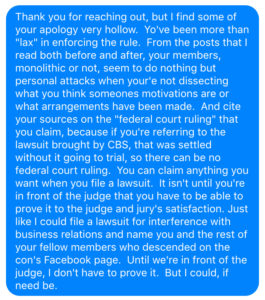 I'm sure you won't be surprised to discover that Shawn  then responded with a bit less contrition and a bit more, shall we say, confrontation…

As a side note, I'd like to apologize to you guys for the length of that screen cap.  There was no other way to do it.  But now Shawn NEVER gets to call me verbose again.
Anyway, in Dave's final response, he pointed out the very obvious: he never threatened to sue Shawn (or anyone)…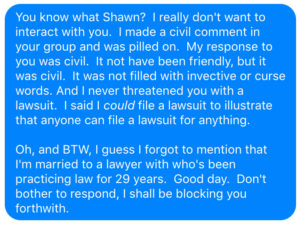 ---
And now, if you'll indulge me, I'd like to address a point that many, MANY detractors make again and again about Alec and the judge's "ruling" (it's a finding, Shawn, not a ruling—oh, and stare decisis does not mean what you think it means).
Shawn claims that a judge said this about Alec…
"He did indeed profit off the plaintiffs IP"
Shawn's statement stems from this one short sentence from the 15-page Order on Motion for Partial Summary Judgment…

The detractors typically use this in Facebook comments to say two things in tandem:"Alec raised $1.3 million from donors…" (or whatever number they're using this week) and "…he used it for his own personal profit."
The implication the detractors want folks who don't bother thinking to infer is that Alec Peters somehow made off with all that money and lived a jet-setting luxury lifestyle.
But the judge didn't say that.
The judge didn't give a number.  Alec's "profit" that judge was referring to could be as little as a few hundred dollars out of more than a million.  Heck, it could have been $1.  We don't know.
What we do know, however, is that the judge was basing his finding SOLELY on the declaration from the plaintiffs…as referenced in the parenthetical I highlighted above.  And guess what?  That's actually a no-no, as I'll explain in a moment.  After all, the defense team submitted into evidence financial records that showed Alec made no money off of Axanar.  So the judge had conflicting accounts of what actually happened (known as "facts in dispute"),nand he decided to chose one account over the other.  He's not supposed to do that if it's a jury trial.
And here's another problem (also highlighted in yellow)…

Judge Klausner essentially said, "Because I say so!  And if you don't like it, tough."  Technically, the judge is allowed to do that.  After all, the trial was set to start in just four more weeks at that point, and he didn't want any more delays or long motions to deal with.  So if either side had a problem with his findings and the order, they were welcome to appeal.  But discussion in Klausner's courtroom on the subject was now over.
But the fact is that, by opening the case up to an appeal, the judge had pretty much guaranteed a settlement.  (To this day, I'm still not sure if Klausner made this ruling on purpose because he knew what would happen next and didn't want to take this case before a jury.)
Many of you know the story.  This order from the judge, issued on January 3, 2017, invalidated the Fair Use defense and took it off the table for the defendants to use in court.  CBS and Paramount had all but won!  There was really no more need for them to settle—better to just go in for the kill.  Alec's only hope was to try for a jury decision of non-willful infringement—which is still infringement—but that would still have prevented any more Axanar from being made.
Instead, on the "eve of victory," CBS and Paramount suddenly softened their previous settlement offer in a very major way…finally opening the door for Alec Peters to agree.  The previous settlement offer was simply that Alec would not have to pay any financial penalty and he could leave Prelude up on YouTube.  But no more fan films for him EVER (Axanar or other).  That last stipulation was pretty harsh and one of the reasons Alec wasn't settling.
The new settlement offer actually allowed Axanar to be made (!!!)…albeit as two 15-minute films rather than a 90-minute feature-length film.  That was something Alec felt he could live with…not love, but live with.  CBS and Paramount felt the same way.  Like many legal settlements, it was a compromise.
Many wondered why CBS and Paramount, just days away from delivering the knockout blow to a guy they quite literally loathed (man, you don't know the half of it!) back off in such a significant way?  The answer, as I've written elsewhere, is that Klausner's decision to remove Fair Use as a defense opened up the case to an appeal.  And an appeal would keep this lawsuit alive and in the media for another 2-3 years…just as CBS was trying to launch the new Star Trek: Discovery series on All Access.  Doing so while still suing fans was determined NOT to be a wise marketing and PR strategy.  This lawsuit had to go away quickly…not drag on for years.  And so the settlement offer from the studios was softened to finally make it palatable to Alec Peters.
And why was the case suddenly open to appeal, you ask?
In the past, I've focused solely on the judge's decision to exclude the Fair Use defense.  For centuries, Fair Use had been a determination of fact for a jury to make.  Only in the last couple of decades have judges ruled on it as a matter of law.  That is, potentially, a no-no.  Whether or not Klausner's decision was correct under the law would be decided by a three-judge appellate court panel on the VERY liberal Ninth Circuit.
But interestingly enough—and here's where I bring it back to Shawn's comment about the judge's "ruling"—Klausner determining that Alec Peters profited directly was also a potential no-no that could be brought up on appeal.
Why?
In a jury trial, the judge is considered an interpreter of the LAW.  Ask him to decide on legal questions relevant to how to proceed with the trial, and he's the one to decide.  But the judge is NOT the trier of FACT.  Facts in dispute (the basis of nearly all civil and criminal cases) are determined by a jury.  They decide what they think really happened after listening to both sides' arguments.
One of the facts in dispute was whether Alec Peters had personally profited from Axanar.  The Defense contended that, no, he was not.  Obviously, CBS and Paramount disagreed.
In a proper trial, such a determination of FACT (did Alec Peters personally profit?) would be left to the jury, not the judge.  But in this case, Judge Klausner did something he should not have done: decided a fact in dispute based on only the declaration of the plaintiff…ignoring the defense counter-argument.  In short, the judge played jury, and that's a no-no.  Had the case been appealed, I suspect that the defense legal team would have thrown that little snippet in with everything else.
---
So remember this blog the next time one of the detractors tells you that Alec Peters swindled over a million dollars from fan donors and used it to live the good life…and that "fact" came from a federal court ruling.  You can then answer:
The judge never specified how much or how little Alec profited.  It could have been just $1.
The question of whether or not Alec profited personally was a disputed factual matter for the jury to determine, not a question of law for the judge to decide.
The case settled way back in January of 2017.  CBS and Paramount no longer have a problem with any of this.  Why do you?