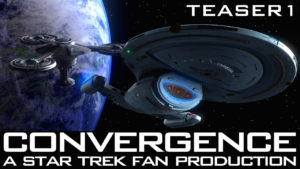 Something really awesome and unprecedented is about to happen in the world of Star Trek fan films.  The first FIVE-SERIES crossover fan film is currently being produced by none other than CGI guru extraordinaire SAMUEL COCKINGS of Trekyards.  (If you haven't seen any Trekyards episodes yet and you like the ships and technology of Star Trek, well, consider it your mission to go and check them out on YouTube.)
Samuel got the attention of the fan film world back in April when he also got the attention of CBS, who contacted him after watching the latest trailer for Samuel's first fan film effort, TEMPORAL ANOMALY.  CBS was not happy about the use of existing TNG movie footage and certain copyrighted music, and the length of the final production was likely going to be well beyond the two 15-minute parts limited by the fan film guidelines.
After some discussions with CBS, and agreeing to remove the movie clips and replace the music, Samuel was reportedly given the green-light by CBS to exceed the time limit for this specific fan project.  Samuel has since been reworking Temporal Anomaly hoping to release it very soon.
In the meantime, Samuel also announced a NEW project that would link up five different established fan series in one fan film that, from the get-go, would adhere to all of the guidelines.  (Temporal Anomaly had originally been written and filmed years before the guidelines were announced and was only being delayed because of technology challenges.)
Samuel's latest fan project, CONVERGENCE, will be launching a new Indiegogo campaign (yes, folks, another one of those!) within the next few weeks to fund production and post-production for this exciting film.
Leading up to the crowd-funder launch, Samuel is releasing three short teasers—one per week—each featuring a voice-over "captain's log" from one of the cast.  The first, just posted this past weekend, has NICK COOK of the fan series INTREPID playing Captain Daniel Hunter.  As you'll see, the visual FX are amazingly good, as Samuel is an expert CGI modeler and renderer.
Subsequent teasers will feature other lead actors from different fan series.  Who will appear next week and the week after?  Stay tuned!
In the meantime, enjoy teaser #1 for Convergence…
And remember to visit them on Facebook: