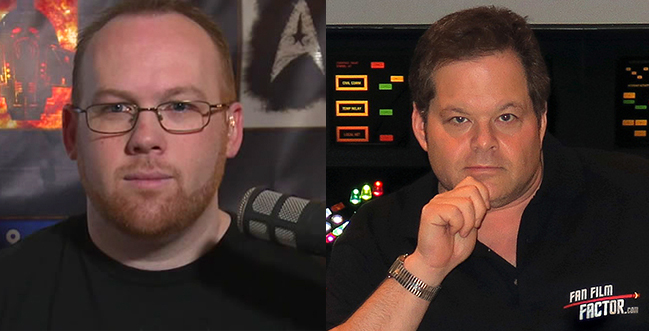 These days, I don't typically engage directly with the AXANAR detractors. There's no point. I'm not gonna change their minds, and they're certainly not gonna change mine. Any "discussion" we get into quickly breaks down into all the old beating-dead-horse accusations and rumors and criticisms—often with a generous helping of vitriol and vulgarity—and frankly, it's just a waste of my time.
And yet, in just three days time, I'll be posting (in conjunction with Trekzone.org) an epic 3-part discussion and debate between myself and noted Axanar detractor MATTHEW MILLER…and I do mean epic! Take a listen to the teaser that Matthew just posted…
When we set out to have our across-the-globe (Matt's in Australia) audio "smackdown," we had no idea how long the discussion would last or how heated it would get. There were no rules and only a loose outline of topics/questions to guide us. Our intention was to keep things civil, and for the most part, we did…although not completely.
When all was said and done, we'd managed to go at it for nearly three hours over the course of two days of Skype calls! On the second day, I'd caught my son's cold, and if you listen carefully, you'll probably hear from my voice the exact point when the day one conversation ended and day two began.
What makes this interaction between me and Matthew so interesting and enlightening (and dare I say "fun"?) is that we actually interview EACH OTHER. Matt's done scores of interviews with notable Trek people, as have I. So rather than simply having one of us interview the other, we ask questions back and forth…and tough questions at that! And best of all, unlike the recent pay-per-view Michael Hinman/Carlos Pedraza podcast on Alpha Waves Radio, this one is not only presenting BOTH sides of the controversial topic (rather than a simple echo-chamber), but it's also absolutely FREE to listen to!
So how did this whole "Blogger Battle of Axanar" come to be?
As I said, I don't usually waste my time with the detractors anymore. Their opinions and mine are typically polar opposites with essentially no common ground to build on. And up until recently, Matthew Miller was no exception. He'd written numerous blog posts, posted countless Facebook comments, and had even done multiple interviews very critical of Axanar and that favorite target of the detractors, ALEC PETERS
But then something unexpected happened. Matthew, who has been a member of the vocal Axamonitor group on Facebook, took exception to their suddenly-cruel treatment of RAY TESI (one of the NICEST guys in fandom!) when Ray decided to open up his Stage 9 Studios (the TOS sets in Kingsland, GA used previously for Star Trek Continues and Starship Farragut) to the fans to visit for free. Apparently, their righteous fury stemmed from their belief that Ray was violating the exclusive license of JAMES CAWLEY for his Original Series Star Trek Set Tour in Ticonderoga, NY.
Matthew felt that this TOS set tumult had nothing to do with Axanar or Alec Peters and represented a "jumping the shark" moment for the group…and he called them out on it in a blog posting on this TrekZone.org website. It didn't take long for the group to punch back, resulting in the following "Update" addendum from Matt…
Barely 18 hours after I first posted this article, the attacks have begun. Claiming I have a thin skin, I'm easily provoked etc. It seems that, just like Alec, if you are not with them – then you are against them. Yes, this isn't the first time I've butted heads with the group, but it's now time to say enough is enough. I can only be told who my friends are, what my beliefs should be or how I should think for so long.
What a sticky, ugly mess Star Trek fandom has become.
Naturally, I was intrigued by this situation. Earlier this year, another detractor, JOE DIAZ, had left the Axamonitor Facebook in frustration and disgust…and he shared an audio interview with me here on Fan Film Factor. If departures like Joe's were starting to spread to others, that sounded like something worth reporting on.
So I reached out to Matt to ask if he'd be willing to have a quick chat, on the record, about his feelings toward the Axanar detractors…particularly those on the Axamonitor Facebook group. Matt said that he'd be happy to, but asked if, in return, I might be willing to be a guest for an interview on his "A Trekzone Conversation" podcast. (Yeah, we blogger-interviewers never pass up an opportunity to grab a controversial guest!)
I thought about it. Although Matt and I are still diametrically opposed when it comes to our opinions about Alec and Axanar, thanks to the detractors on Facebook, we also now had some common ground to start from. So I suggested the idea of having us interview each other simultaneously. He'd publish the discussion as part of his blog, and I'd publish the same discussion on mine…a first among Trek bloggers, I believe!
Getting both of our schedules clear took about a month (thanks to Halloween, Axacon, and Thanksgiving on my end). But finally, at the end of November, we finally got together for a Skype chat.
Matt offered to edit the sound files (taking out annoying pauses and verbal glitches to tighten it all up), and add his fancy "A Trekzone Conversation" graphics to it. And I'm fine with that. After all, I don't have any bells and whistles for my interviews on Fan Film Factor, so why not class it up a bit?
Matthew has taken great pains to leave in all of the content that was discussed. The edits are only minor. I've listened to his finished product, and it gets the thumbs up from me. Neither side was edited out of context or tweaked to make (or miss) a point. This was our full discussion.
As I said, we've decided to divide the discussion into three segments, each about an hour in length. (It's not a perfectly even split because we needed to wait for certain naturally break points.) Part One will debut this Wednesday at 2pm PST here in the U.S. Part Two will be released the following Monday. And Part Three will wrap it all up on the following Wednesday.
Whichever side of the Axanar debate you're on, I think you'll find it a fascinating listen…and not just the same all punch and counter-punch you've seen and heard a thousand times before. Matt and I both got in some good "hits," but most of all, despite a few passionate exchanges, we managed to keep things civil…without name-calling or personal insults. I hope that fans throughout the community—whether the disagreement is about Axanar, Discovery, or Coke vs. Pepsi—might be able to learn from our example. You CAN disagree AND still be nice to each other!
---
Oh, and for those not wanting to sit through three hours of Jonathan Lane and Matthew Miller blabbering, Matt is planning to release a "best of" compilation of this interview's most interesting exchanges just after Christmas. So happy holidays from the battling bloggers!