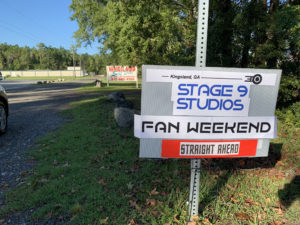 An estimated 1,300 fans came to STAGE 9 STUDIOS in Kingsland, GA on October 19-21 to visit the amazing TOS sets and meet STAR TREK CONTINUES cast and crew members, including VIC MIGNOGNA, CHRIS DOOHAN, LISA HANSELL, and many others.  (Here's a complete list.)  Dubbed "Fan Appreciation Weekend," the event was free of charge and admitted anyone who showed up on Friday from 2-10pm, Saturday from 9am-7pm, and Sunday from 9am-6pm.  That's 27 hours of open set visit time over a three-day period!
Not just a simple "tour" (like what is offered in Ticonderoga, NY by James Cawley), this event included the opportunity for fans to watch and even participate in the FILMING of episodes for two different fan productions.  Both DREADNOUGHT DOMINION and the upcoming  CONSTAR CHRONICLES shot scenes on the bridge on Friday night and in engineering on Saturday as fans looked on.
Visitors would be escorted in groups through the sets by none other than STC star and show-runner Vic Mignogna, who would discuss the fan filmmaking process, point out certain details of the sets, share a few "secrets" (like how they filmed a scene from a camera angle when a permanent wall was in the way—answer: they put a hidden hole in the wall to film from behind!), and answered questions.  Other groups were escorted by Stage 9 owner RAY TESI, who purchased the sets from Vic last year and decided to make them available to any fan film that wanted to shoot there.  (Listen to Ray's interview here.)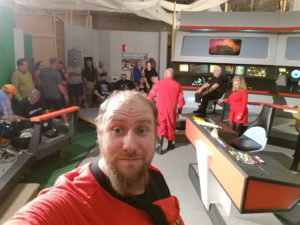 The groups traveled in cycles through all of the sets—sickbay, auxiliary control, transporter room, captain's quarters, briefing room, etc.—finally emerging on the bridge and/or engineering to watch rehearsal, set-up, or actual filming during certain scheduled times.  Each group spent about 5-10 minutes with the film crews before moving on and letting in the next bunch.  The fan filmmakers would talk to the audience, answer questions, and in some cases, even offer a few lucky fans the chance to throw on a tunic and be filmed as extras on the bridge or in engineering!  How cool is that???
The event was not without some controversy, though.
The self-proclaimed "copyright police" (my term for fans who hang out in various Facebook groups and have a cow whenever they feel like a fan—any fan—might be "stealing" intellectual property from CBS and Paramount…or anyone!) got wind of this event and began criticizing it because Stage 9 Studios isn't licensed like James Cawley's Star Trek Original Series Set Tour in upstate New York is.  Even James Cawley himself jumped into the fray directly…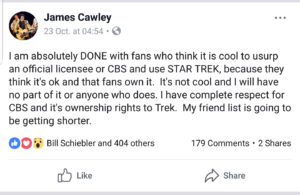 According to reporting on the Trekzone blog site:
Any time a post was made in the Axamonitor Facebook group in the lead up to this event, Cawley – an infrequent poster in the group – would let an angry comment fly, bemoaning Ray's flagrant disregard for his license, occasionally asserting that CBS would be hearing from him and how he would get the fan service shut down.
This would whip other members of the group into action, eventually leading to a permanent paradigm shift in the focus of the group to policing any infringements of the Star Trek IP.
Interestingly, I confirmed that Ray Tesi did, in fact, speak with CBS both before and after the event.  While he didn't share with me specifically what was discussed, he did confirm that CBS knew what he was doing and even made a few requests beforehand that Ray was completely willing to agree to.  At no point did CBS ever tell Ray not to hold the event.
I understand that this upset James, as he feels that, as a licensee, he is provided certain protections against unlicensed competition in the space he paid to reserve for his set tour.   James gives tours daily (closed Mondays) 10:00 AM till 5:00 PM and charges $22.50 ($20 for seniors, $11 for kids).
But Ray is doing something quite different.  He opened his sets up to the public for one weekend for FREE, allowed visitors to become a live, studio audience for a pair of fan films, meet some fan filmmakers, ask questions, and attend some fun activities like make-up demonstrations, wardrobe and writers and panels, and even watch some fan films.
And yes, I know that James also holds mini-conventions at his museum in upstate New York, but that isn't something that needs to be licensed, nor is the concept of a Star Trek mini-con exclusive to his set tour.  Star Trek conventions happen all over the world, both official and unofficial ones.  And anyway, this was more of a fan film convention (celebrating the cast and crew of STC and their incredible sets) than a Star Trek convention.
For me, while I acknowledge James' concerns, what I don't agree with was his belligerent posture on social media.  Deal with this privately through discussions with CBS (which I'm assuming James did) rather than out in the open.  Had CBS decided to send Ray a cease and desist letter, then James could decide to either take a victory lap or be gracious and try to smooth things over…or whatever.  But since CBS decided to take no action to stop this, James and the self-proclaimed "copyright police" on Facebook should honor that decision from the actual copyright owners.  After all, as they so often remind us: CBS owns Star Trek.
Vance Major, who was there at Stage 9 Studios both filming and volunteering, provided me a quote that says pretty much the same thing I just did…
There's nothing but a generosity of spirit with Ray.   The atmosphere that he creates is nothing but a positive one for the fans of fan films.  I know that Ray would never do anything to step on anyone's toes, and if he were ever asked or told to stop doing something he wasn't supposed to do, he would.
But CBS didn't tell him to stop, and he did talk to them.  That was CBS's call to make—not James Cawley's and not the guys on Facebook hurling insults and accusations at Ray Tesi.  If CBS had wanted this to not happen, they would have told Ray not to do it.  But CBS made their decision, and it's time to let this go.  
Anyway, after all is said and done, it really was a very successful event…and one that a lot of fan enjoyed immensely.  The sets were kept safe and pristine by volunteers who were stationed in certain rooms to make sure no one and nothing "wandered off" or got touched or played with.  Several dozen folks got to watch fan filmmakers in action, and these amazing sets which had been closed off to casual visitors for half a decade were now made available to over a thousand people for a very special weekend.
An event like this should be celebrated.  With luck, CBS will allow similar Fan Appreciation Weekends to happen in the future.  What a gift to the fans!  But even if they decide not to, what Ray Tesi is doing opening up his sets to fan filmmakers and their productions is nothing short of a dream come true.
When I was growing up watching TOS in the 1970s, I wouldn't even dare imagine that something like Stage 9 Studios could ever exist…let alone be made available for fans to film their own Star Trek episodes!  And more than that, that the owners of Star Trek—in this case CBS—would actually allow such fan films to be made…as long as they followed certain guidelines.  (Granted, I don't love all of those guidelines, but that's a discussion for another time.)
Anyway, rather than attacking Ray Tesi on social media, how about we applaud him and simply appreciate what he is doing for us fans?  And while we're at, how about a tip of the ol' Shatner toupee to CBS for not shutting down this event and letting fans just show and share our love of Star Trek…still going strong even after 52 years!
Ray Tesi said he had literally hundreds of photos from this event—possibly more!  Here's the best 25 of them (sorry, I don't have captions)…