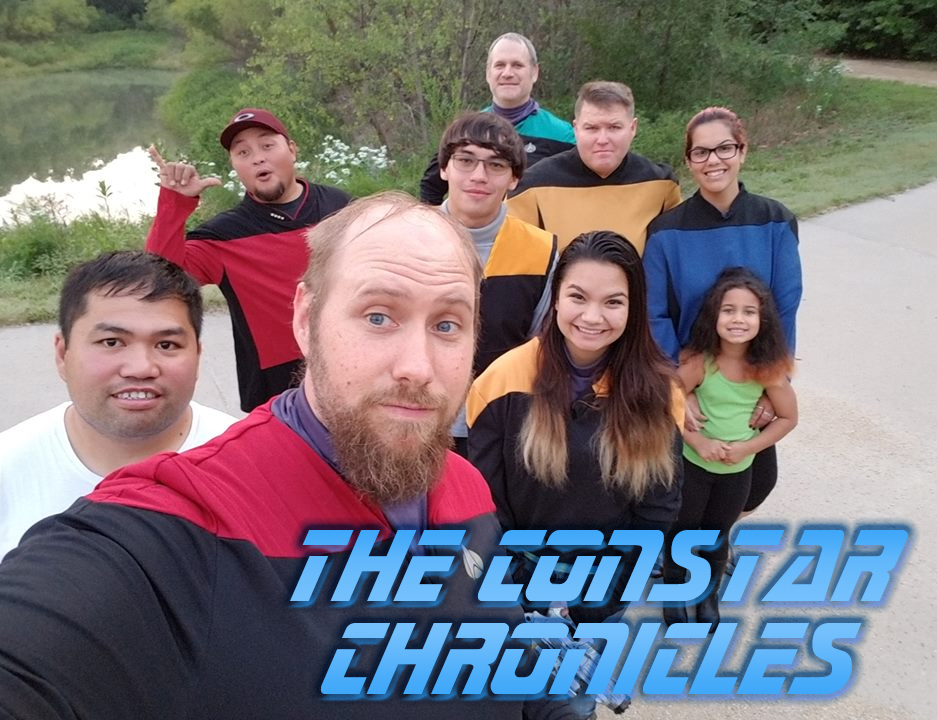 I've affectionately referred to VANCE MAJOR as the "Where's Waldo of Star Trek fan films." Between his appearances in episodes of Starship Valiant, Melbourne, The Lexington Adventures, Dreadnought Dominion, The Romulan Wars, and Outlaws…and his own Minard series of nearly three dozen fan films (check them all out here)…plus his involvement in helping to schedule fan film shoots on Ray Tesi's TOS sets in Kingsland, GA…well, Vance is pretty much everywhere in front of and behind the fan camera these days!
Vance is a prolific, low-budget fan filmmaker who doesn't care if his characters are a little hefty for Starfleet or wear glasses or sneakers with their uniforms. He's in it to have fun and tell his stories. If you like what he makes, great. If not, then don't watch.
After wrapping up the Minard saga in February of 2018, Vance announced with 100% certainly that he was done producing Star Trek fan films. He had said all he needed to say, he was worn out and exhausted, and it was time to move onto other things in his life.
Well, that New Year's resolution lasted only a few months…!
Early last year, Vance announced that he would be producing a new fan series, loosely titled THE CONSTAR CHRONICLES. I say "loosely" because the fan guidelines don't allow for ongoing fan series. But while these will all deal with the same crew on the same starship(s), each will be a self-contained tale focused on a different character. Vance explained his decision to return to making fan films—and what would be different this time—in an audio interview in a blog back in August.
That was five months ago. But last month, Vance released the first trailer for Constar…
…and I figured now might be a good time to check in with him on how things are going.
JONATHAN – Welcome back, old friend.
VANCE – Who you calling "old"?
JONATHAN – Yeah, we've both got young sons to keep us on our toes! We're not old yet, just…seasoned.
VANCE – Yeah, that's better. (LOL)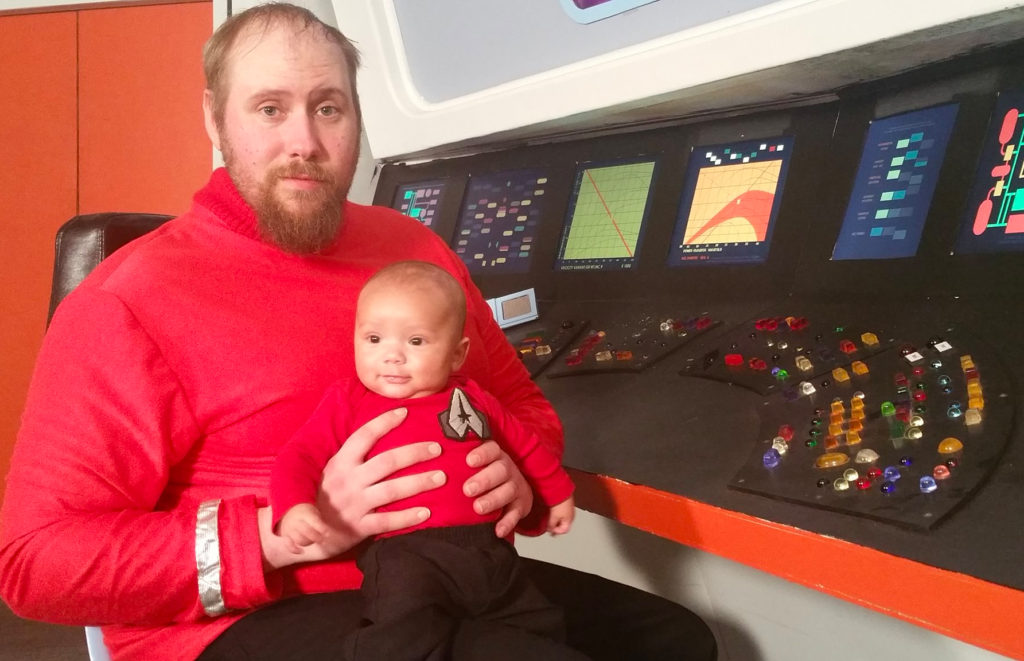 JONATHAN – So what's the current status on The Constar Chronicles?
VANCE – Well, I've been working on those sets of films since late May, but we have a ton accomplished! I began filming in July, I believe, with TIME'S ECHO, the crossover with Dreadnought Dominion. And I continued going forward from there.
I currently have 8 unlisted films completely finished on YouTube and 2 more films that are each 98% done…just finishing up minor details. I have one that is 90% done and just waiting on a cameo from a friend of mine, but it'll start to be edited after the holidays. There are several more that are lined up and already halfway shot. So I think we are quite busy…but at a relaxed pace.
JONATHAN – How much footage have you shot so far?
VANCE – 57.5 GB worth of footage. I'm not sure if that's a lot, but it's a lot to me! And then the 8 completed films that are already unlisted on my YouTube and 2 that are being finely tuned. So I think we have a lot invested. Certainly I wouldn't want to reshoot it!
JONATHAN – Actually, I was more curious how many hours of footage have you shot, and where did you film it?
VANCE – Looking at everything, I'd say 3 hours of total footage. Yeah, 3 sounds about. right. And we probably took about 4 and a half hours to get the 3 hours of footage needed.
We have several "on location" shots. We have been to Ray Tesi's sets in Kingsland, GA [the TOS sets previously used by Star Trek Continues and Starship Farragut -Jonathan]. I've created my own sets, like my own 23rd century ready room and my own makeshift shuttlecraft. So to have to recreate what we have, I simply couldn't do that. We have a lot…and with a lot of people.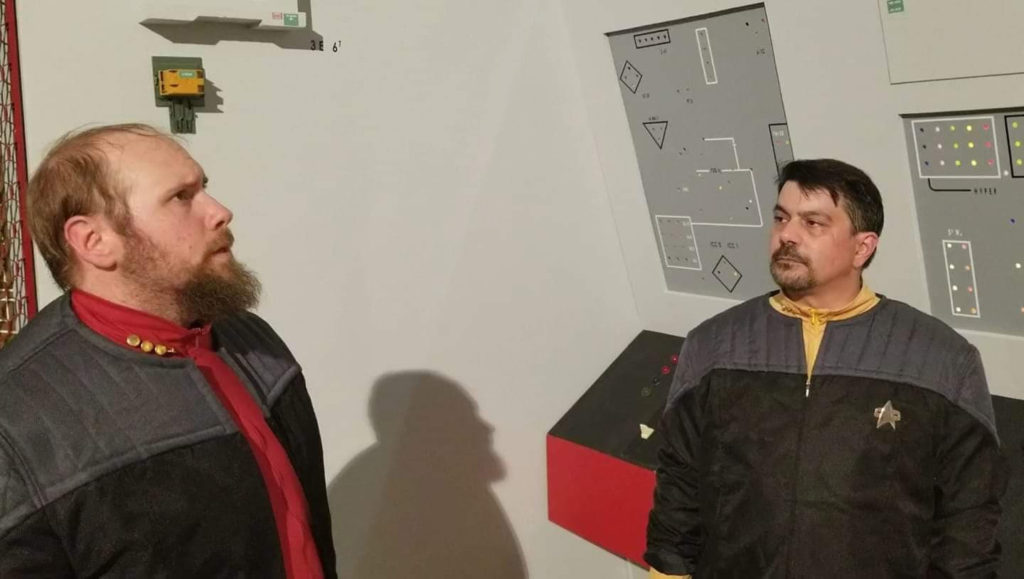 JONATHAN – And how much time have you spent editing? How much time does it take to edit a typical episode?
VANCE – Well, that's a question for the important ppeople—people who do the hard stuff and who make me look good!–people like Trey Narr, James Mielke, Andre-Luc Martinez, Rick Cole, and Steven Shaffur. Those guys have edited some really good stuff for me.
Gary Davis, Joey Bonice and Joshua Michael Irwin have also done some really important behind-the-scenes things for me that have been vital for editing, like CGI or video enhancement. So honestly I think they'd be better equipped to answer your question.
However, based on what I've seen with each person I've dealt with, each one depends on how much I lay on 'em and what it all entails. Things such as how many visual effects are necessary can make a production drag. It's not usually the case, but many fan films have been known to sit in limbo because of something as simple as that.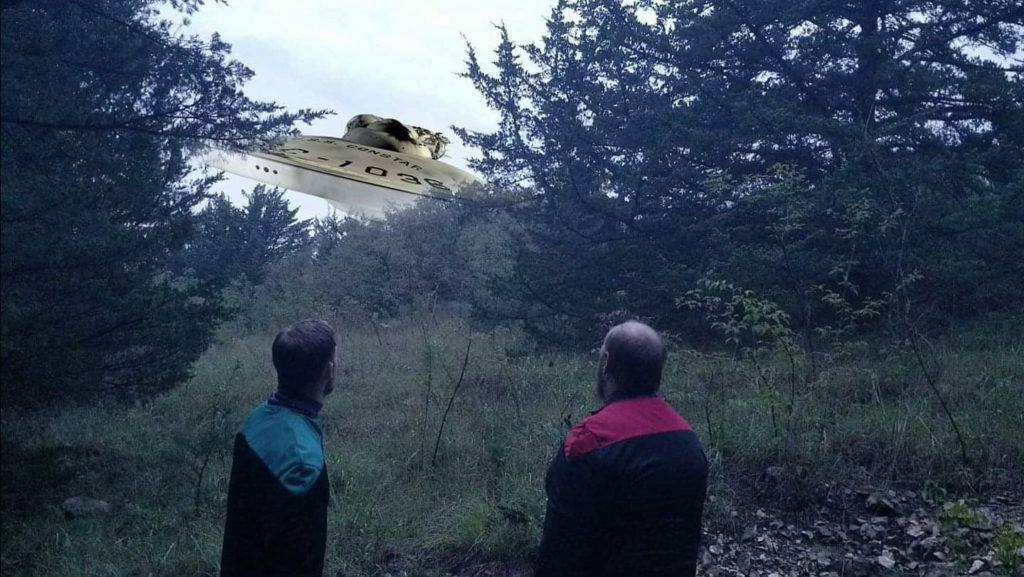 JONATHAN – So what is different this time around versus when you were producing the three dozen Minard films?
VANCE – When I first agreed to come back to fan films, I didn't want to have as much on my plate as last time. So many people stepped up to the plate to help me in so many ways. Adam Mullen helped by letting me bounce so many ideas off him, and things like that are vital sometimes.
One thing that helped the productions was having a pre-editor, someone to give the shots a rough cut for very simple things. It allowed things to go forward because I've been in that position, and it helped the people I was working with to at least not have to do as much heavy lifting. They could focus more on the fine tuning of things, such as sound, and then if the overall picture didn't work, they could go back and look at a different take of a line…instead of starting over from scratch.
Not every scene could be done this way, and not everyone wanted to use this way of working. But I felt that it was successful overall to see at least the directions we were headed for different films. I'm very happy with everyone and the help involved.

JONATHAN – Alec Peters announced that you'll be shooting a fan film on the Ares bridge set this year. Is that true?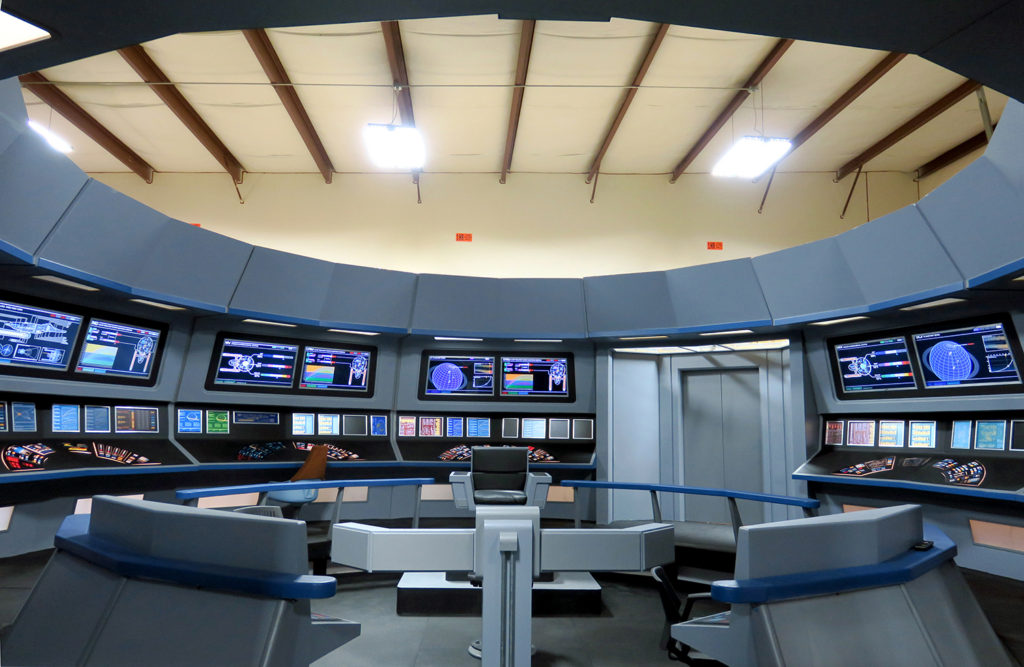 ---
Come back ext week, as Vance discusses the Ares bridge and shares his plans for releasing The Constar Chronicles. He's about to do something that no other Star Trek fan film has ever done before!