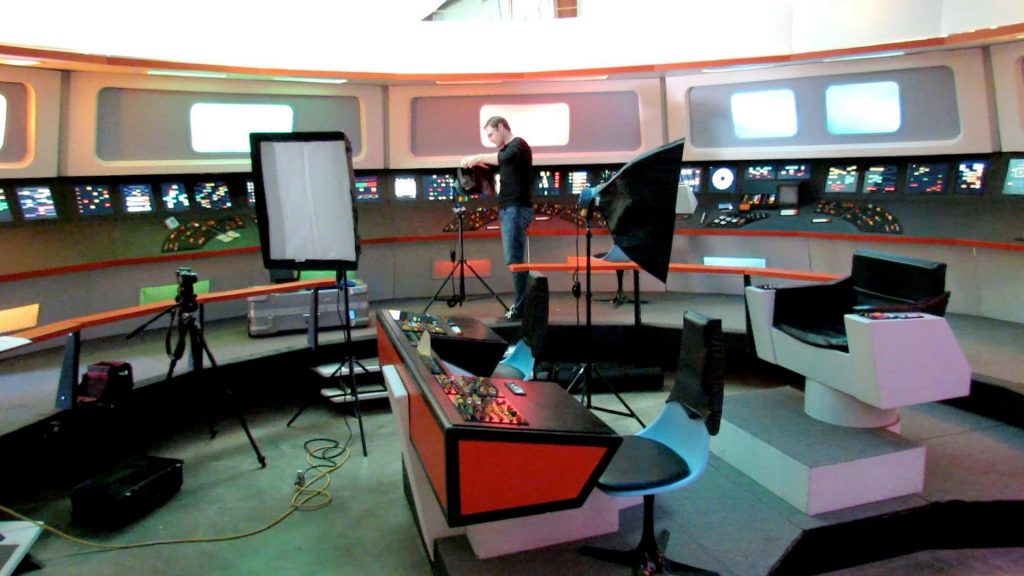 Well, this isn't the happy ending I was hoping to write. It almost was, but then things turned disappointing in a very short amount of time.
Okay, let me first give bring everyone up to date on the story so far. The TOS sets that were formerly known as STARBASE STUDIOS have been sitting in a building in Marble Falls, Arkansas since early 2017. The building is part of an abandoned and dilapidated former theme park known as Dogpatch, which is owned by Charles "Bud" Pelsor.
Ownership of the TOS sets—which included a full 360-degree bridge originally constructed in 2004 for a fan film called Starship Exeter "The Tressaurian Intersection," a partial sickbay, a transporter room, a briefing room, and corridors—was, until recently, divided among GLEN L. WOLFE (50%), SCOTT JOHNSON (25%), and GLENN MILLER (25%). Unfortunately, the three owners weren't typically (if ever) on the same page, and frictions quickly developed and escalated.
"Bud" Pelsor had apparently offered to house the sets until the end of 2018, after which ownership of the Dogpatch property was to transfer to Heritage USA, and the sets would need to be relocated. But where would they go? Who has space for a full bridge, sickbay, transporter, and briefing room?
Earlier this past week, an answer seemed to have miraculously presented itself—with a solution worthy of King Solomon himself…
I was told at the beginning of the week that RAY TESI, the owner of the TOS sets in Kingsland, GA (formerly used by Star Trek Continues and Starship Farragut) would be taking ownership of the Arkansas bridge set pieces. Ray would use half of them to fill in the missing stations and view screen of his Stage 9 Studios bridge, turning it into a full 360-degree bridge for the first time. The "spare" captain's chair and helm/nav console would travel around to local conventions for photo ops. The rest of the pieces would be stored.
Meanwhile, Glen Wolfe and Dan Reynolds—who had recently constructed their own partial bridge set at their WARP 66 Studios (also in Arkansas) for their latest Federation Files fan production "Galaxy Hopper"—would take the rest of the non-bridge pieces.
This sounded perfect! Ray already had a transporter room and sickbay and briefing room, who why have two? Glen and Dan, meanwhile, have enough space to store those other set pieces, and now they wouldn't have to build from scratch. This was the happy ending I was all ready to write this week!
Until it wasn't…
In a short 48-hour period, I communicated with Glen Wolfe, Scott Johnson, Ray Tesi, Joshua Irwin (who just released Ghost Ship last Halloween), and Kent "Words" Edwards (who used to be part owner of the Arkansas sets and currently runs the new Starbase Studios, LLC). Apparently, things weren't as perfect as I had thought.
Rather than try to describe what's going on, I want to let everyone speak for themselves. As such, I have two fairly short (for me, at least!) audio interviews, one with Ray Tesi and the other with "Words" Edwards speaking for himself and Scott Johnson. I also have a written statement from Glen Wolfe. Let's begin with that one first…
GLEN L. WOLFE of WARP 66 Studios
All I know is that Jan 2, Joshua (I think) accidentally told me that Ray was getting the bridge. I have no confirmation from the other set owners on any move, agreement or otherwise. The building owner has changed the locks. I asked if he knew what was the end game. He said some guy named Ray had called and was claiming the bridge and would pick it up.
Since Dan and I had made good on half of the rent, we could remove what remained. In his opinion, the sets were considered abandoned for lack of payment and communication by the other set owners. As I have had the same issue with them, there has been no official division, sale, or any other arrangement. The building owner will clear out anything remaining by the end of January. That's all I know right know. If not for Josh, I would not have even known that much.
The fact that they [the other owners] arranged a truck to back up and take the bridge without so much as a peep suggests that they did not want to work out anything. To be honest it sounds sneaky and dishonest. But it is totally in character for them. I was able to put the transporter room and corridors into a storage unit until I find out what the end game will be, so those sets can be salvaged, just FYI.
The following day, (this past Friday) Ray Tesi was going to speak to me off the record via phone. I'd reached out to him for a statement, but he wasn't ready to share anything officially yet. Instead, I was going to find out what was okay for me to share about the situation and what Ray would prefer kept confidential. (I do that sort of thing often. Fan Film Factor isn't a "tell-all" tabloid, and I respect the folks in the fan film community. If they request discretion on my part, I do my best to oblige.)
However, when the call started, Ray suddenly asked me to go on the record. Not expecting that, I quickly whipped out the iPhone and recorded the following conversation via speaker (so my apologies for the audio quality, or lack thereof)…
RAY TESI of Stage 9 Studios
Later on Friday evening, I had another call, this time with Kent "Words" Edwards. I told Words that I'd already spoken with Ray earlier, but Words still wanted to go on the record to explain and confirm certain things about what has and hasn't happened regarding the sets…
KENT EDWARDS of Starbase Studios
As a final coda to all of these communications, Scott Johnson messaged me via Facebook the following morning (Saturday) to say, "Bud will not release any sets to anyone til the 'back rent' is paid. Says he will list it on eBay." I asked if he heard this from Bud Pelsor directly, and Scott said yes…earlier that morning.
Now, Glen Wolfe had previously confirmed that he and Dan had paid their half of the back rent and been allowed to remove everything except the bridge. So it's very possible that, some day very soon, we might see a Star Trek TOS bridge listed on eBay. And if you believe that, then someone's got a bridge to sell ya.
Anyhow, one way or another, this seems to be the end of the line for the TOS sets formerly known as Starbase Studios. They had a wonderful run with some FANtastic memories, but as they say on Star Trek: TNG, all good things…