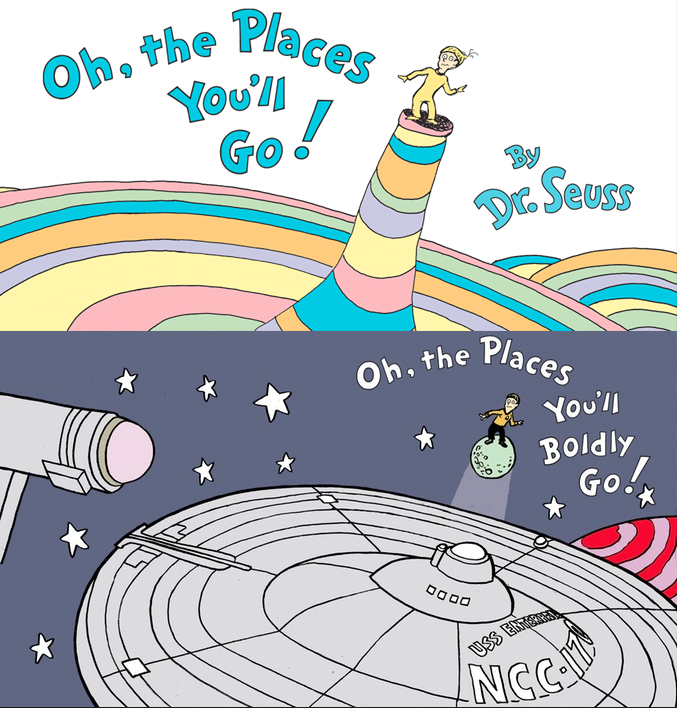 Yesterday, I updated you that on Thursday at 1:30pm Pacific Time, the two parties in the DR. SEUSS/STAR TREK mash-up lawsuit will meet in Federal Court in San Diego, CA. The original complaint was filed more than two years ago, and after countless motions, discovery, and an emotional rollercoaster of rulings from the judge, this hearing is likely the last time the two parties will appear before the judge until the trial begins.
Assuming there is a trial.
Barring a surprise last-minute settlement (which, I think, is highly unlikely), Thursday's hearing could very well result in either the case being dismissed by the judge or else sticking a knife into the defense team to make the lawsuit all-but-impossible to win.
But assuming the case goes before a jury, and if I were a a juror, what argument(s) would be most likely to persuade me that Oh, The Places You'll Boldly Go! deserves the freedom to be published?
For me, there was one thing that was mentioned—only very briefly by the defense attorney in a previous filing—that in my opinion would weigh most strongly on me as a juror. It was a surprisingly simple question:
What exactly should the defendants have licensed?
Think about it. If the book had been The Cat in the Hat Knows a Lot About Star Trek, then the answer is straightforward: they'd license The Cat in the Hat. If their story was Mr. Spock Meets the Grinch, then they'd license the Grinch, Max, and maybe Cindy Loo Who. But which Dr, Seuss character did David Gerrold, Ty Templeton, and ComicMix use without permission?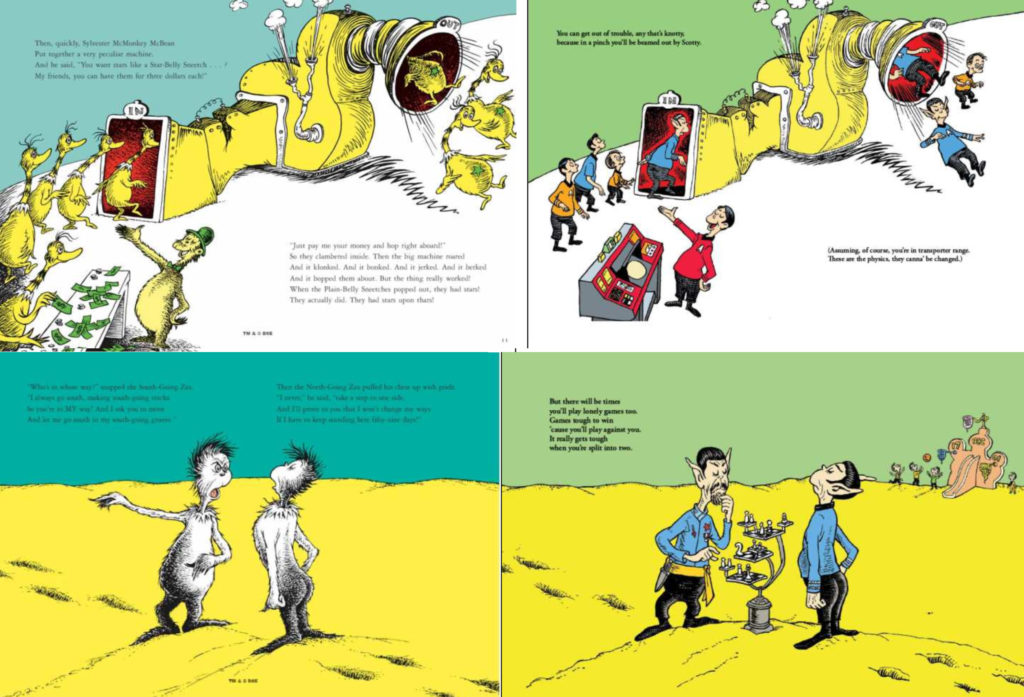 The best that the plaintiffs could come up with is the "boy" (their word) who appears on the cover and throughout the original Go! book. However, as with other characters in the Boldly book, this "boy" has been transformed. He wears a TOS command tunic and black pants instead of pajamas. Is that still the same character? The two Zaxes were turned into Spocks. The guy with the Sneeches' star-machine was turned into Scotty with a transporter.
When does a copyrighted character get changed enough that he becomes a new creation? It's an intriguing question!
In one of their filings, the plaintiffs bring up the fact that DSE has very strict style guides that licenses must follow. If a licensee doesn't do so, their product won't be approved. (Most licensors, including CBS, have similar guidelines for their properties.)
Team Mash-up most certainly didn't follow these strict guidelines—they weren't licensees. And so, despite "slavishly copying," they nevertheless managed to come up with characters that are far from identical to the Seuss characters. Spock is not a Zax. Sulu is not a Sneech. So what exactly was copied? An artistic "style"? Then the question becomes: can you own an artistic style? And even if you can, that would be a trademark, not a copyright…meaning artistic style would not be considered as relevant to the Fair Use defense, only the characters themselves. And it seems that none of those was copied.
---
One last item that I found interesting was a drawing provided in the Plaintiff's Opposition on Page 9. Take a look…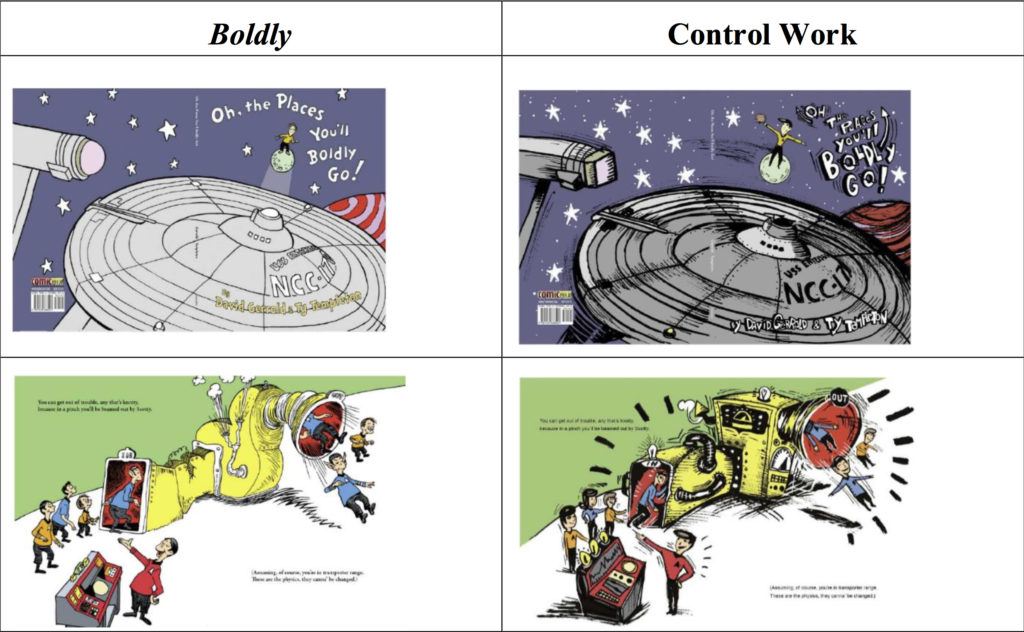 What in Whoville is that??? Well, the images on the left are original drawings from Boldly. The two on the right were created by an artist hired by DSE specifically to recreate both images using nothing that would infringe on their intellectual property—different characters, different font, different art style.
DSE used the above images in a focus group, asking random people: "Who do you think created, sponsored, and endorsed this book?" 39.7% of the test group that was shown Boldly registered as "confused" as to source (whether or not it was Dr. Seuss). However, of those shown the redrawn artwork (with the exact same text), only 15.7% were confused. The filing then goes on to conclude that "the illustration style and font of Boldly creates a substantial likelihood of confusion with respect to Dr. Seuss."
Now, the judge had already ruled on the whole confusion thing previously, deciding that the disclaimer on the inside cover was sufficient enough to inform consumers that Boldly is NOT sponsored or endorsed by DSE. So that argument is, to me at least, essentially a red herring. Likewise, when I go to the store (or, in this this case, online to the ThinkGeek website) and see a mash-up of Star Trek and Dr. Seuss, I am not going to base my decision to buy it on whether or not it is licensed. I doubt it matters much to most other people either.
But let's imagine that it did matter. Then, if anything, the perceived endorsement (or lack thereof) would likely only affect my decision of whether or not to buy Boldly, not whether or not I buy other Dr. Seuss books for my son or his friends or people who graduate. Whether or not I decide to get McDonalds for lunch doesn't really affect what I have for dinner. So in this way, the whole "confusion" thing, for me at least if I were a juror, lacks merit.
What does resonate for me, however, is that 20% difference in "confusion" (about whether it was Dr. Seuss) for people who were shown the redrawn artwork. Y'see, the whole idea of a mash-up, like a parody, is that it almost by definition needs to be recognizably mashing up two identifiable things in order to be effective. For example, take a look at this brilliant music video mashing up (you're not gonna believe it till you see it!) Ozzy Osbourne and Earth, Wind, and Fire…
Now imagine being told, "Okay, you can do your mash-up, but you need to take out all of the parts where Ozzy is singing Crazy Train and replace them with other music that doesn't sound anything like the original." That would effectively eliminate the effectiveness of the music video.
The thing about free speech is that it's supposed to be free, not semi-controlled. I'd wager that telling American citizens, "You can say whatever you want as long as this is HOW you say it…" isn't exactly what James Madison and the Founding Parents had in mind. But isn't that precisely what DSE is telling Team Mash-up to do? You can still make your mash-up book, just take out anything that makes it look like you're mashing up OUR intellectual property. And yet, that's the whole point of the mash-up!
---
And that brings us to my concluding thoughts before everyone heads into the courtroom on Thursday…
We know that parody is protected speech, protected by Fair Use because it's unlikely that any rights holder would grant permission for their work to be criticized or ridiculed, and our nation wants to protect that form of free expression and (potentially) disagreement.
But might a mash-up also be considered free expression? After all, a mash-up is not entirely a direct copy. If a judge rules the mash-up to be transformative enough (not simply derivative), then the copyrighted source work is only a piece of puzzle that has been assembled into something fresh and new…something that gets its message across specifically BECAUSE it combines the familiar…much like parody also requires familiarity with the original to be most effective.
For 200 years of the First Amendment and Fair Use, parody existed, but mash-ups did not. Those are a more recent creation of our evolving culture. But doesn't the law itself need to evolve along with society? Just 50 years ago, Americans didn't have personal computers. Barely 25 years ago, desktop video sprang into existence. Downloadable music, smartphones, Skype, Facebook, Twitter…the modern age moves much faster than the law.
But isn't it time for the law to catch up…at least a little? Isn't it time for mash-ups to be considered as a form of parody?
It's a fascinating question, and one that I, were I a juror (which I won't be because I don't live in San Diego and because I just wrote this rather biassed and disqualifying blog!), would be very careful to consider.
This is actually one of the most significant intellectual property court cases to come around in a long time and could well determine the fate of mash-ups—perhaps forever. Judge Sammartino is well aware of this and wrote the following early on…
This case presents an important question regarding the emerging 'mash-up' culture where artists combine two independent works in a new and unique way. … Applying the fair use factors in the manner Plaintiff outlines would almost always preclude a finding of fair use under these circumstances. However, if fair use was not viable in a case such as this, an entire body of highly creative work would be effectively foreclosed.
---
And those are my last words, at least for right now.
I'm sorry they weren't that short.
But I wanted to tell you the what, where, and how.
The next stop is Federal Court!