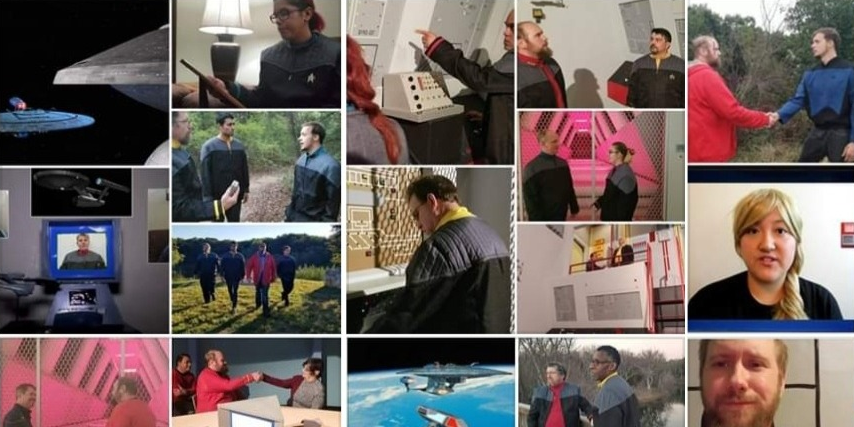 Hurry, or else you won't have a chance to donate!
The last time VANCE MAJOR, creator of the MINARD saga and currently producing the upcoming CONSTAR CHRONICLES, asked fans for donations, it was last July. He needed $500 to buy uniforms for his multi-episode Constar project. Just as I was getting ready to post something about the campaign, 72 hours after launching it, Vance shut it down. Why? Because he'd managed to raise the $500 he needed (plus an extra $50 to cover the commission to the crowd-funding service).
That $500 allowed Vance to complete 15 fan films (which will debut later this year), with a bunch more in post-production at the moment. But now he wants to produce some additional stories, but he needs a few more uniforms and certain props to make that happen. So once again, he's reaching out to the fan community.
This time, it's only been 48 hours, but Vance is nearly there again! As I write this, he's at $401…just $99 to go to reach $500. If you'd like to help push him over the top in record time, click the link below:
https://www.gofundme.com/extra-constar-chronicles-minard-saga-films
And hey, if Vance reaches his goal before you can donate, and you still really want to help out a fan film, consider giving a few bucks to DREADNOUGHT DOMINION for their upcoming project "Redemption at Red Medusa." (Check out the trailer here.) You can donate to their active crowd-funding campaign here:
https://www.gofundme.com/dreadnought-dominion
And finally, if you still feel like you haven't donated enough today, the folks over at POTEMKIN PICTURES are building a full-size shuttlepod…with a design halfway between Trek movie-era and TNG-era. It's taking shape nicely, as you can see here on Facebook.
In what I consider to be an interesting experiment, Potemkin opted NOT to use a crowd-funding service and is instead simply taking in donations directly through PayPal at [email protected]. And if you donate $189, you get to name one of five shuttles they'll be using (one model, five names).
So far, two of the five shuttles have been named. C.W. THOMPSON named the USS Deimos shuttlecraft "Ernest J. King" and LARRY FLEMING named the USS Endeavour shuttlecraft "Raptor."
What would YOU name your shuttlecraft?