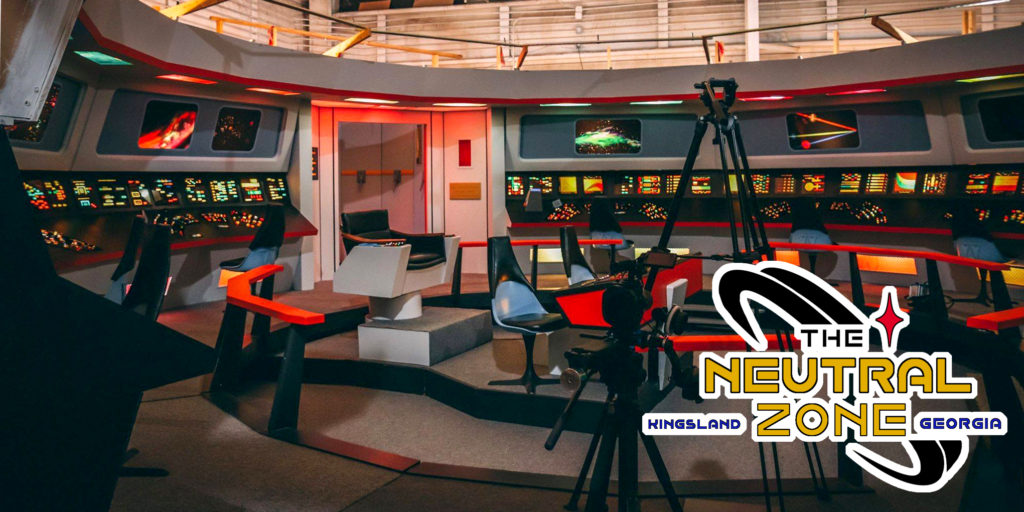 When I was a kid growing up in the 1970s, watching Star Trek each weeknight at 6:00pm, I used to dream of one day building my own Enterprise bridge. I'd have it on the second floor of my house, in a circular area, with a turbolift elevator that would go up to it, doors whooshing open to shock and impress my friends.
Sadly (at least for me, not sad for my wife), that didn't happen.
But miraculously, I can still walk onto the bridge of the USS Enterprise NCC-1701. I can sit in the captain's chair, stand in the transporter, walk through the corridors, visit sickbay and engineering, wander into the briefing room and Captain Kirk's quarters. And I can even do it in two different locations!
The first place I can go is the officially licensed Star Trek Original Series Set Tour in Ticonderoga, NY. For $22.50/person (less for seniors, military, and kids), I can walk around meticulous, museum-quality recreations of the original 1960s sets that were used to film Star Trek. The sets in upstate New York were used to make the fan series Star Trek: New Voyages/Phase 2, and now are available throughout the year for personal and group tours.
Further south in Kingsland, GA are the sets that were originally used for the fan series Starship Farragut and Star Trek Continues. A little over a year ago, those sets were sold by VIC MIGNOGNA to RAY TESI, who has opened them up for free filming (just pay the electricity costs) to any fan production that follows the CBS guidelines. Originally called Stage 9 Studios, the sets were recently renamed NEUTRAL ZONE STUDIOS to avoid confusion with the Virtual 3D walkthrough of the Enterprise-D that was shut down by CBS.
Last October, Ray Tesi opened his Georgia sets to the general public for a FAN APPRECIATION WEEKEND. It featured tours, photo opportunities, some fan film celebrity guests, and even two different fan productions shooting scenes in front of a live, studio audience.
However, there was also some controversy…
A small but vocal (ain't it always that?) group of social media activists appointed themselves "copyright police" and took Ray Tesi to task for opening up his sets to the general public without a license. JAMES CAWLEY himself, who holds a license from CBS for the New York set tour also objected.
It should be noted that Ray was not charging for the event nor making money from it in any way. James, of course, makes money (since he has a license) through ticket sales and special events like the upcoming William Shatner appearance, with prices ranging all the way up to $1,400 for maximum Shatner. And while James' set tour operates year round (mostly), Ray only opened his sets to the public for a single 3-day weekend.
That said, Ray did indeed speak with CBS both before the October event and after. And while he declined discuss on the record the specifics of what he and the studio representative(s) said to each other, Ray did provide the following quote for me to include:
CBS has been fantastic and is very accommodating to fan films. Fan films are thriving again, and I'm so lucky to be a part of this. Playing in the sandbox of the Great Bird of the Galaxy is a dream come true for me!
Despite some fans' ire and their spurious claims that CBS is out to "destroy" Star Trek fan films (and heck, I used to think that myself!), reality simply doesn't support that conclusion. Since the filing of the Axanar lawsuit over three years ago, no other fan filmmaker has been sued, and only two have been contacted in any way by CBS and told to shut down their projects (Federation Rising and Temporal Anomaly…and CBS actually allowed the latter to be completed and released with with extra run-time allotted, as long as certain requested adjustments were made).
Considering that at least TWO HUNDRED (probably more) separate Star Trek fan films have been released over the last few years, and 99% of them have NOT been shut down or even contacted by CBS, I think that Ray's use of the word "accommodating" is reasonably accurate.
Having spoken with CBS, Ray Tesi has announced a second Fan Appreciation Weekend on May 24-26, 2019, also free to the public for anyone wanting to visit the sets, explore them, and take photos. Click here to register for the event.
And as happened with the first event, this one will also have fan film celebrity guests in attendance:

Gary Graham: star of Alien Nation,guest-star on Star Trek: Enterprise and Voyager, he also starred in Star Trek: Of Gods and Men, Star Trek: Renegades, and of course, reprises his Enterprise role of Ambassador Soval in Prelude to Axanar and the upcoming Axanar sequels. Gary will also be filming a music video for his band "THE SONS OF KIRK"!

Chris Doohan: appeared in Star Trek: the Motion Picture, Star Trek (2009), Star Trek Into Darkness, and he played Scotty in Star Trek Continues.

Michele Specht: starred as Dr. Elise McKennah in Star Trek Continues, insane bounty hunter Red in Fallout: Nuka Break, and Betty the Personality Core in Aperture R&D.

Kavita Maharaj: is a prolific fine artist who has become internationally known for her Spock Painting Series. For information and a look at her artwork, please visit Retrospect Studios.

Sarai Duenas: Sarai played Miramanee's daughter in the Star Trek Continues webisode "The White Iris," and also starred in Gaffe (2016) and Unbecoming (2016).
---
In the meantime, Neutral Zone Studios (formerly Stage 9 Studios) is trying to get the word out about its PATREON campaign. Attempting to raise funds from fans to help cover the monthly costs of rent and utilities (estimated—by me—at about $3,500/month and paid by Ray Tesi out of his retirement savings), the campaign sputtered along until last month when donors and donations more than TRIPLED in just six weeks to nearly $700/month from 50 donors…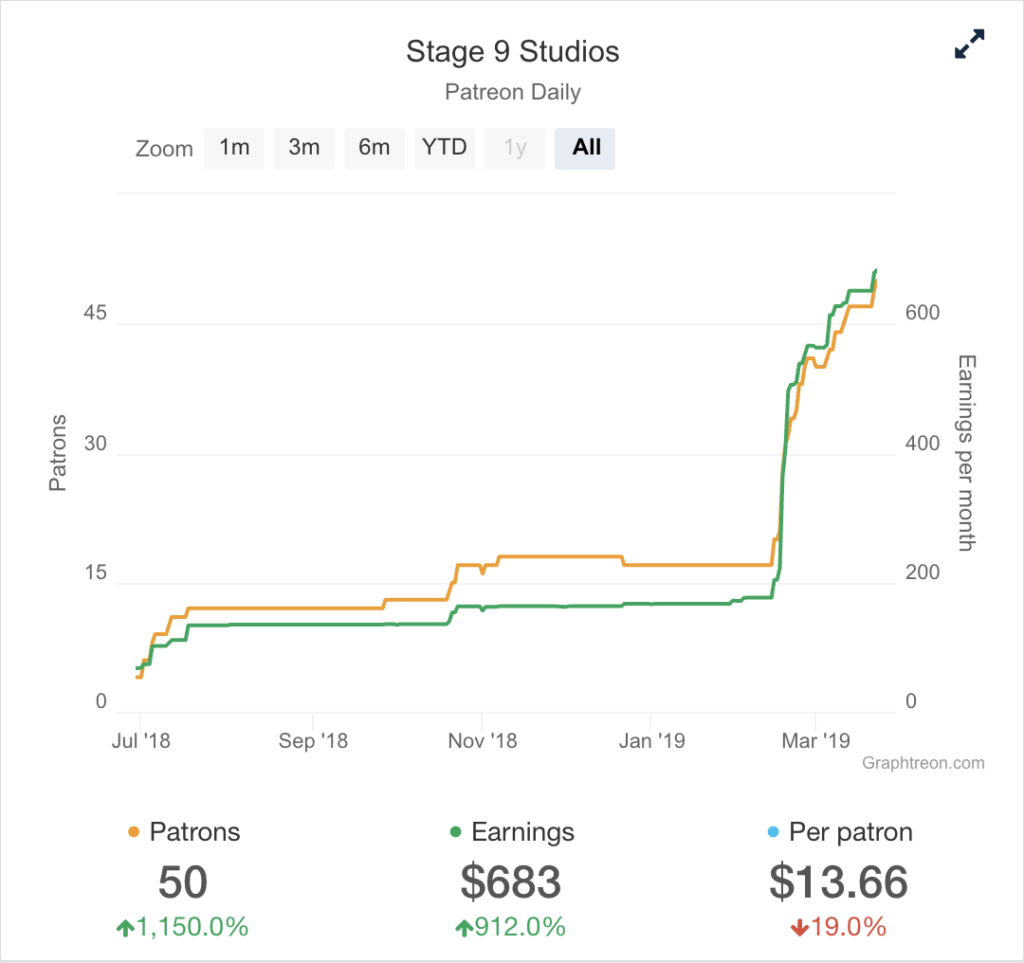 That's still barely a fifth of what is necessary to cover the monthly costs of this FANtastic resource, but it's certainly a great start! You can donate as little as $1 a month, and it'll help a lot. Also, members of the Patreon will have access to special programming at the upcoming Fan Appreciation Weekend 2.
To donate, click on the link below (and/or pass it on to folks you know who might be interested in helping out themselves to keep the dream alive)…