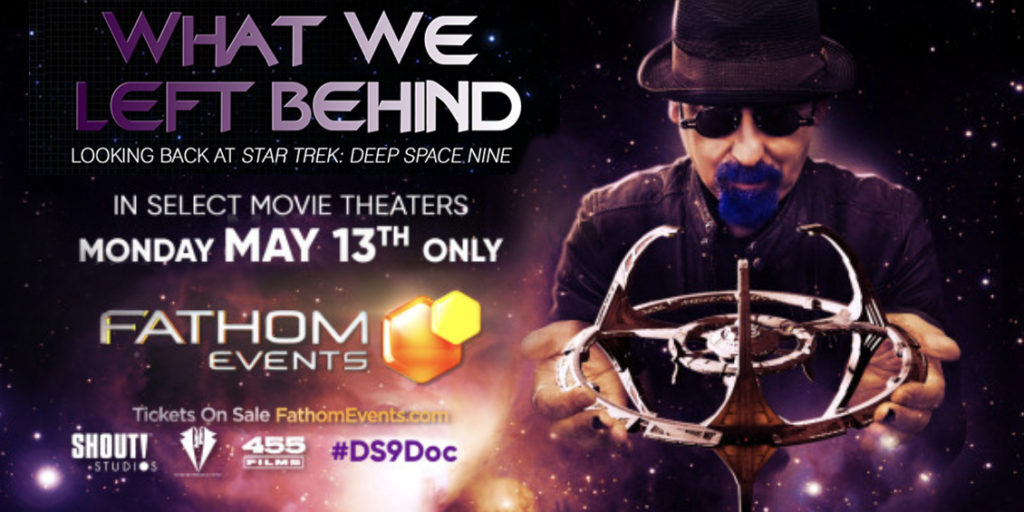 It wasn't even four weeks ago that I posted the HUGE news that the crowd-funded Deep Space Nine documentary WHAT WE LEFT BEHIND had been acquired by distributor SHOUT! STUDIOS. But now the news is even huger (yes, that's a word!).
Shout! Studios opened up a whole new realm of resources and opportunities for both completing the production as well as exposing more of the fan community (and general public) to this high-quality look back at the history of Star Trek: Deep Space Nine and into the minds and hearts of the people who made it all happen.
With Shout! on board, it was announced this week that the documentary has finally been completed and delivered. The recent delays had been mainly due to a decision made by show-runner IRA STEVEN BEHR and director ADAM NIMOY to digitally remaster into high definition all 20 minutes of footage from various episodes rather than only about 25% of the footage, leaving the rest in lower quality standard definition. Additional crowd-funding beyond the $650K raised from Indiegogo backers was necessary to acquire and remaster the footage, but Ira has assured everyone that the difference in quality is worth it. You can check out the comparison below…

The other major announcement(s) concerned when the completed documentary would be shown both to backers and to the general public. With Shout!'s connections in theater distribution, in partnership with Fathom Events, What We Left Behind will be showing in over 800 theaters across the US for one screening on Monday, May 13th at 7:00pm. Fathom will be providing giveaway 11×17 posters at the door while supplies last, and this one-night event will include exclusive content with a new roundtable discussion following the film. You can order tickets here.
Of course, backers at levels of $15 or more were promised an early sneak peek, and so they shall get it! On Thursday, April 25th at 9:09pm EST, eligible backers will be able to stream the full documentary from home or on a mobile device for the following 99 hours. (Hmmm, there's an awful lotta 9's…oh, I get it!)
Backers will still have many more chances to watch the documentary when they receive their DVD/Blu-ray combo sets. More details for backers (instructions for how to stream, planned shipping dates, etc.) will be coming soon.
For now, the documentary team has just released this FANtastic new trailer. I challenge you not to tear up while you watch it (I got goosebumps)…!