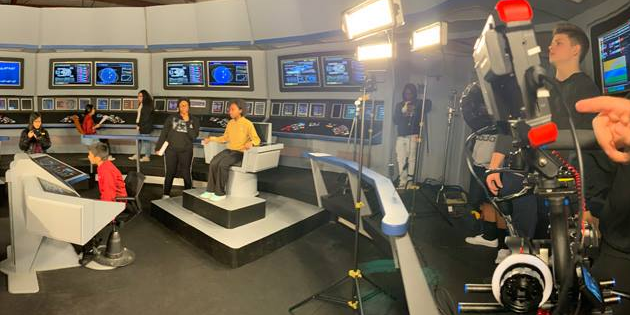 Although no Star Trek fan films have shot on the ARES STUDIOS sets yet, that doesn't mean the USS Ares bridge hasn't been getting some serious screen time! It's simply that the filmmakers are mainly teenagers, students in the local Gwinnett County Public Schools District located just northeast of Atlanta, GA.
The primary force behind most of the student films that have been filmed there is PASHA SOUVORIN, the Video Pathway Lead Teacher for Gwinnett County Public Schools and a video production teacher at Phoenix High School, which is near the Ares Studio facility. Pasha met ALEC PETERS through a mutual friend, Sherry Fowler, who works with Alec and is also a teacher at Pasha's school.
These students are getting an amazing opportunity as they write, direct, light, score, edit, and produce their own films using a full 360-degree custom sci-fi set. They don't necessarily see it as Star Trek (most of them were born AFTER Enterprise premiered!—don't you feel old now???) but rather as whatever their young minds imagine this bridge to be.
Here's a short snippet of what a student film shoot looks like…
Pretty professional-looking, right? Granted, these aren't Academy Award level productions, but remember that these students are only just getting started, learning about the craft of filmmaking. These early efforts are invaluable educations experiences for what may very well be the cutting-edge filmmakers of the future!
Currently, Ares Studios is being funded through monthly Patreon donations from fans like you and me (click here to sign up as a backer). The crowd-funding campaign is just over half-way to covering the $4,000/month rent and utilities. The remainder is being paid out-of-pocket by Alec Peters himself. At present, there is no money coming in from the school district, and the schools are not being charged anything to use the facility or the sets.
Recently, I had a very lively and enlightening discussion with Pasha Souvorin about his teaching background, his students, the history of the school district's video program, and what Ares Studios has meant to him and the kids who get to film there…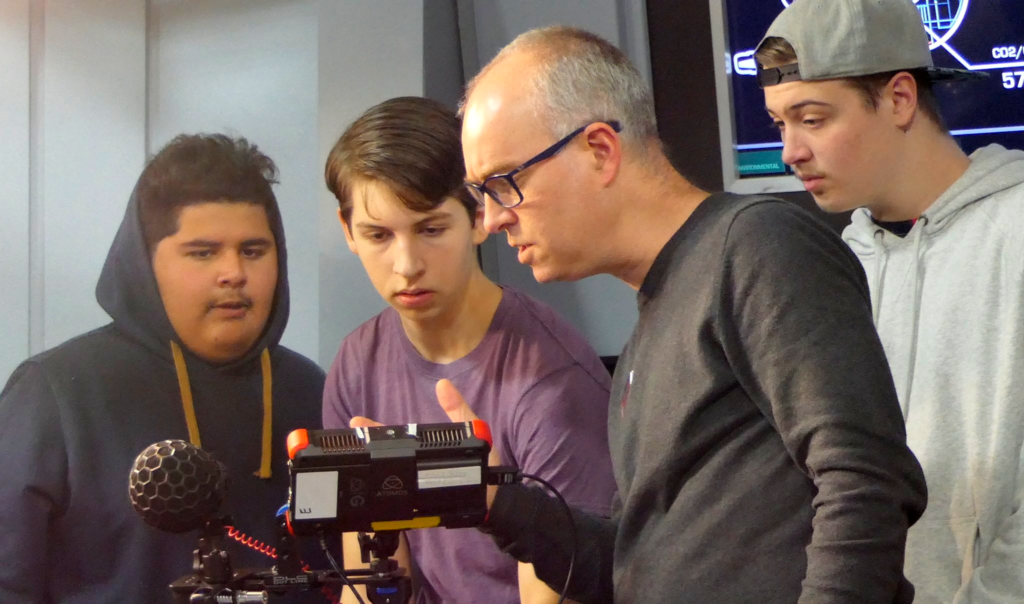 JONATHAN – Thanks for taking the time to chat, Pasha. So what have you and your students been up to? Have you or they completed and/or released any films that were shot on the bridge?
PASHA – Quite a few! And let me just begin by saying that Alec Peters has been amazingly generous with donating his studio space so that local students can learn real filmmaking skills in a professional environment.
Alec opened the studio up to us in early 2018. The set was barely built at that point, but my students were so excited that they wanted to go ahead and film anyway. So we shot our first project, Jude's Dream, even though we had to keep the set shadowy to avoid showing the gaping holes in it! That movie was written by the two stars, Asia Townsend and Gabriela Ruvalcaba. They have both graduated. Here's their finished film with the bridge scenes starting about 90 seconds in during the dream sequence …
The next project we made was Interview Aboard the Space Station Danger-S. It was written and directed by Emi Hope, an amazing video student. Emi has done a great deal of terrific work as part of other projects, but the Ares Studio set was the first time she really tried to do something more ambitious. I fully believe that access to the set was what inspired her to really see herself as someone who could write and direct a movie. And it also allowed her really sly sense of humor to come out, as well…
JONATHAN – Yeah, there's parts of that video that were really funny! What I find amazing is that these students are taking a set that was designed and built to be consistent with classic Star Trek and are doing completely different things with it.
PASHA – Absolutely. I know that many fan film aficionados are passionate about a particular story, like Star Trek. But for young people who walk onto the Ares Studios set, they don't have preconceived ideas about what is supposed to happen in this kind of space.
It's passion for Star Trek that drove Alec Peters to build something like this. That passion is inspiring to students, and they immediately see how it has driven Alec to create this amazing space. But as a teacher, my job is to help students find their own passion so that they can pursue whatever it is.
The Ares Studio set represents an invitation to my students, and shows them that if they pursue their own dreams that they might one day create something equally amazing. And the opportunity that Alec is providing through Ares Studios encourages my students to imagine themselves as filmmakers able to pursue their own dreams.
JONATHAN – That's really awesome, Pasha. So what else have your students filmed there?
The Shoffice was our most recent project. Students wanted to do a tribute to the television show The Office. They envisioned a space ship crew that was lazy and didn't do their jobs. Venessa Lewis wrote the script. Again, she hadn't written or directed a movie before, and having access to this set really allowed her to step up and try something more ambitious…
On the first day on the set, I arranged for Alex Bright, a local filmmaker, to meet us there. He was able to spend an hour teaching the students how things work on a real film set. When students have access to a real set and to real professionals, it allows them to picture themselves actually doing this as adults. It also inspires them to take the project more seriously. When we are at Ares Studios, the students forget they are in a class and become actual filmmakers.
JONATHAN – Man, I wish something like this existed back when I went to high school a million years ago! Anyway, those are three very well done films considering that these are just students still learning the basics.
But I seem to remember one other student film shot on the bridge that had some very good acting in it. There were five kids who wake up on the bridge and don't know what any of the buttons do…does that sound familiar? Were those your students or were they from a different school?
PASHA – Ah, that was Alien Territory, and it was excellent. Jordan-Paige Sudduth is a young filmmaker from another school system. Somehow, she found out about Ares Studios and reached out to me about shooting a film there. She had previously made several short films on her own (you can see a full list on her IMDb page). But none of them were on a real film set. She started by visualizing what was possible on this set. What I love aboutAlien Territory is that she used her own creativity to transform the Ares Studios set into something from her own imagination. Check it out…
JONATHAN – Yep, that's the one! I really liked the youngest girl; she had some serious acting chops. But they all did really well.
So, Pasha, do your students have anything else coming up using the Ares sets?
PASHA – As a matter of fact, we're starting on our most ambitious project ever. It's a collaboration with Vince Barnett of Scienstars. Vince wrote an original script. and local elementary age theater students are acting the parts. We've also assembled a crew of high school video students from around the district. We have sound production students composing original music and cosmetology students doing hair and makeup.
JONATHAN – Wow, this is a very impressive school district! Is video production a part of the standard, required curriculum in your district, or is it an elective?
PASHA – Video is an elective, but it's a part of a technical track. Most Georgia students take some technical courses (such as video). Students who take all three years of the video elective can earn a special seal on their diploma indicating that they specialized in video production. Georgia will also pay for these pathway completers to take the Adobe Certified Associate test in Premiere Pro. So my students can graduate from high school with an industry recognized credential already on their resume.
JONATHAN – Let's hear it for Georgia! Considering the amount of film production happening there right now—The Walking Dead, Stranger Things, the Marvel movies, Dynasty, Black Lightning, MacGyver, Cobra Kai, the list goes on and on—I guess it's no wonder that the state is so supportive of video instruction.
PASHA – Video is now the largest technical program in Georgia, but I'm not sure what the numbers are statewide. I'm at an alternative high school, so my students numbers aren't a good indicator of what these courses look like at other schools.
But most high schools in Georgia now have a video program. The last number I saw on that was 170 schools. Since there's usually only one video teacher at a school, we do a lot of networking and collaborating online. This facebook page has 336 members, most of whom are video teachers in Georgia. We use the page to share resources and discuss best practices among ourselves. I can post a question in this forum and usually start getting answers within 30 minutes.
JONATHAN – So I guess Georgia is pretty cutting edge and unique in offering video electives for their students?
PASHA – Actually, it's just the opposite!
JONATHAN – Really?
---
Next time in Part 2, my interview with Pasha concludes as we discuss what is taught to the students in these video classes, how the program has evolved over time, and whether or not the Gwinnett County School District can help Alec pay the rent! But then we'll also have a special epilogue where we'll hear from a few of the students themselves and what being able to film on Ares Studios has meant to them.