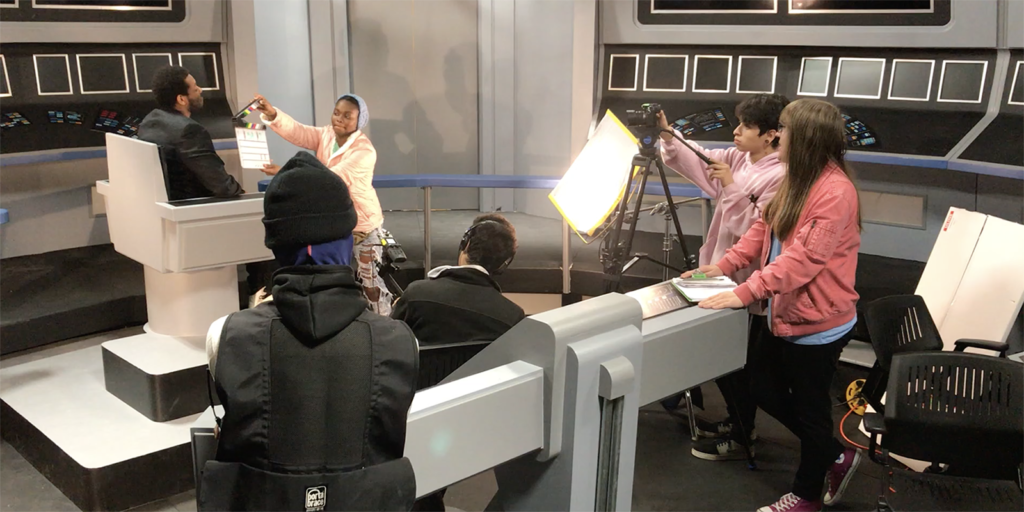 In my previous two blogs, I featured an interview with PASHA SOUVORIN, the Video Pathway Lead Teacher for Gwinnett County Public Schools and a teacher at Phoenix High School in Lawrenceville, GA. Over the past 18 months, his video students have filmed multiple productions on the amazing 36-degree bridge set at ARES STUDIOS.
Initially constructed to be used in filming the sequel(s) to PRELUDE TO AXANAR—and still planned for that project—the bridge set and (recently added) captain's quarters have been made available to the entire Gwinnett school district free of charge by ALEC PETERS. Now that we've heard from a video teacher, it's now time to hear from some of the students.
I met two of them last November at Axacon. ALLISON FALCH (who is married to DANA WAGNER, the man in charge of completing the finishing touches on the USS Ares bridge set) teaches video at South Gwinnett Public High School, and she brought along these two charming young students on Friday afternoon when Ares Studios was opened up to Axacon attendees. As we were shooting various video interviews with the con guests and the bridge itself, we devoted a few minutes to a chat with Allison and her students…
And then last week, as I was assembling my two-part blog interview with Pasha Souvorin and was complimenting his students' films, Pasha asked if I'd like to interview two of his student directors. Sure! So I wrote up some questions for EMILIA HOPE and VENESSA CHELLO. Both provided wonderful and articulate answers that showed how significant an impact being able to film on the Ares Studios bridge set has had for them.
Before I get to these two interviews, I'd like to point out that all four of the student directors featured in this blog entry are WOMEN! And in a male-dominated industry, I am both proud and encouraged to see that the female filmmakers of tomorrow are getting a head start, too. Also, of these four women, one is African American and two are Latina…so let's hear it for ethnic diversity!
All right, let's meet Emilia and Venessa…
Continue reading

"Meet some of the Georgia high school students who've come to ARES STUDIOS!"