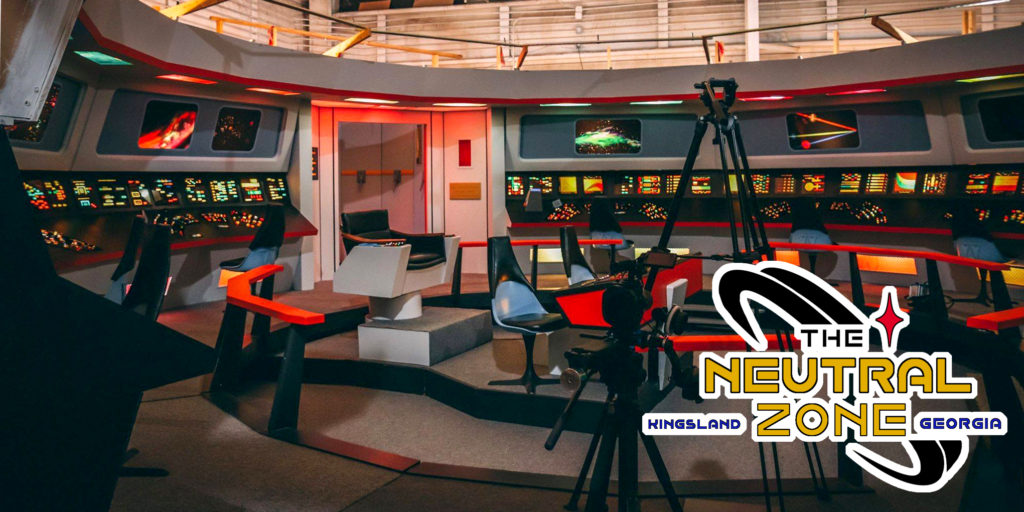 As you might remember from my recent blog, NEUTRAL ZONE STUDIOS in Kingland, GA (where Star Trek Continues and Starship Farragut) has a Patreon campaign currently trying to raise $3,500/month to cover rent, utilities, insurance, and maintenance. Right now, those expenses are being paid primarily by RAY TESI, the super-fan who purchased the iconic TOS set recreations from STC show-runner VIC MIGNOGNA. Ray has generously opened up his sets to fan filmmakers and also to the general public during periodic Fan Appreciation Weekends (the next of which is coming up on May 24-26).
The challenge for Ray is that these monthly expenses are ongoing…which is not the case for his retirement savings, which is what is funding the dream at the moment. So Ray has asked the fan community to chip in in the form of small monthly contributions made via Patreon.
The campaign kicked off last July and kinda went nowhere for seven months. By February, Ray was up to only 17 patrons donating $176/month (of which Patreon takes a small percentage), leaving Ray with annual expenses that were still topping $40,000…YIKES!!!
But then things began to look up, as a renewed outreach effort on social media saw totals nearly triple by the end of February to 41 patrons and $566/month. Ray was down to having to cover "only" $35,000/year. Sure, still a long way to go…but definitely headed in the right direction.
The following two months saw reliably steady growth, reaching 74 patrons and $872/month by the time I checked the campaign before heading to bed on April 22. Ray was now taking in about $10,000/year, covering about 25% of his expenses.
When I sat down at my computer the next morning, Ray's Patreon page was still on the screen, so I did a refresh just out of curiosity. I didn't expect the total to change, but ya never know. That said, it took me a few moments to fully process what I was seeing…
At some point while I slept, Ray's Patreon total had jumped from $872/month to $1,696/month—almost DOUBLING overnight! Surely this was some kind of glitch at Patreon. No one donates $824/month…do they????
I messaged Ray.
As shocking as it was to believe, Ray confirmed to me that a single donor had, indeed, committed to funding nearly $10,000/year(!!!) to the Neutral Zone Studios Patreon. You can see from the tracking graphic below the effect this had on the chart…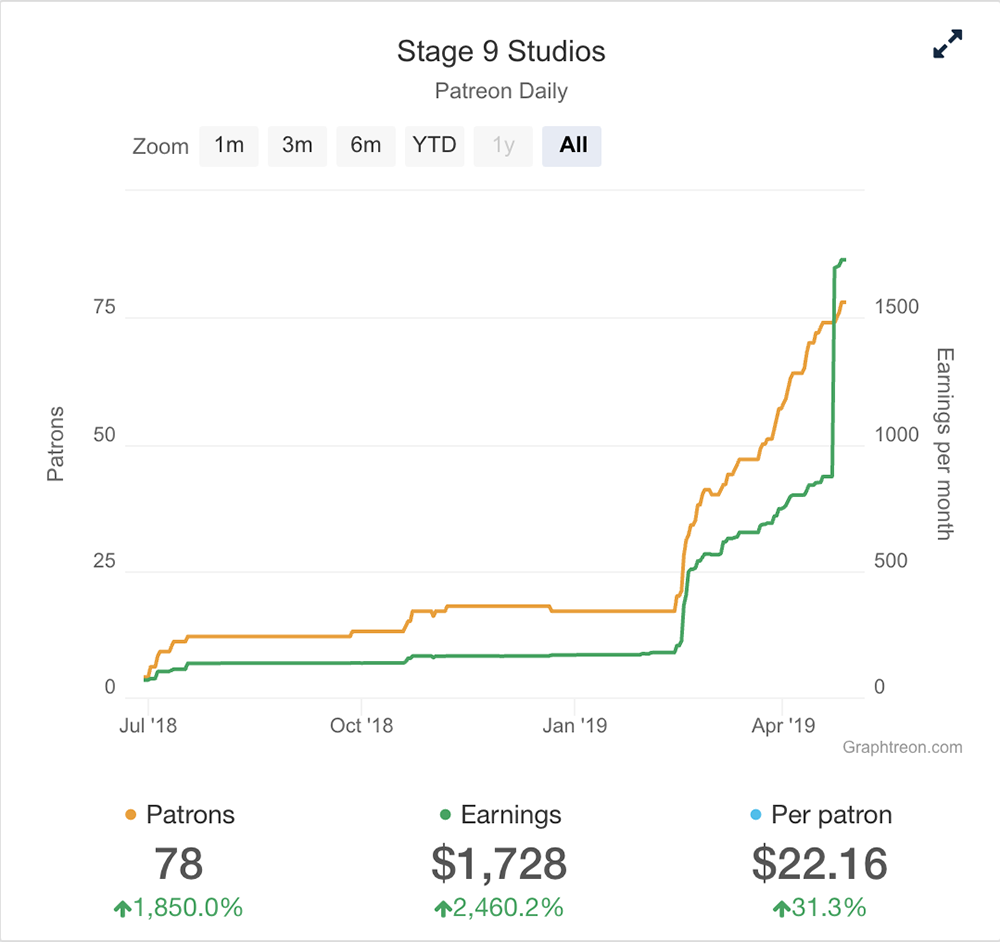 That's quite a bump in the green line on the right, huh? And the good news is that both lines are still going up since the "April surprise." That's encouraging because, even with this amazing donation, Ray is still covering about half the expenses from his savings, or nearly $20,000/year. In five years, it'll be $100,000!!! That's a lot of money just to keep these incredible sets out of the dumpster and available for fans.
I asked Ray if there's anything he'd like to say publicly to or about this angel donor. This was his heartfelt response…
I've always been a firm believer that, good or bad, you never know what's around the corner. And it's always better when it's something good that comes your way.
In this case, relatively out of the blue, a fan stepped forward and made an extremely generous monthly donation to our Patreon campaign. Words cannot express my appreciation for this backer's generosity. I respect the privacy of everyone who has donated, so this contributor will remain anonymous—at least for now. But know that my appreciation for this financial commitment cannot be adequately expressed. And obviously, the studio doors will always be open to this person!
With his amazing donation and the support of our other 77 patrons, we're now about half-way to meeting the $3,500/month that's required to keep the rent and utilities paid, the insurance paid up, and doing maintenance when needed while I continue to cover the remaining $1,750/month of our expenses out of my own pocket.
Keeping Neutral Zone Studios open and available to the fan filmmaking community and the general public for fan appreciation events for as long possible is no easy task, even with our generous Patreon donors helping out.
All of this is to say that we still need YOUR help. It doesn't have to be much. While $800/month is amazing, we're happy with just $5/month (less than the cost of a Starbucks coffee) or even just $2. Every little bit helps to keep the dream alive just a little longer…
And what better segue into providing the link to the Patreon…
https://www.patreon.com/neutralzonestudios
Please consider signing up—at any donation level—or if you can't, then please share the link as far and wide as you can.
---
In other news, the new Neutral Zone Studios FAN FILM STUDIO RENTAL & GUIDELINES have now been posted. They include cost, scheduling and cancelation policy, and a number of other details that will hopefully make the process of renting and using the facility as clearly stated as possible. You can read through the new guidelines here: