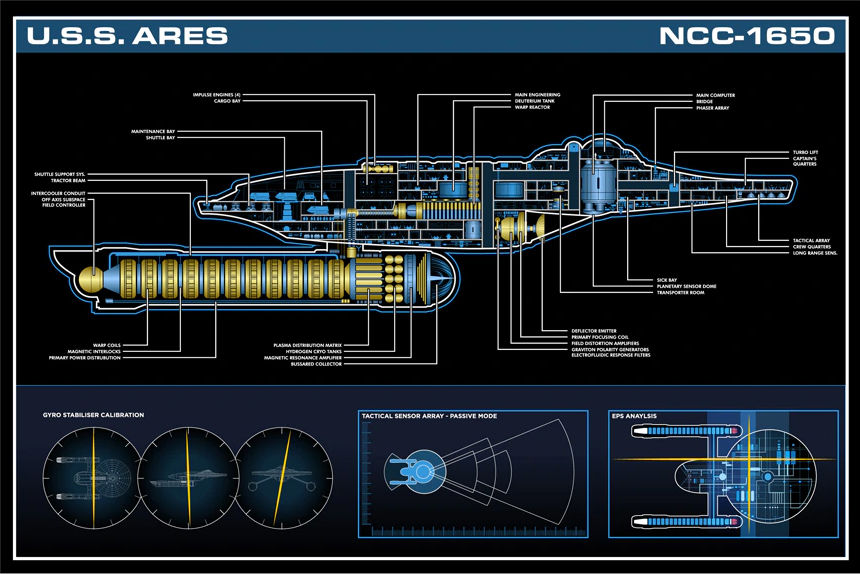 Okay, so a lot happened over the past few days in Lawrenceville, GA…the home of ARES STUDIOS. If you read yesterday's blog, you know that the AXANAR project got a jaw-dropping $10,000 donation last Thursday from a very generous and supportive donor…bringing the total for the current private crowd-funding campaign above $20K. The goal was also adjusted upwards from $30K to $35K to bring in a little money to start work on post production while production (filming) is on hold due to the pandemic.
And while I was writing all of that up in a blog, ALEC PETERS was also launching a brand new Kickstarter to fund production of the first in a series of "Master Systems Display" Posters…the first one (pictured above) featuring a beautiful side cutaway view of the USS Ares. The artwork was lovingly and meticulously created by graphic designer extraordinaire ALEXANDER RICHARDSON of Great Britain. He's actually created a whole bunch of these images based on the various ships from PRELUDE TO AXANAR. And if the first Kickstarter is successful, additional posters will be offered to fans with the proceeds going to help Ares Studios live long and prosper.
Actually, there's no need to say "if" the first Kickstarter is successful. With a 15-day duration, the campaign reached the $1,200 goal in less than an hour, and within the first few hours had crossed the first stretch goal threshold of $3,000 (which unlocked a second poster—the USS Geronimo class—which will be sent free to all donors). After 24 hours, the campaign had added another thousand and was now closing in on the second stretch goal of $5,000 (which unlocks a mystery poster).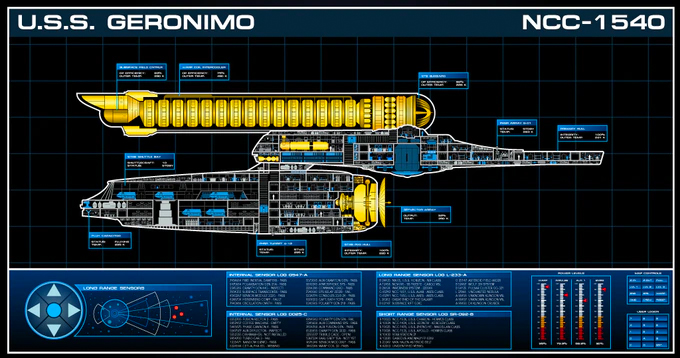 Not entirely unexpectedly, some less-than-supportive fans caught wind of the Kickstarter and mistakenly assumed that Alec was violating the legal settlement that he had signed with CBS and Paramount in January 2017, ending the infringement lawsuit and allowing Alec to complete two Axanar sequel films (15 minutes each) as long as he did not publicly fund the project using services like Kickstarter or Indiegogo.
Since Alec was using Kickstarter for these posters, they surmised, he must be breaking the settlement agreement and would quickly see a cease and desist letter (or worse!) from the lawyers at Loeb & Loeb on behalf of the corporation now known as ViacomCBS.
There are multiple reasons that these folks are wrong, of course. After all, Alec Peters isn't stupid and did graduate from law school and pass the bar. He'd never risk the Axanar project and potentially his own livelihood just to print up a few hundred posters.
So, yes, this is all on the up and up. But just in case anyone is still dubious, let's briefly discuss the biggest reasons that Alec is NOT running afoul of his settlement agreement…
ARES STUDIOS IS A SEPARATE LEGAL ENTITY FROM AXANAR PRODUCTIONS
This is, of course, the biggest elephant in the living room. The settlement was signed by Alec Peters on behalf of Axanar Productions. That means that only those two entities can be in breach of that agreement if, in fact, a breach ever happens.
Ares Studios did not exist until seven months after the settlement had been signed and Alec moved himself and the sets from California to Georgia. Therefore, there is no way (barring time travel) for Ares Studios to be considered a signatory of the settlement agreement that was signed before Ares Studios ever existed.
ARES STUDIOS IS NOT ALEC PETERS
Ares Studios is a not-for-profit corporation based in Lawrenceville, GA. Alec Peters is a corporate officer of Ares Studios (one of several) but not considered the corporation itself. Sometimes the Axanar detractors dream of CBS's lawyers someday "piercing the corporate veil" to determine that Ares Studios is just Alec Peters in disguise or some such. It doesn't work that way in the real world, however. Don't take my word for it. Click that link I just provided or just read the following quotation from that article:
"…generally courts have a strong presumption against piercing the corporate veil, and will only do so if there has been serious misconduct."
Printing a bunch of posters is not "serious misconduct," folks.
Alec Peters has started a number of small businesses in his time. The legal settlement applies to only ONE of those businesses: Axanar Productions. All other ventures Alec engages in are his business (literally and figuratively).
A STUDIO IS NOT THE SAME AS A FILM
The legal settlement applied only to the production of a fan film called Axanar, the sequel to a previous fan film called Prelude to Axanar. That's it. It didn't apply to sets or lights or cameras or green screens or costumes or props or anything other than a finished fan film production.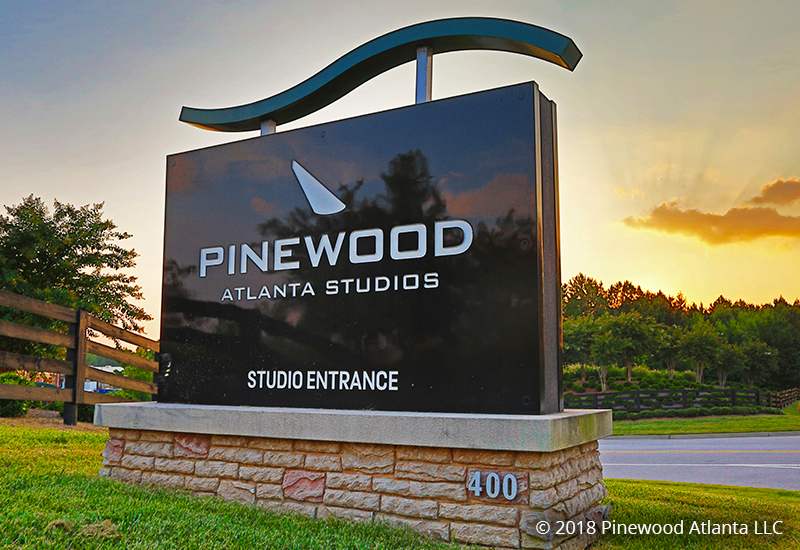 Ares Studios is a film studio. It's not nearly as big or impressive as, say, Pinewood Studios an hour's drive southwest in Fayetteville, GA, but perhaps that's still a good example to bring up. You see, since it opened in 2013, Pinewood Studios has played host to the filming of eight Marvel blockbusters including Civil War, Ant-Man, Guardians of the Galaxy 2, Black Panther, Spider-Man: Homecoming, and the last two Avengers movies. But Pinewood Studios has no ownership in any of those films. They're all Disney. The Walking Dead is also filmed at Pinewood, but the production company is AMC Studios. Pinewood is just a place they use to film.
The same is true for Axanar and Ares Studios. Ares Studios is just the facility where Axanar is being filmed. Several other productions have also filmed at the studio, including my own production INTERLUDE, a parody sci-fi project from PUAL JENKINS, and a number of student films. After the pandemic, Alec is planning to film even more productions there…and none of them are Axanar.
The legal settlement only forbids Alec from publicly crowd-funding Axanar itself, not from crowd-funding the rent of a studio used for multiple productions besides Axanar.
THE TWO FINANCIALS ARE COMPLETELY SEPARATE
This probably goes without saying, but money given to the Kickstarter for the posters goes to Ares Studios only (minus the cost of printing, packing, and shipping). The money for Axanar is being collected privately via the Ares Digital 3.0 firewall, not using Kickstarter or any other public service. Alec has been careful not to promote the Axanar fundraiser publicly, and so he is abiding in good faith to the specifics of the settlement.
HALF A YEAR WITH NO COMPLAINTS FROM THE STUDIOS

Late last year, Alec received two Notice of Breach letters over a two-month period from David Grossman, one of the attorneys from Loeb & Loeb, CBS's outside law firm. Alec had actually received about 8 or 9 of these letters since the settlement in 2017, and Alec has always responded, addressing any issues raised and making corrections to his practices when needed. And when the issues raised were either misunderstandings or incorrect, Alec would clarify that the thing(s) they had a problem with weren't really a problem, explain why…and that would be the end of it. There has never been any follow up by CBS or Loeb & Loeb about any unresolved issue.
This time, though, Alec felt particularly aggrieved by the letters, especially after the first letter got leaked to a detractor in an attempt to sabotage the first Axanar shoot in October. In the process of looking into this leak, Alec discovered to his shock that Mr. Grossman had contacted him (Alec) on behalf of CBS without informing CBS that he (Mr. Grossman) was doing so.
So Alec sent a copy of his second response directly to executives at CBS letting them know what their lawyer was up to and pointing out that, with Star Trek: Picard about to launch, it might not be the best time for stories to start appearing in the media about CBS continuing to harass their fans with legal intimidation after resolving a year-long lawsuit amicably.
And to be fair, Alec has been a good Star Trek citizen. He is never overly critical of CBS on his live streams and podcasts, he loves Picard, and is excited about the new Pike series Strange New Worlds.
Although I can't read the minds of the folks at what is now ViacomCBS, my guess is that they don't think that a guy raising money in the tens of thousands of dollars (no longer over a million) to produce a 30-minute fan film is worth the public relations hassle at such a critical time for All Access. And they certainly wouldn't care about a bunch of posters and a $1,200 Kickstarter.
In the past six months, Alec hasn't received a single communication from anyone at either Loeb & Loeb or ViacomCBS…and this despite having a Patreon for Ares Studios taking in $2,600/ month and an online store selling patches, mugs, T-shirts, stickers, hats, messenger bags, and a whole bunch of other "swag." Long story short, if CBS had a problem with Alec publicly funding Ares Studios while privately funding Axanar, I suspect he would have heard more than crickets over the past six months.
THERE'S NO STAR TREK INTELLECTUAL PROPERTY IN ANYTHING ALEC IS SELLING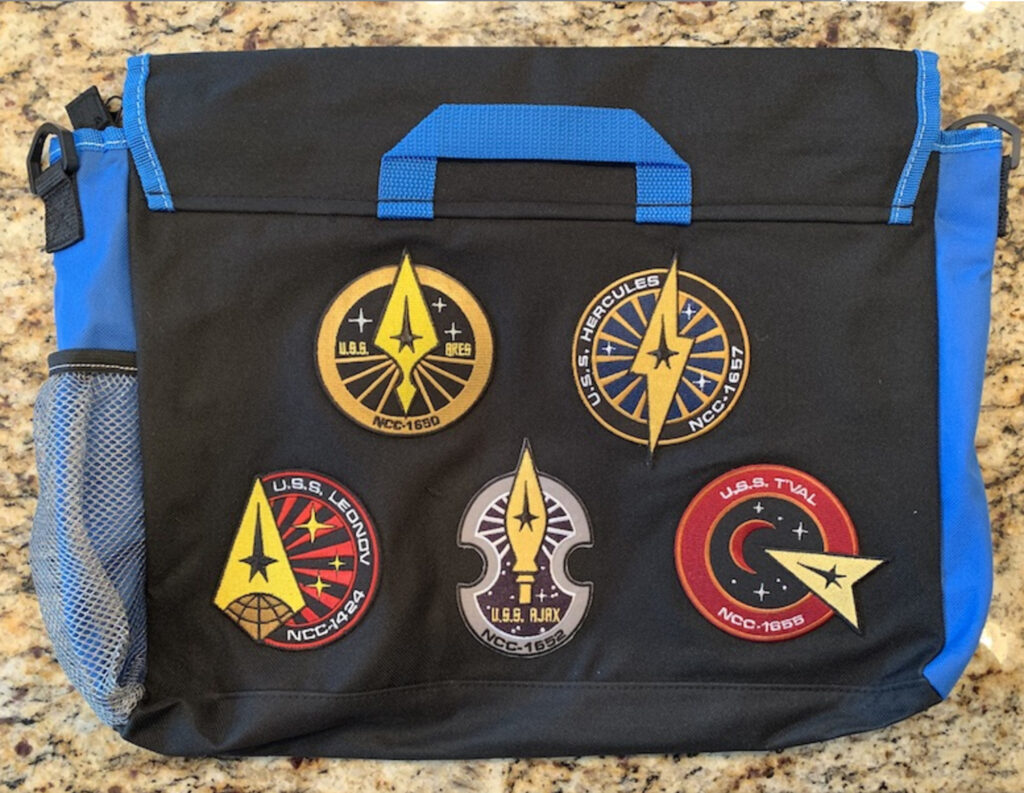 Even if ViacomCBS did have some kind of problem with Alec selling swag, it's hard for them to do anything about it. As I pointed out above, Ares Studios never signed a legal settlement with the studios. And if it's a case of pulling the infringement alarm again, take a close look at what's being sold. There's nothing on any product that says "Star Trek," nothing that uses any of ViacomCBS's licensed trademarks, and no intellectual property unique to Star Trek and only Star Trek. Words like "phaser," "transporter," and "warp" are too generic to ever be granted copyright protection. And you won't find unique words like "Klingon" or established starship designs like the USS Enterprise on any Axanar merchandise.
In short, everything that Alec and Ares Studios are selling is 100% original intellectual property that Alec owns the rights to. Anyone arguing differently isn't looking carefully at the products themselves. This is all completely legit.
So if you think the stuff is cool and worth owning, and you have the money to spare, then shop (or donate) with a clear conscience, my friends…
https://www.kickstarter.com/projects/aresstudios/uss-ares-master-systems-display-poster