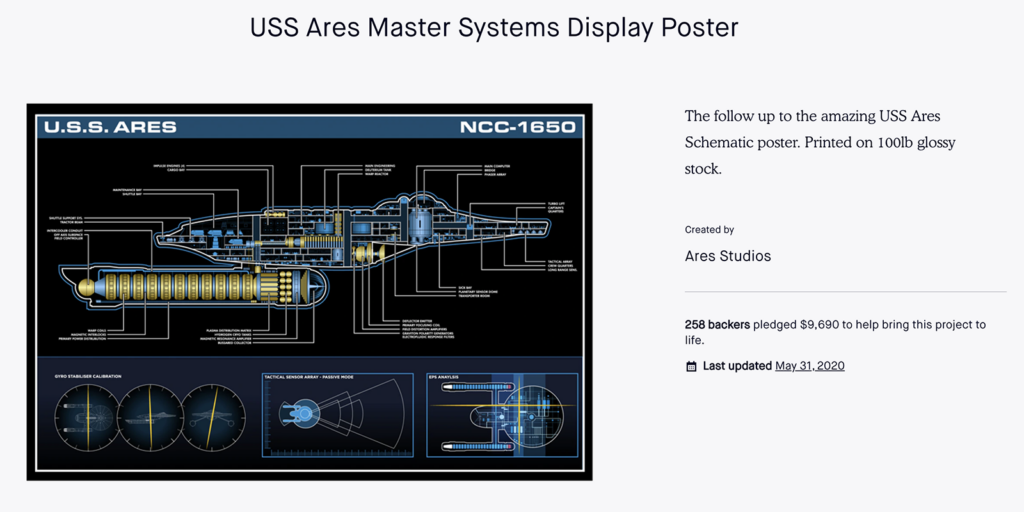 It took just two weeks, but 258 AXANAR fans and supporters just donated $9,690 to fund a series of Master Display Posters and also, of course, ARES STUDIOS in Lawrenceville, GA. The monthly expenses run about $4,200 ($3,750 of that is rent, the rest utilities). A Patreon brings in about $2,600 a month from an average of 260-270 donors…so the remaining $1,600 is coming out of the pocket of ALEC PETERS himself.
To help make up at least some of the shortfall, Alec launched a new Kickstarter on May 16, offering fans a snazzy full color poster of the USS ARES—a side-view cutaway designed by Axanar graphic designer extraordinaire ALEXANDER RICHARDSON. The original goal was a pretty humble $1,200…with a stretch goal of $3,000 that would unlock a second full-color cutaway poster of the USS Geronimo class and a mystery poster stretch goal at $5,000.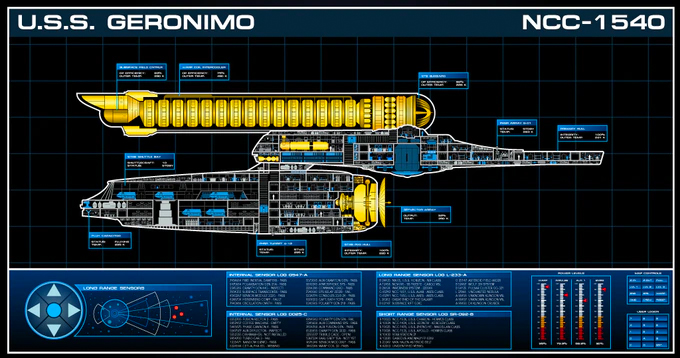 Donations began pouring in almost immediately. The $1,200 goal was passed in less than one hour, the first stretch goal a few hours later, and the second stretch goal within the first week! When the campaign closed yesterday evening, the final total was nearly $10,000! Even I wasn't expecting such a large amount.
A few folks wondered if this Kickstarter campaign was a violation of the agreement that Alec Peters and Axanar Productions signed with CBS and Paramount to settle their infringement lawsuit and allow Alec to finish Axanar as two 15-minute fan film segments. As I wrote in this blog from a couple of weeks ago, the answer is no. The agreement not to publicly crowd-fund using services like Kickstarter applies only to Axanar Productions and the completion of the Axanar fan film, not to the studio that houses the bridge and captain's quarters set. In fact, Ares Studios did not even exist at the time the agreement was signed in January of 2017, and so Ares Studios (a not-for-profit corporation in Georgia) cannot legally be considered a signatory to the settlement agreement (barring the existence of time-travel).
I texted Alec last night to congratulate him on his surprising achievement of nearly $10,000 in just two weeks, and our back-and-forth turned into a mini-interview of sorts…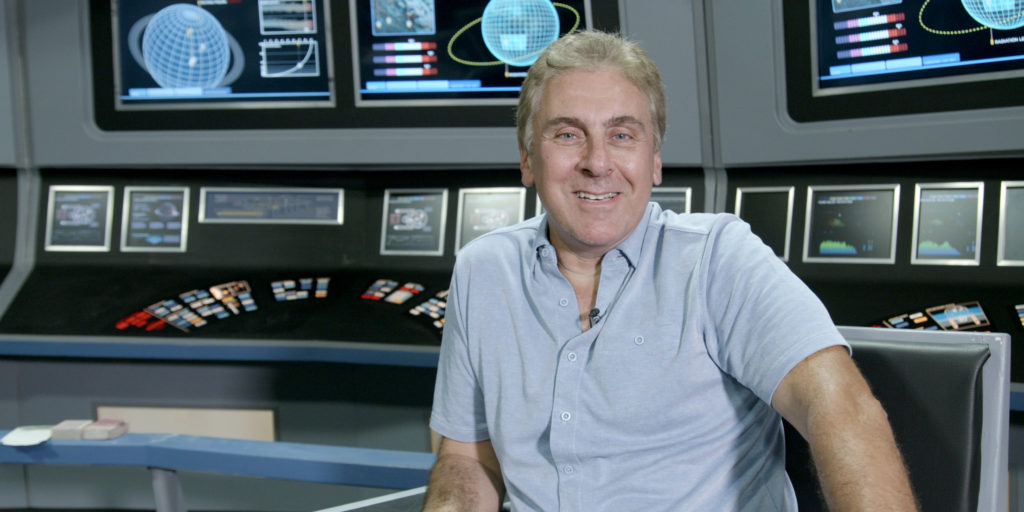 JONATHAN – Geez, dude! Did you ever think this short-duration Kickstarter would bring in nearly ten grand???
ALEC – Never. With the current economic uncertainty, I figured we might get to $3,000. Maybe, if the gods were smiling on us, we could hit our second stretch goal of $5,000.
JONATHAN – So now that the Kickstarter is over, can you tell me what the secret third poster will be?
ALEC – No. But it will show up in the Ares Studios Store.
JONATHAN – After Kickstarter fees, printing costs, and packaging and shipping feea, about how much do you expect to be left over to spend on Ares Studios?
ALEC – All but 10%, which goes to Kickstarter and for payment processing. Donors will pay for shipping separately through the Ares Studios Store.
JONATHAN – Did the Kickstarter mention that shipping was separate?
ALEC – Yes, it did.
JONATHAN – Let me check…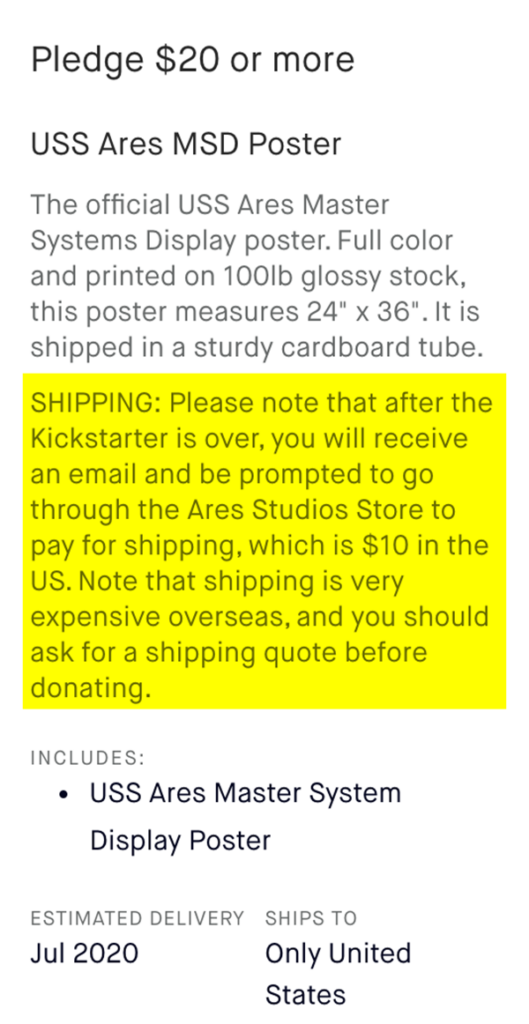 Well, so it did! I honestly didn't notice…not that I mind. But why not bundle the shipping costs into the Kickstarter donation itself?
ALEC – We can't collect shipping through Kickstarter because international shipping can be ridiculously expensive…like $100 instead of $10! We learned that lesson during our earliest campaigns when international shipping took a huge bite out of our fundraising. So now we always collect shipping fees separately. We realize it can be more of a pain for donors than doing everything all at once through Kickstarter, but it can't be helped because of the exorbitant cost of shipping to other countries.
JONATHAN – Since you've raised more than you expected, will all of this money go towards monthly rent and utilities or to other expenses…or both?
ALEC – We probably will spend some on equipment, some on creating more product, and some on sushi and tires.
JONATHAN – That's right , you darn smart Alec, use my blog to create yet another controversy!
ALEC – Actually, people who have been watching our livestreams know I've moved on from sushi to Drake's Cakes.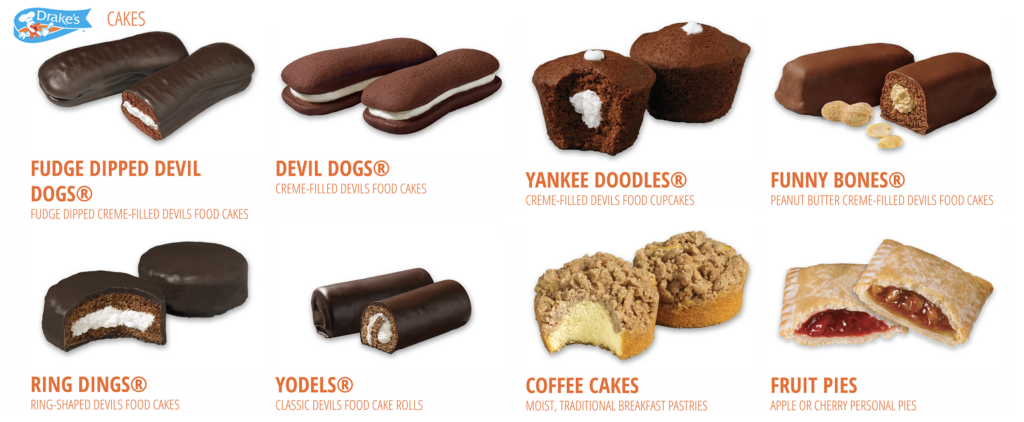 JONATHAN – HA! Those are the best, I have to admit. Okay, so speaking of financial details, I was curious: how exactly are you keeping the Ares Studios funds raised separate from the Axanar funds raised?
ALEC – Simple. We have two separate bank accounts and two separate PayPal accounts. You treat it like two separate companies, with everything that entails.
JONATHAN – How long until fan supporters (like me!) can expect to receive our posters?
ALEC – Well, we have to wait two weeks for Kickstarter to send the money. In the meantime, we will gather the shipping costs and print shipping labels. We already have the posters and the shipping tubes.
JONATHAN – Oh, well, that's sure thinking ahead! So are more Kickstarter campaigns for other Ares Studios items planned? If so, when will the next one be launched, and what will be offered?
ALEC – We are working that now. We think it will be challenge coins. We have lots of ships, fleets, and characters, and we already have the art from the patches…plus the exclusive donor challenge coin is a huge hit.
JONATHAN – Yep, I made sure to order me one of those coins! They came out amazingly nicely.
ALEC – They really did. They're awesome.
JONATHAN – What is the current status on Ares Studios? Obviously, no filming has been happening during the pandemic, but do you see the studio reopening soon if Georgia's governor approves it? Will the Gwinnett County high school students be able to come in and use the studio in the fall when classes resume (assuming there's not a second spike)?
ALEC – Well, we are at the mercy of state and school guidelines. So until we are told what is up, we really have no idea.
JONATHAN – Are you still looking to buy land to build on in order to hold the Ares Studios sets?
ALEC – Absolutely! A few things have to happen before we can do this, but that is the plan. We are looking for land now.
JONATHAN – And finally, what is the status on Axanar? You're still about $13.5K away from your current $35K goal (folks can click here to donate through Ares Digitial 3.0), but are you going to spend any of that money right now getting post-production going? And how long do you think until you can start filming again?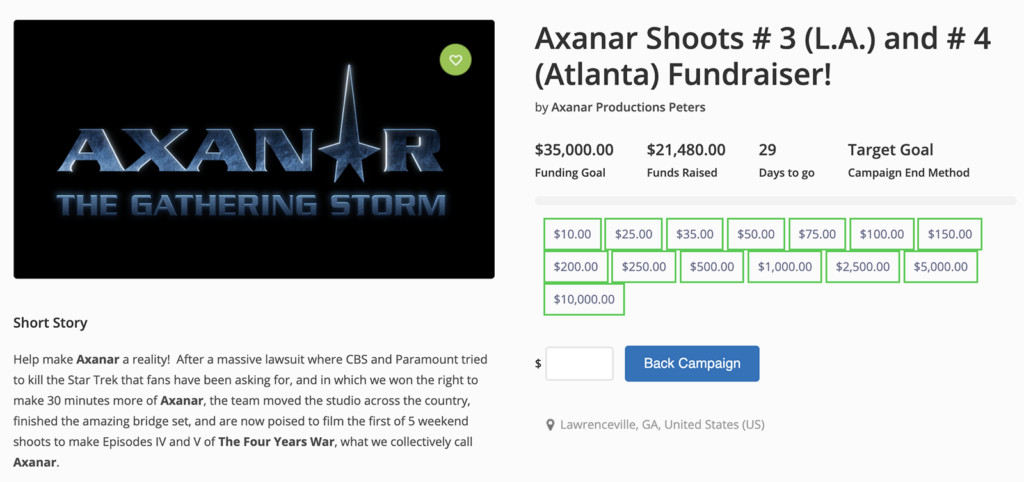 ALEC – Until we get an all-clear from SAG and the state of California, we really don't know! We already spent $5,000 on post production to gear that up, and we are bringing our costs of production down by filming on a very indy-style plan, which means less people, too, which works well in this environment. At the moment, we have a $21,000 plan for a two-day LA shoot to finish principal photography. Between that and post, we have shaved about $15,000 off of our plan. We are trying to be as smart with our money as possible.
JONATHAN – So wait. Right now your current Axanar fundraiser says $30,000 for the final shoot and $5,000 for the first part of post-production. And then you told me in an earlier interview that you estimated another $15,000 in a final fundraiser for the remaining post-production. Has that changed?
ALEC – Not officially. There's a lot still up in the air, and we really don't know yet until things actually happen. Right now, I am keeping the expected budget the same at $30,000 for the final principle photography and $5,000 for the first part of post. If we save money on the L.A. shoot, then that money goes to post, and then we'll just need to raise less money in the final campaign.
JONATHAN – Well, then, let's hope the costs stay down.
ALEC – We're doing our best!