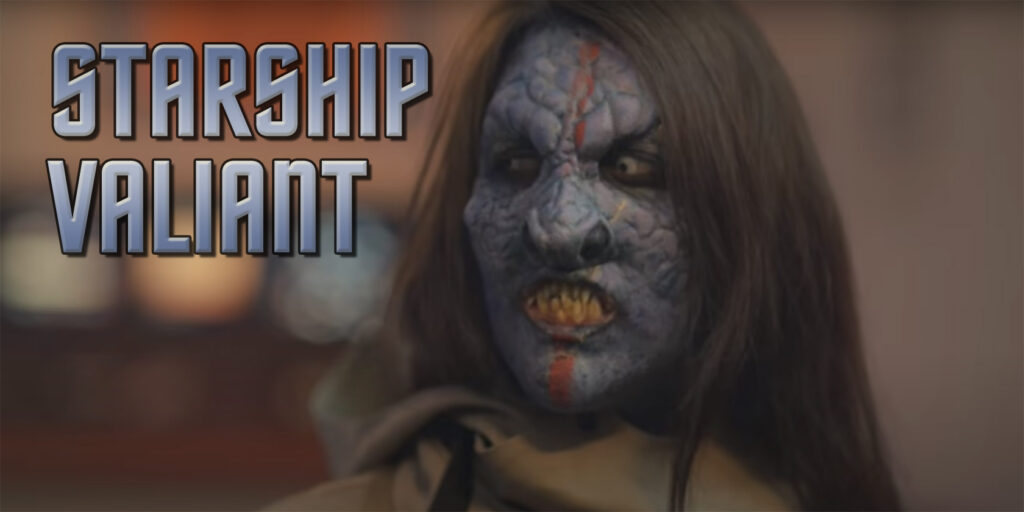 In Part 1 and Part 2, we saw the birth of the fan series STARSHIP VALIANT, the brainchild of MICHAEL L. KING from Oklahoma. Utilizing the bridge set rescued from STARSHIP EXETER that was restored and expanded at STARBASE STUDIOS in Oklahoma City, the first episode of Starship Valiant, "Legacy," began filming in late 2013 and debuted the following June at SoonerCon.
In 2015, Michael, with the help of Valiant director BRADY FOSTER, filmed a brand new scene that was shot on the just-completed sickbay set constructed at Starbase Studios for use by their "sister" fan series, STARSHIP GRISSOM. The 3-minute scene featured, for the first time on camera, VANCE MAJOR as Chief Engineer Erick Minard. It also showed the death of Captain Jeffrey Clark, an event that leads directly into the rest of the episode. The "Legacy – Special Edition" debuted at SoonerCon 2015 and was posted to Facebook shortly thereafter.
Michael sums up the Valiant pilot episode like this: "'Legacy' has always been about the consequences of one's actions. The story is a cautionary tale that tells us that, for every action we make, there is a reaction, either good or bad. It tells us that, sure, we are going to make mistakes and feel badly about them but to stick to our guns and fix them. It tells us that it's okay to cry for the ones that we love and that those people's actions are a result of how we have decided to live our lives. Bottom line: we are responsible for those who look up to us for guidance and love, and if we fail them, it's never too late to make amends or to make it as right as we can."
With a solid debut under their belts, the Valiant team jumped into 2016 with plans for a much more ambitious project. Titled "The Ties that Bind," the script was co-written by Michael along with Valiant VFX artist CRAIG FREY, JR. The story was sweeping, focusing specifically on development of the characters of Mchael's Captain Jackson Bishop, First Officer Kennedy, and Chief Engineer Minard. In an interview on the Valiant website, Michael explained, "The name itself refers to family, and I think it's fair to say that Bishop's relationship with his daughter will be explored a bit more as well as his relationship with an old enemy. Again, we return to relevant themes mirroring our society today by featuring a dilemma that the Federation gets itself in that will have you asking the question whether or not they are in the wrong or right? Furthermore, to narrow it down, I would say that 'The Ties That Bind' is essentially an expansion on the events in the first film."
Brady Foster returned once more to direct (and edit) the massive episode, filming the first act in the early summer of 2016. KRYSTAL WILLIS, who had played Captain Samantha Majors in Starship Grissom, played Captain Freedmon of the U.S.S. Valor in what was meant to be act 1 of the full "Ties" fan film. Helping out on the set with props and sound, respectively, were GLEN WOLFE and DAN REYNOLDS, who would go on a few years later to start up WARP 66 STUDIOS in Arkansas—location of the next TOS sets to be built for fan films—and to launch THE FEDERATION FILES fan series. Plans were well underway to shoot the rest of the scenes later in 2016 and possibly even have a completed fan film before the end of the year!
But then the fan film guidelines were announced at the end of June 2016, and they hit like a photon torpedo on an unshielded starship. "When I wrote the ['Ties'] script along with Craig Frey, Jr.," says Michael, "we had a story with a run time of about 1-1/2 hours…and then it all came crashing down when the fan film guidelines hit. There was just no way to convert the story that we wanted to tell into two 15-minute segments. There would have been no coherency. The opening alone was about 10 minutes in itself. So I stepped back, literally devastated, as we had sunk all our funds into the opening and realized that we couldn't finish the script as it was written. As I worked to revamp the script, I soon discovered that it was not working. The story would make no sense."
The short 10-minute sequence was completed and shown at SoonerCon 2016. "The reaction was great," recalls Michael. "People were riveted to the screen, and not to seem overzealous, but we actually received overwhelming applause at the end of the screening with everyone asking when it would be completed." The following summer in 2017, the 10-minute "The Ties That Bind – Special Edition" was finally polished up with a short epilogue and posted to YouTube…
Meanwhile, back in the summer of 2016, and with production on "The Ties that Bind" now on hold, the future looked uncertain for Starship Valiant. But while some in the fan film community were thinking of calling it quits, others were heading in the opposite direction…like Vance Major. It was in 2016 that his "trek" as a fan filmmaker began when he took his character of Engineer Erick Minard and used him as a focal point for a series of new fan films. Vance wasn't worried about the guidelines. His films would be made on a shoestring with no crowd-funding, were certainly going to be shorter than 15 minutes, and would tell unconnected stories of a single character…technically not a fan "series." And when Vance started out, he wanted Michael King on board. Literally.
Vance hit the ground running during the second half of 2016 with a whole bunch of fan films. The first, a seven-minute artistic vignette titled MINARD, led the way to many non-chronological releases forming a "tapestry" of fan productions and short vignettes focusing on his character. With Michael's permission, Vance incorporated part of the opening battle sequence of "Legacy," showing one of the pivotal moments in Minard's life. That fan film, shot during the second half of 2016, was completed and posted in August of 2017…
Also getting a start (actually a REstart) in fan films was the series DREADNOUGHT DOMINION. Under the stewardship of show-runner and lead actor FRANK PARKER, JR., Dominion had produced two introductory fan films in 2014 that were released in 2015 ("Haunted" and "Anchors Aweigh"). But then they lost access to the Farragut Films sets in Kingsland, GA when they were bought out by VIC MIGNOGNA of STAR TREK CONTINUES. Although Starbase Studios was still available for filming scenes on TOS sets, the recurring trip to Oklahoma was too much for Frank to commit to. So Frank stepped away, turning over the series to GARY DAVIS (who had played Frank's first officer) and RANDY WRENN.
By this point, Vance was a mover and shaker at Starbase Studios (only four hours drive from his home in Kansas). Since Dominion was now going to film in OKC, Gary and Randy discussed ideas with Vance about how to move forward with Dominion. Vance suggested a "transition" episode—not so much an episode 3 as an episode 2.5—where they would show Gary as the new captain trying to figure out who his first officer should be. And Gary's character would be talking it over with his old friend (you guessed it!) Lt. Cmdr. Erick Minard of the U.S.S. Valiant. And making cameo appearances, as well, were Michael L. King as Valiant's Captain Jackson Bishop and DAVID COX as Dr. Roger Floyd, who had appeared in "Legacy – Special Edition." Amusingly, only the Valiant scenes were filmed in Oklahoma. Gary filmed his scenes on a simple makeshift TOS set at his home in Ohio, and Randy shot his in front of a green screen in North Carolina, with engineering composited in behind him. The crossover fan film, CHAIN OF COMMAND, was released in November of 2016…
While filming the Valiant scenes for Chain of Command at Starbase Studios, Vance also shot a quick short called PEN PALS as a way to "tease" another upcoming fan project he would be working on called MELBOURNE: "Stormfront." Pen Pals was just a quick 70-second subspace message from Chief Engineer Erick Minard on the Valiant (with Captain Bishop sitting in the command chair in the background) to Chief Engineer Jennifer Sierra on the U.S.S. Melbourne. But because the vignette was filmed and then quickly released on YouTube in early July of 2016, Pen Pals was actually the first time EVER that fans saw Michael King's character of Jackson Bishop as a captain wearing a gold tunic!
But Vance and Michael weren't done yet! A couple of months later, it was time to film Melbourne, and Vance asked Michael to once again don the gold tunic and play Captain Bishop in another cameo. Being such an agreeable fellow, Michael acquiesced, and so the next time fans got to see the Valiant and her commanding officer, it was in early 2017 with the release of Melbourne's debut episode "Stormfront"…
I should mention that PEN PALS 2 was filmed at the same time as Melbourne and featured the subspace reply from the chief engineer of the Melbourne to Minard on the Valiant. So even though Pen Pals 2 doesn't technically show the Valiant, it still sorta counts. This 80-second vignette was released in September of 2016.
Believe it or not, there's still more Valiant that was filmed in 2016! Well, kinda. Actually, it was filmed in 2013. Oh, this is gonna be confusing! Let me back up a bit. Back in the summer of 2013, before Michael and Brady started doing any production work on "Legacy," JOHN HUGHES began working on his first STARSHIP AJAX fan film: "Barratis." Not much was ever filmed of this project, and it was never completed. But what little footage that got shot featured Vance Major and Michael King prominently…along with some other cast members.
In 2016, Vance got permission from John Hughes to use this never-before-seen footage in yet another Minard film: THE VALHALLA STONE. Vance shot a framing sequence bookending the "Barratis" footage, bringing in scenes from "The Cage"-era Trek as well as the Mirror Universe. The 15-minute, guideline-compliant fan film was released along with six others (one per day for an entire week…see the rest of them here). And you can watch The Valhalla Stone below…
So despite only filming 10 minutes of footage of the actual Starship Valiant series, 2016 still saw an awful lot of the Valiant crew in other fan projects. And as the year was heading for a close, Michael decided to try finishing up "The Ties That Bind" after all…starting in November.
But then Starbase Studios received some devastating news. For the previous 6 years, the sets had been stored, rent free, in that same building in Oklahoma City. But the owner of the property announced in November that he had sold it, and Starbase Studios could no longer operate out of the facility. They had until December 31 to dismantle the sets and move them elsewhere. There was no way to finish up "Ties" properly in that short span of time.
Michael King had been honored that Starship Valiant had been the first-ever completed fan film to shoot on the Starbase Studios sets in OKC. Now he had a new mission for the crew: to also be the LAST fan film to ever shoot on the Starbase Studios sets in OKC. With the clock ticking and time running out, could Michael and his team make one final Starship Valiant episode in OKC before those amazing sets were gone to who knows where?
He was sure gonna try!
---
Next time in the conclusion, we all have our "Crosses to Bear," and for Valiant, it was a race against the clock to finish a quality production while they still had sets to film on! Did they make it? And then, with the sets no longer in OKC, what was next for the venerated Valiant crew? We'll finish with look at their latest release, "Animals," and find out if more Valiant will follow.