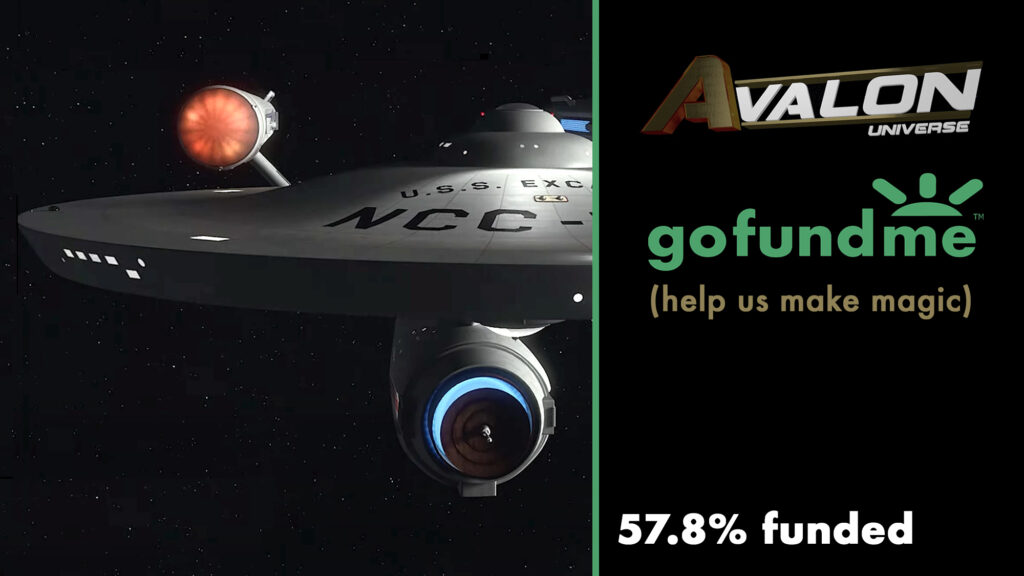 I certainly didn't see THIS coming! I mean, I was initially feeling hopeful that the AVALON UNIVERSE GoFundMe campaign would be able to reach (and maybe even surpass) the $3,000 maximum that wonder-supporter RAY MYERS was offering as a dollar-for-dollar match to any donations that came in this week between Monday and Sunday. That would double that maximum to $6,000—and more-than-double their total from where the week had started (which was just over $5,500 raised in about two and a half months).
I figured that Team Avalon (and I) would need to pull out all the stops and really talk up the dollar-match promotion as much as possible for the entire week to even have a snowball's chance of reaching that $3,000 maximum. Instead, it only took two and a half days to get there, and good as his word, Ray donated a whopping $3,000 to the campaign earlier this morning…
As I write this, the total shown on Avalon's GoFundMe page reads $11,572…about 57.8% of the way to their $20,000 goal. This is, by far, the most ambitious Star Trek fan film crowd-funder to come along in a couple of years, and it's not nearly as easy to reach into the five-figures as it used to be!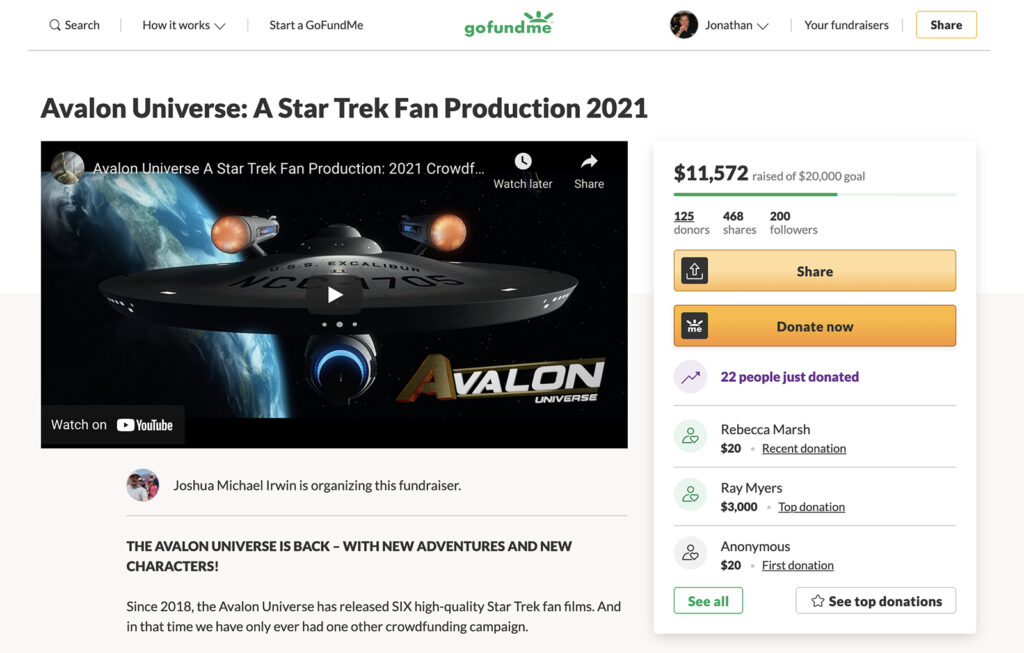 I chatted with showrunner JOSHUA IRWIN last night, wondering whether or not to publish this blog today announcing the good news. On the one hand…YAY! On the other hand, to point out that the $3,000 maximum had been reached runs the risk of potential donors thinking, "Well, if my donation isn't going to get doubled anymore, why bother?" Likewise, some folks might be confused and assume that the goal was only $3,000 and say, "Great, mission accomplished." But the overall goal for the ENTIRE campaign is still about $8,400 away.
In the end, we decided share the good news. After all, this will be my fourth Avalon Universe blog in four days, so why ruin the streak, right? And if all goes well, tomorrow will be my fifth, as I just completed an awesome video interview with Josh, actor TYLER DUNIVAN, and this angel donor Ray (who also donated more than $3,000 to my fan film INTERLUDE). Fans have seen multiple interviews with Josh and Tyler, but who is this Ray Myers guy, and why is he being SO generous? Is he just super-rich, or is his wife gonna kill him for throwing their nest-egg away on a couple of silly Star Trek fan films?
And in the meantime, remember that the Avalon GoFundMe is still VERY much alive and active—and still aiming for a $20,000 goal. So if you haven't donated yet, even though your dollars won't be doubled, this is still a wonderful group of fan filmmakers and very deserving of our support….just ask Ray Myers!
Here's the link: