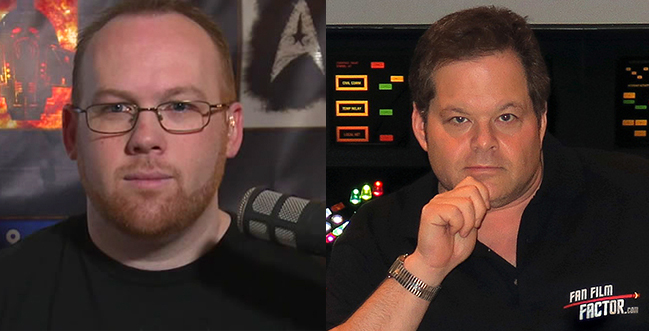 You know me. I love Star Trek fan films and I LOVE the fact that there are now SO many Star Trek fan film award competitions, including the annual BJO AWARDS, the recently-concluded DIRECTORS CHOICE AWARDS, and the brand new SHOWRUNNER AWARDS, which is currently accepting submissions of fan films released between January 2017 and December 2021. If you haven't entered yet, the deadline is May 31, and the application form can be accessed here:
https://www.cognitoforms.com/JonathanLane1/_2022StarTrekFanFilmSHOWRUNNERAWARDS
Shortly after I published my blog announcing the launch of the Showrunner Awards on April 11, a small number of detractors rushed to criticize those awards for charging a $10 entrance fee. Fair enough—to each his own. GLEN WOLFE and DAN REYNOLDS charged $10, as well (although we're charging an extra $1 per additional category like Best Music or Best Cinematographer). It's actually pretty common with independent film award shows, although ERIC L. WATTS doesn't charge anything to enter the Bjo Awards. Different strokes for different folks, right? No one's forcing anyone to enter anything.
Within less than a week, MATTHEW MILLER of the TREKZONE Podcast in Australia quickly announced the launch of his own fan film awards show that would be FREE to all fan filmmakers. Hooray…FOUR award shows! I was getting ready to cover it once Matthew announced how fan filmmakers could enter, but apparently Matthew wasn't planning to do it that way.
Setting a window of eligibility for fan films released between April 15 of last year and April 15 of this year, Matthew and his co-judge MTM (that's a pseudonym) decided all by themselves who would be entered and who wouldn;t be…and then announced the finalists this past Tuesday on YouTube.
My fan film INTERLUDE had 10 nominations, which is great, of course….huge honor. And yes, I had a great team (although two of our nominations were for "Best Space Villain"—the Klingons—and "Best Hero Ship"—the U.S.S. Ares…neither of them able to give an acceptance speech).
Surprisingly, though, some fan films that I thought would be shoo-ins were almost completely excluded. While Interlude had an impressive 10 nominations in ten categories, the AVALON UNIVERSE's COSMIC STREAM received only one nomination (TYLER DUNNIVAN for "Best Actor") and shockingly AGENT OF NEW WORLDS got zero nominations, not even for best directing or editing .
Two other highly regarded and long-running Star Trek fan series also had their latest episodes passed over with no nominations in any category: DREADNOUGHT DOMINION's "THE MORE THINGS CHANGE" and STARSHIP FARRAGUT's series final "HOMECOMING." It didn't see fair that Interlude would be hogging so many of the nomination slots, but hey, not my contest.
However, there's been something else that's really been bothering me forr the past two weeks…
While I waited until the Directors Choice Awards were completed to announce the Showrunner Awards (and we kept both far away from when the Bjo Awards happen later in the year), Matthew rushed to put his awards show together and have it reach its maximum fanfare during the same seven weeks when the Showrunner Awards were accepting submissions.
Coincidence? Possibly. After all, I have no idea how long Matthew had been planning his award show. Perhaps months?
Or perhaps not.
Tag-teaming with JUSTIN BURTON, the two of them seem to have launched a campaign to purposefully sabotage the Showrunner Awards by discouraging fan filmmakers from entering. They have been blanketing Facebook with comments like these…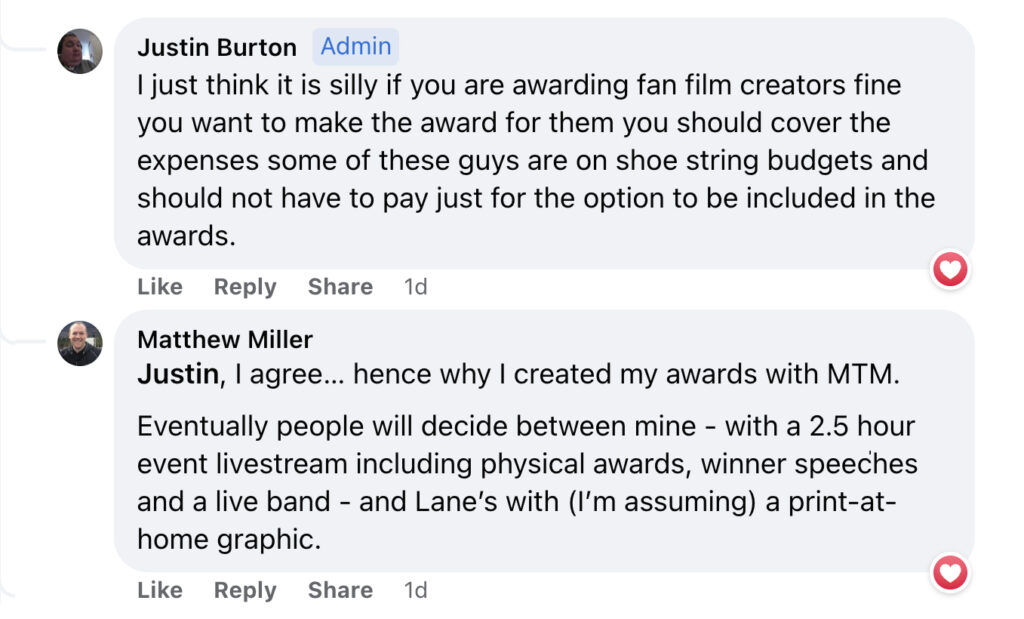 Let's face it, that's just not cricket…as they say Down Under. And if it were just one or two times saying things like that, fine—I'm happy to look the other way. But the rhetoric from both of them has been incessant and building in frequency and intensity. Even in the TrekZone video announcement that I linked to above, Matthew goes out of his way to mention twice in the introduction that his award show is FREE…like a Sit & Sleep mattress if you can beat their price.
Look, I don't want to spend an entire blog slinging mud, and I certainly don't want to diminish anyone who is a nominee in Matthew's awards show. There are many fine fan filmmakers on his and MTM's list, many of them are personal friends of mine. And I wish all of them luck.
But I cannot, in good conscience, take part in an awards show that purposefully tries to sabotage another awards show…whether it's mine, Glen and Dan's, or anyone else's in our community. It is a community, after all.
Before committing to my decision to completely withdraw Interlude from consideration in Matthew's award show, I called up my good friend and co-showrunner on the project, JOSHUA IRWIN, to discuss the matter. Josh felt strongly—and it didn't take much to convince me—that pulling the entire fan film out of the judging would needlessly hurt others who were nominated for their craft and hard work, and that totally wasn't fair to them (although the Klingons and U.S.S. Ares would probably get over it).
So instead, I informed Matthew last night that I was withdrawing just my own name from consideration in the category of "Best Executive Producer/Producer." Obviously, the rest of the nominations for Interlude will remain…down to 9 then.
---
The reason I've written this blog is because I'd rather say something on the record about my decision than say nothing and let others choose all the adjectives. I can't in good conscience support someone who, in league with Justin Burton, has chosen to purposefully try to undermine another member of the fan film community who is only trying to bring a little more fun and camaraderie to our whacky obsession…along with more visibility to some amazing Star Trek fan films.
To those remaining in Matthew's contest, I wish them all the best. And believe it or not, I wish the best for Matthew, as well—not Justin, though; he's just a bitter, spiteful bully with a toxic attitude…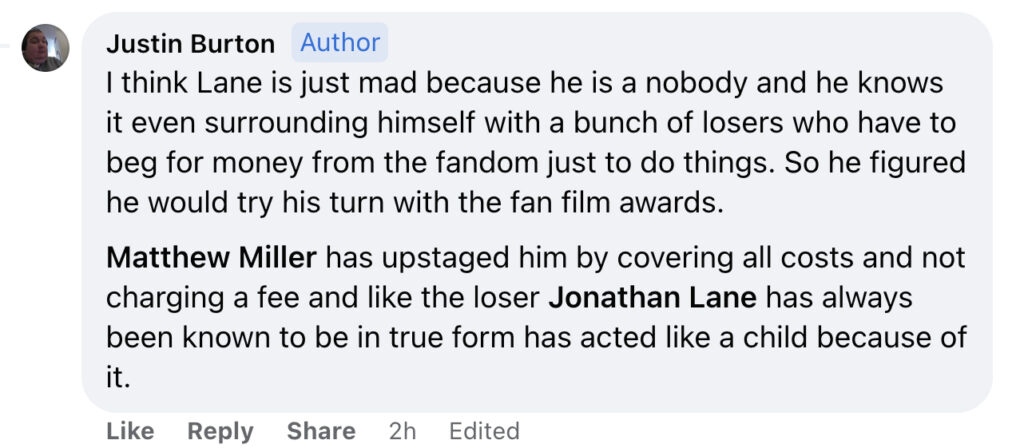 Believe it or not, Justin posts stuff like that dozens of times each day! He exists within a cocoon of endless hatred and resentment. (I think I'll start calling him "Armus.")
But it's obvious that Matthew and his anonymous partner from Perth are working very hard to make this a special event. I simply wish (so deeply!) that Matthew would choose to encourage people to participate in other fan film award competitions—regardless of what he thinks of the person running that competition—rather than trying to repeatedly undermine the efforts of those he personally does not approve of.
It's totally not cricket.