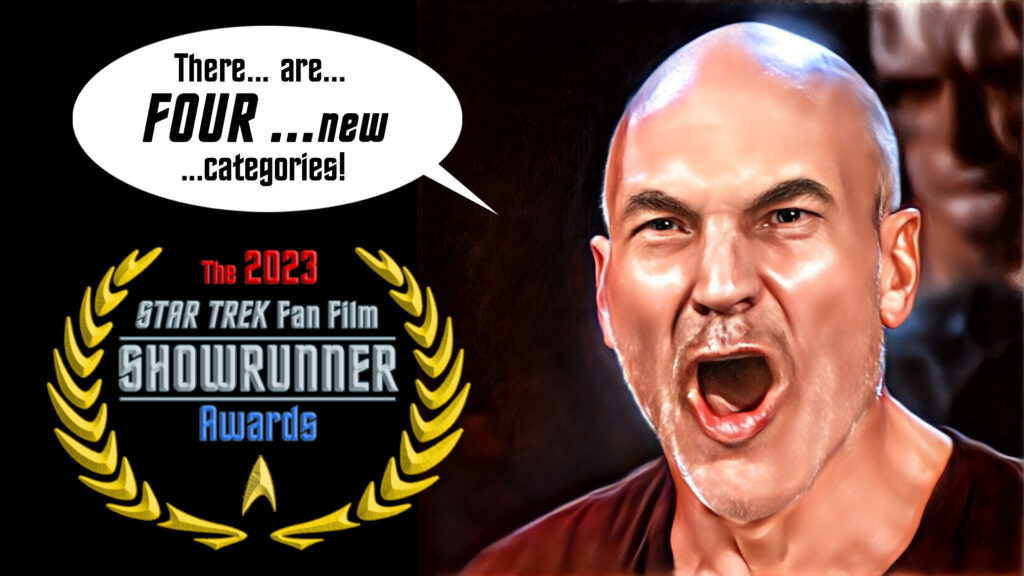 Today's blog post is brought to you be the number FOUR. There are just over four weeks left to enter fan films in the 2023 Star Trek Fan Film SHOWRUNNER AWARDS, four fan films have already been submitted, and this year, we are featuring four new categories.
But before I tell you about those new categories, just a few quick reminders…
First, here is the link to submit a Star Trek fan film for consideration in year's competition:
https://www.cognitoforms.com/JonathanLane1/_2023StarTrekFanFilmSHOWRUNNERAWARDS
Any Star Trek fan film released onto YouTube and/or social media between January 1, 2018 and December 31, 2022 is eligible for entry. There will be three tiers of winner in each category: Admiral (first place), Captain (second place), and Commander (third place).
The deadline for submission is May 31, 2023. The entry fee is $10 for consideration as Best Fan Film and then $1 additional for each category beyond that. Here are the categories that we featured last year (and will have again this year):
Best Fan Film
Best Director
Best Writer
Best Lead Actor (submitter may enter up to three actors)
Best Lead Actress (submitter may enter up to three actresses)
Best Supporting Actor (submitter may enter up to three actors)
Best Supporting Actress (submitter may enter up to three actresses)
Best Cinematography
Best Film Editing
Best Sound Design/Mixing
Best Visual Effects (CGI)
Best Special Effects (non-CGI)
Best Musical Score
Best Costuming
Best Hair & Makeup
Best Original Character
Best Scene (up to 2 minutes)
Best Micro-Budget Fan Film (total production cost $1,000 or less, not including set construction)
---
Going into this year's launch, I reached out to our twelve showrunner judges (including myself) for ideas of new categories we might want to introduce based on feedback from last year. In some cases, fan filmmakers themselves had suggestions. For example, Australian writer/director/producer AARAON VANDERKLEY suggested a category for Best Original Set Design (something he and his team work very hard building), and the judges really liked that idea.
Of course, for a category like that, we needed to figure out some guidelines. For example, what should we do about sets like the TOS ones at NEUTRAL ZONE STUDIOS? Not only would fan films that were shot on those particular sets be tough to beat, but multiple fan films shoot on those same sets…meaning it would be difficult to choose between two or more entries that were filmed there.
In the end, after some discussion, we decided to include on the submission form "for sets constructed for this specific fan film and/​or the fan series it is a part of." Since Neutral Zone's sets were constructed for STAR TREK CONTINUES, which is no longer eligible to enter (their last episode debuted on YouTube in late 2017), nothing else shot there would be eligible.
On the other hand, while THE FEDERATION FILES films on existing TOS sets at WARP 66 Studios in Arkansas, those sets were, in fact, built for that fan series. However, a fan series like THE AVALON UNIVERSE (which also shoots at WARP 66) would NOT be eligible in that category because they only "borrow" the use of those sets.
It sounds confusing, but entrants are always welcome to contact me with questions or request clarifications. Also, if I see an entry which might not be eligible in a specific category, I will always reach out to the submitter and offer to refund that portion of their entry fee.
The other three new categories, by the way, are much more straightforward (well, at least two of them are)…
Best Props – Often, lots of work goes into building props for certain fan films, so we've added this category.
Funniest Fan Film – Although most fan films are generally written to be serious—perhaps with the occasional humorous line(s) thrown in—a few are obvious parodies and/or comedies. And so this year we are offering them their own place of honor.
Most Clever Easter Egg – This is probably our most off-beat (beat…egg…get it?) new category. Suggested by one of our judges, the category acknowledges that fans love a good hidden easter egg in their sci-fi, and the more cleverly hidden, the better! Of course, if said easter egg is TOO cleverly hidden, the judges might not even know it's there! And so, for that reason, if a submitter wants to include their fan film in this category, they must provide "…the time code on your video where the easter egg appears and BRIEFLY explain its significance" when they fill out the submission form. Only one easter egg is allowed per fan film (mainly because of the limitations of the entry form), and we'll see how this category goes as submissions come in.
But that's the thing about a small awards show like this: the categories are flexible. While we've kept all categories from last year, we might get rid of one or two next year…or add some more…or not. The main goal is to make this competition fun, interesting, and engaging for everyone.
And with that, once final reminder link to the entry form…
https://www.cognitoforms.com/JonathanLane1/_2023StarTrekFanFilmSHOWRUNNERAWARDS