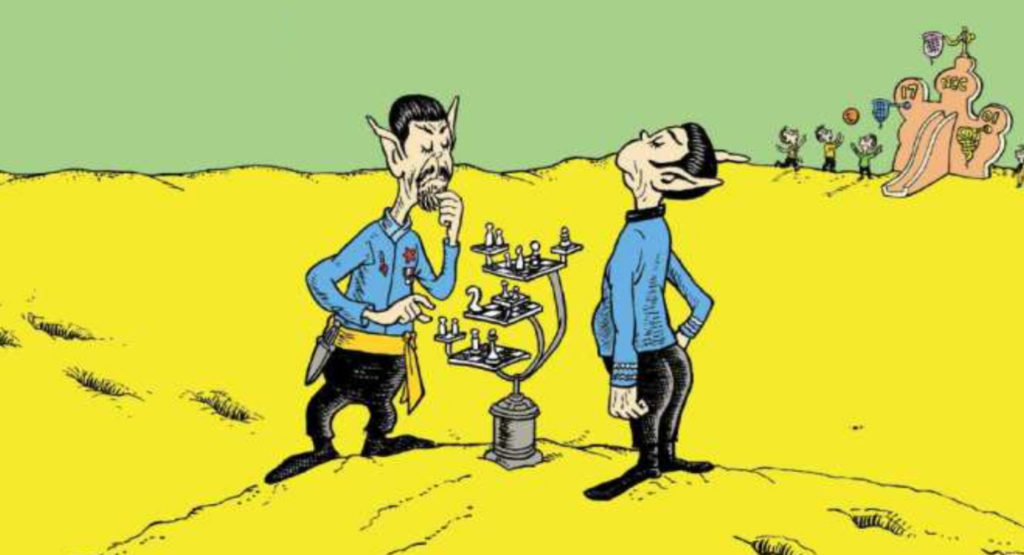 Just when you thought it was time to vamoose
From all of this talk of the law of Fair Use
Regarding the mash-up of Star Trek and Seuss
Here comes the sequel, we'll call it "Part Deuce!"
And with that, I shall stop rhyming…although I can't say the same for GLENN HAUMAN of ComicMix, the folks who, this past March, won a copyright infringement lawsuit filed against them by Dr. Seuss Enterprises (DSE). You can read more about the judge's final ruling here.
The case involved an illustrated "mash-up" of Star Trek and Dr. Seuss titled Oh, The Places You'll Boldly Go! This proposed book was written by "The Trouble with Tribbles" author DAVID GERROLD and illustrated by award-winning comic book artist TY TEMPLETON…with ComicMix doing the publishing. Back in late 2016, they held a Kickstarter that raised $30,000 but were quickly shut down by DSE, who later sued. The nearly two-year legal battle was a back-and-forth rollercoaster ride, with the lawsuit eventually being dismissed after the judge ruled Boldly to be Fair Use.
As I pointed out at the end of that previous blog, DSE always had the option to appeal the decision to the Ninth Circuit…something they did just two weeks after I published that blog, on the same day the district court entered Hon. Judge JANIS SAMMARTINO's ruling officially into the record. The Plaintiff's notice of appeal also asked for, and was granted, an extension of a few months in order to file their opening appellate brief…all 81 pages of it! (No, you don't have to read it…although it is pretty interesting and very well-presented.)
DSE also submitted four amicus briefs, which are opinions submitted to the court by non-litigants who, even though they aren't part of the lawsuit, still have a vested interest in the outcome of the case. In this instance, DSE got help from two professors from the Berkeley School of Law, three members of The Copyright Alliance, the Motion Picture Association of America, and The Sesame Workshop (yep, Big Bird is buddies with The Cat in the Hat!). That's another 140 pages to add to your summer reading list. They mostly say the same thing…essentially that the judge got it wrong and here's why they think so (and why the law backs up their belief).
It's a little early in the process for me to start making predictions. After all, this is only the initial brief (which is anything but brief!), and ComicMix hasn't had its chance to respond yet. I will try to summarize what arguments are being made in the appeal, however. But before I do, since we now have the opening brief from DSE, I reached out to Glenn Hauman for an initial statement from ComicMix.
As he's done previously, Glenn responded poetically (with some pretty decent rhymes—including one in Latin!)…
Continue reading

"Dr. Seuss has appealed – they now want a do-over…so we're at it again, get set for round two-over!"