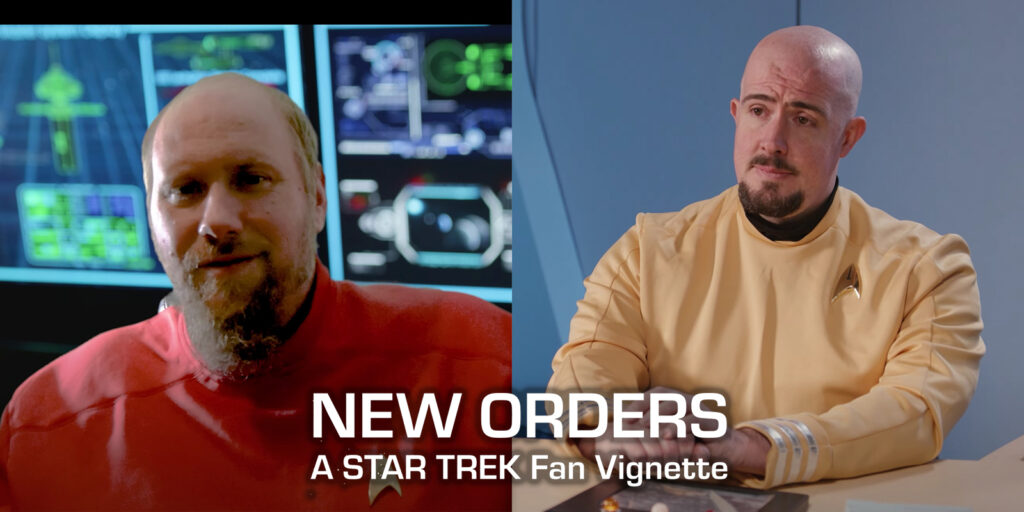 There's a lot of love and camaraderie in the fan film community. That's one of the reasons that I enjoy creating and maintaining this blog. Oh, sure, there's also some trolls and drama and silly "feuds," but honestly, I don't really pay much attention to all of that anymore because it's pretty meaningless.
What is meaningful—with the emphasis on the FULL part—is all the positivity that Star Trek fan films bring…because when it comes right down to it, we're FANS. It's what got me involved in the world of Star Trek to begin with, knowing there was this group of people who loved something that I loved, too, that we could share and bond over…no matter our backgrounds or location or anything else that might separate us. Star Trek brought us TOGETHER!
And that's why I cheered when I saw this new vignette from the AVALON UNIVERSE…
NEW ORDERS might not seem like much. There's minimal VFX, and only two characters are talking to each other via subspace for most of it, with a third popping up at the very end. But for me, it was so much more—it was a chance for me to watch two dear friends come together to make a fan film.
JOSHUA IRWIN and VANCE MAJOR have worked together before this. Josh (as well as his Avalon Universe collaborator VICTORIA FOX) has appeared in some of Vance's CONSTAR productions, like "SHAKEDOWN." And Vance made a very brief cameo in the Avalon Universe episode DEMONS. But this time felt different. New Orders wasn't simply one of them appearing briefly in the other's film. It was two fan filmmakers who have become "legends" in our small-but-close-knit community, coming together as equals, and teasing the arrival of an awesome fan-favorite character into a fresh, new universe.
The fun thing about the Avalon Universe is that it's Star Trek–ish but without five decades of canon weighing it down…kinda like what Star Trek: Discovery coulda/shoulda been had they just told us from the beginning that it was a parallel Trek universe (then most of us would have forgiven the different-looking Klingons and shiny uniforms and super-advanced tech). So characters from "standard" Star Trek fan films can pop up in the Avalon Universe in completely new ways. In fact, Captain Jakande, who died in my AXANAR Universe fan film INTERLUDE, will be making an appearance in an upcoming Avalon fan film, alive and healthy and played by actor WARREN HAWK.
As most of you probably know, Josh and Victoria were my directors on Interlude, and I consider both to be good friends. We often spend hours on the phone. The same is true for Vance, for whom a "short" call between the two of us is defined as anything under an hour!
So when I saw Josh and Vance having their own subspace "call" in New Orders, I decided to ask them both to say a few words about this new project…
Continue reading

"MINARD joins the AVALON UNIVERSE in "NEW ORDERS" (interview with VANCE MAJOR and JOSH IRWIN)"