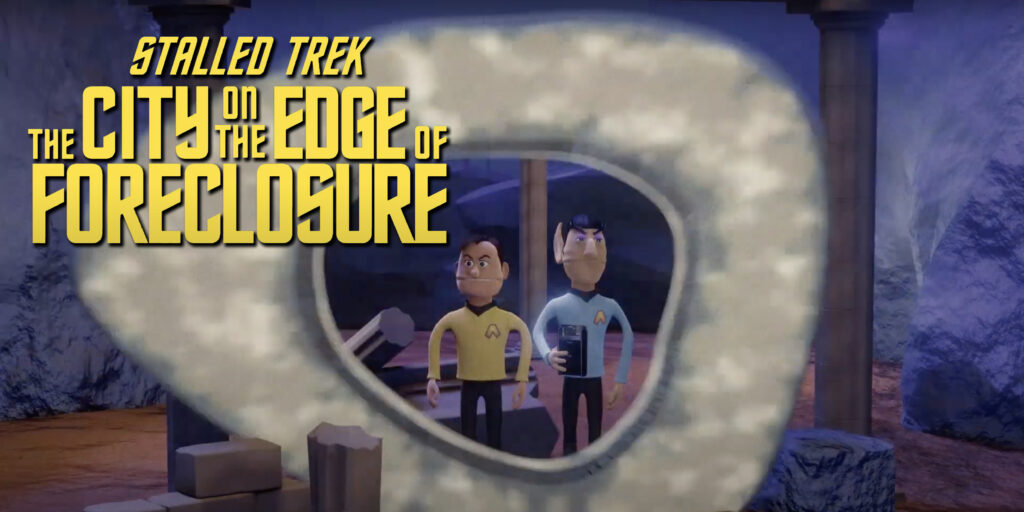 Come for the trailer, stay for the crowd-funder!
When it comes to Star Trek puppet parodies, MARK LARGENT is a veritable genius. His first release from 2012, STALLED TREK: AMUTT TIME was a hysterical send-up of the TOS fan-favorite episode "Amok Time." If you haven't seen if yet, do yourself a solid and click that link I just provided and watch it. You won't be sorry.
Four years later in the middle of the AXANAR infringement lawsuit, Mark and I teamed up to write and produce PRELUDE TO AX'D-WE-ARE, an uproarious puppet parody of both PRELUDE TO AXANAR as well as of the lawsuit from CBS and Paramount. And most recently, while trying to test out a new 3D rendering application for his next puppet parody, Mark released yet another hilarious vignette titled ALL AHEAD FULL.
The last of the bunch was intended to help guide Mark learning a new 3D application as he worked on his latest Stalled Trek creation, a parody of the beloved TOS episode "The City on the Edge of Forever" to be titled THE CITY ON THE EDGE OF FORECLOSURE. Mark held a crowd-funding campaign for the project back in 2018, and now he's asking for a wee bit more. And this new Indiegogo is offering a very unique perk: a full-color, flip-cover COMIC BOOK (just like they used to sell in the 1970s for Star Trek) at the $25 level…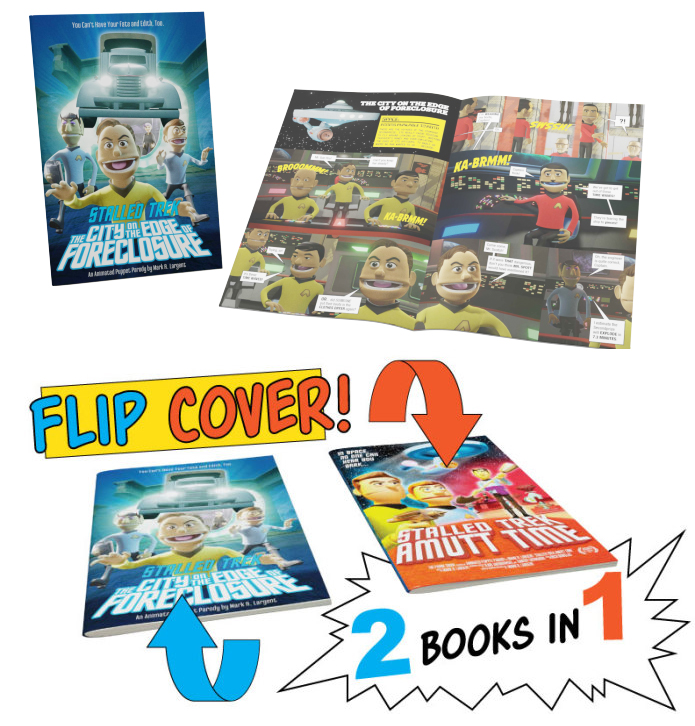 This is in addition to a Blu-ray at the $50 level and a limited number of "Super Backer" perks at $100 containing the comic book, Blu-ray plus three Stalled Trek trading cards. (I grabbed one of those!) There are also stretch goal posters if Mark raises $2500, $5000, and $7500 (he just passed the first stretch goal). And if he reaches $10K, he'll add a third story to the comic: "Balance of Terrier"!
Now, before anyone says anything about the fan film guidelines not allowing for crowd-funders to offer unlicensed physical perks, remember that this is an obvious parody. And while most fan films can't be considered parodies, ones that are parodies are protected under the Fair Use doctrine. So the guidelines don't really apply here.
The reason for the new Indiegogo campaign is that Mark managed to find an actual Hollywood composer to do the music: MAX McGUIRE. Along with composing music for a wide variety of projects including shows airing on FOX, ABC, NBC, E!, CBS and TBS and the hit Syfy/Netflix series 12 Monkeys, Max also wrote the score for RENEGADES: THE REQUIEM. So this campaign is raising money for professional sound quality to go with the professional music. The more money that gets raised, the better the sound will be.
Right now, Mark has taken in $2,525 with 46 days to go. If you'd like to donate (or know someone who might like to donate), here is the link…
https://www.indiegogo.com/projects/stalled-trek-the-city-on-the-edge-of-foreclosure
And here is the first full trailer for Stalled Trek: The City on the Edge of Foreclosure (it looks AWESOME)…