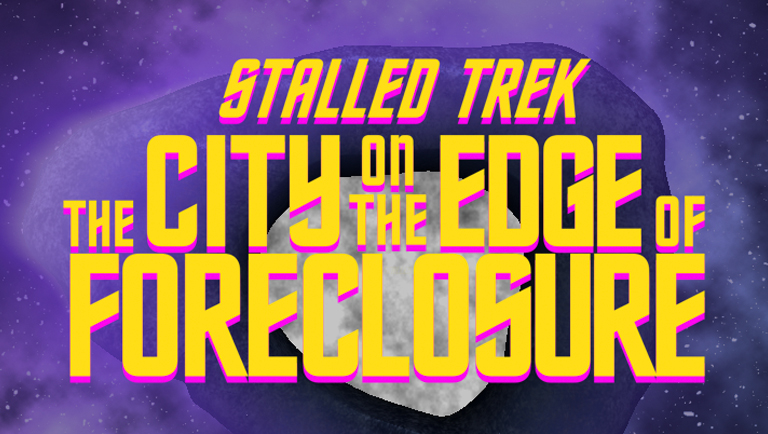 By far, one of the funniest and most beloved of the fan-produced Star Trek parodies is STALLED TREK, the hilarious CGI-rendered puppet characters from the comedically brilliant mind of MARK LARGENT.
Mark's first Stalled Trek fan film "Amutt Time" was released in 2012 and followed the adventures of the crew of the USS Second Prize when its first officer, Mr Spott, began going through heat and needed to return to his home planet of Vulcanine to mate. It's a MUST-SEE fan film.
After doing this blog interview with Mark back in 2016, we collaborated on a parody of Prelude to Axanar, which was really a parody of the Axanar lawsuit. Called Prelude to Ax'd-We-Are, it featured the same puppet-style of characters and was just as funny as Mark's first offering.
Then, last summer, Mark announced a new Stalled Trek: "The City of the Edge of Foreclosure." This time, he would be returning to a parody of the TOS characters, and he successfully funded a Kickstarter with $4,181 (over an initial $600 goal) from 114 donors.
It was time to start animating! Well, kinda. As Mark informed donors along the way, animation was a slow, tedious process, as he was rendering on a single Macintosh computer, using a 3D application called Animation:Master. Although it's a great, affordable all-in-one app (according to Mark)—and he'd been using it reliably for the last 12 years—a single frame could take 3-5 minutes to complete.
With 30-frames-per-second being the accepted norm, each second of Mark's fan film could easily take 2 hours to render…or more ominously, each minute could take 120 hours of non-stop computer render time! And of course, a single glitch in the rendering of any scene would require starting all over from zero.
This was why Mark told me that "The City on the Edge of Foreclosure" might be his last Stalled Trek. But to make matters worse, a few weeks ago, the makers of Animation:Master announced that their application would no longer be supporting the Macintosh platform…and Mark didn't have the funds to buy a new PC with the power necessary to render frames of animation at any speed where he could realistically finish in months, possibly even years!
Was this the end of the road for Stalled Trek???
Continue reading

"Bad news turns into good news for STALLED TREK!"