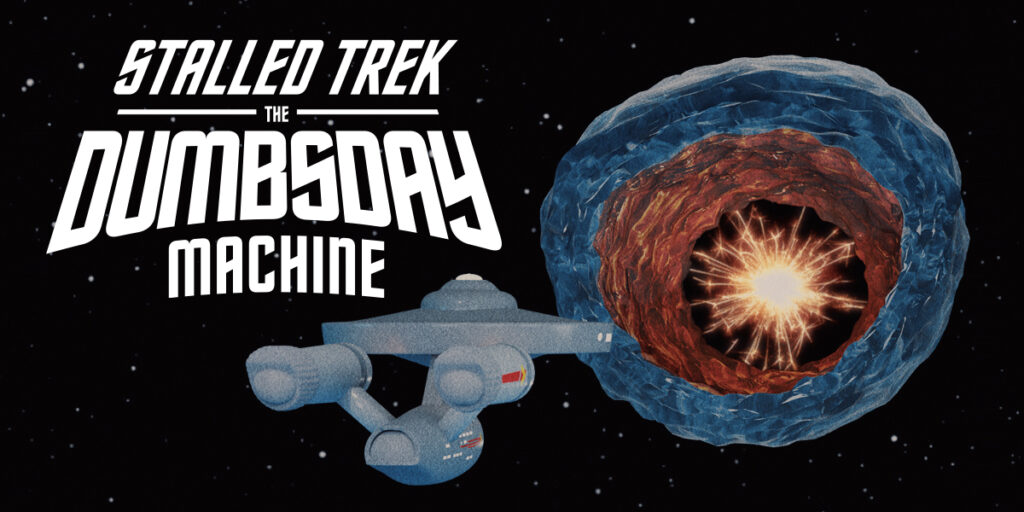 Back in 2012, one of the earliest Kickstarters for a Star Trek fan film set a goal of $600 and raised $2,200 from over a 100 backers. The result, a hilarious animated puppet parody of the TOS episode "Amok Time," premiered later that same year. Showrunner and animator MARK LARGENT originally intended that STALLED TREK: "AMUTT TIME" would be a one-off fan production…especially considering all of the work and computer rendering hours required to complete it.
But Mark's CGI puppets weren't quite finished yet!
In 2016, during the early days of the AXANAR lawsuit, I was interviewing Mark about "Amutt Time," we got to talking, and we ended up co-writing and co-producing a hysterical puppet parody called PRELUDE TO AX'D-WE-ARE. Although it didn't feature any of the zany Kirk/Spock/McCoy/etc. characters, it was still branded as Stalled Trek.
Two years later in 2018, Mark decided that it was time to go back to the TOS roots of Stalled Trek and parody a second classic episode. STALLED TREK: "THE CITY ON THE EDGE OF FORECLOSURE" launched a Kickstarter with a humble goal of just $600 and blew past it in just 8 hours! By the time that campaign ended, Mark had generated $4,181 from 114 backers. But shortly thereafter, Mark discovered that the 3D application he'd been using to animate Stalled Trek would no longer be supporting or updating the application on the Macintosh platform, and Mark didn't have the money to switch to a Windows PC. Instead, he switched programs and started from scratch with Blender 3D.
The following year, as a proof of concept, Mark released the short vignette, ALL AHEAD FULL, in June of 2019, which was—as usual—brilliantly funny. And in the meantime, work continued on "City…"
Close to the finish line, Mark held an additional Indiegogo campaign at the end of 2020/beginning of 2021 that raised another $3,785 from 54 backers for "City…" offering DVDs/Blu-rays plus a high-quality 48-page "flip" comic styled after the old Star Trek "fotonovels" from the 1970s—one side adapting "Amutt Time" and the upside down side adapting City…"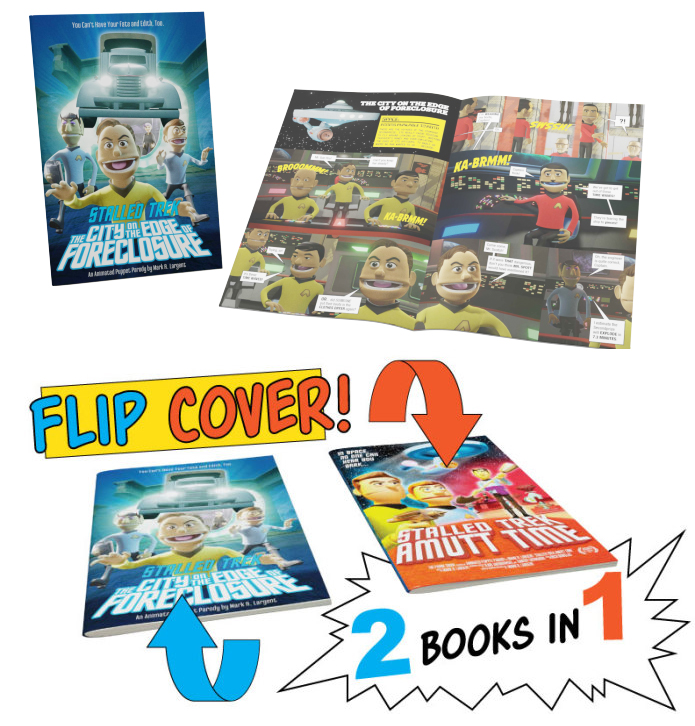 And before anyone starts yelling about selling unlicensed Star Trek merchandise, Stalled Trek is unquestionably a PARODY and is—unlike most non-parody fan films—directly protected under the Fair Use doctrine.
"City…" was finally completed and mailed to donors on a blu-ray in June 2021. Since then, this humble fan film has gone on to win a ton of awards…
Indie Short Fest
IndieX Film Fest
Azure Lorica Fan Film Awards
LA Sci-Fi & Horror Festival (2 awards)
New York International Film Awards
Grand Rapids Comic-Con Film Festival
MonsterFlix Awards
Oniros Film Awards
Cult Movies International Film Festival
Independent Shorts Awards
RED Movie Awards
Berlin Sci-Fi Filmfest
Plus it was a finalist in The Galactic Imaginarium Film Festival and the Beyond the Curve International Film Festival.
So where can you see this marvel on YouTube? At present, you can't. But Mark is once again making "City…" available on DVD along with "Amutt Time" and a BRAND NEW puppet parody, STALLED TREK: "THE DUMBSDAY MACHINE." Here's a trailer for it…
Continue reading

"STALLED TREK is crowd-funding its third TOS puppet parody: "THE DUMBSDAY MACHINE"! (interview with MARK LARGENT)"