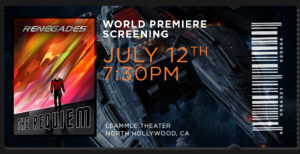 Back in August of 2015, STAR TREK: RENEGADES held a red-carpet premiere screening of its 90-minute feature film at the Crest Theater in Westwood in Los Angeles.  It was a star-studded event with Star Trek celebrities galore, paparazzi, perks for sale, and even free popcorn (although tickets were a $20 donation for the fan film's production costs).
Now on July 12th, 2017, RENEGADES: THE SERIES (now minus the "Star Trek") will premiere in its entirety for the first time the full debut episode of its fan series: "The Requiem."  (Part 1 debuted online back in February, but only for donors.  Two months later, Part 1 was made available for free to everyone.)
The big premiere will take place at 7:30 at the Leammle Theater (5240 Lankershim Blvd) in North Hollywood, CA.  Many of the cast and crew will be there, including Walter Koenig, Nichelle Nichols, Tim Russ, Robert Beltran, Manu Intiraymi, Gary Graham, and Justin McQueede.  After the screening of the full episode (Parts 1 & 2), there will be a question and answer session with the stars the creators.
Tickets are only $20 each and can be purchased here.
Although they set out to raise an additional $80K for their final post production efforts in a recent crowd-funding campaign (here's a link to that), they only got as far as $30K.  So to help raise additional money, for a little extra, fans attending the event can get special VIP seating with the stars along with appearing in autographed photos with certain cast members.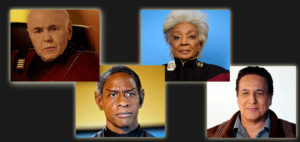 Here's a breakdown on prices for each photo option:
$75 – Photo with WALTER KOENIG (autographed)
$150 – Photo with WALTER KOENIG and NICHELLE NICHOLS (autographed by both)
$250 – Photo with WALTER KOENIG, NICHELLE NICHOLS, TIM RUSS, and ROBERT BELTRAN (autographed by all four)
All photos will be autographed at the event and ready for fans to take home.
You can learn more about this web series on their website.  And here is an exciting trailer for Part 2 of "The Requiem"…