Mash-up mess-up!  Seuss sues!  Tricky Trekkies find fans to fund!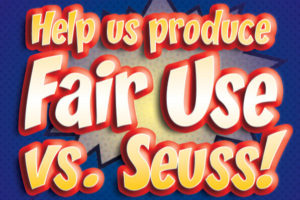 …or at least that's the short form of the story so far.  As I've covered in a series of blogs over the past year, copyright and trademark precedent is being made right under our very noses, and Star Trek is right smack dab in the middle of it!  But this time, it's not a fan film in the thick of things but an unpublished attempt to mash-up Star Trek and Dr. Seuss into a fun (but allegedly not entirely allowable) illustrated book intended to be titled Oh, The Places You'll Boldly Go!
Written by Star Trek's own DAVID GERROLD (creator of the tribbles) and illustrated by TY TEMPLETON (Eisner award-winning mainstream comic book artist), this project was going to be crowd-funded through Kickstarter and managed to raise $30,000 in September of 2016.  But Dr. Seuss Enterprises (DSE) asserted their intellectual property rights, and Kickstarter elected to shut down the campaign.  On November 10, DSE sued Gerrold, Templeton, and ComicMix (the company running the campaign) for both copyright and trademark infringement.
It's now nearly two years later, and this case is nowhere near done.  In fact, the trial isn't scheduled to begin until next spring, and the lawyers on both sides have been VERY busy (more on that tomorrow)!  But in the meantime, the legal bills are piling up.  This isn't as much of a problem for DSE, which makes money every time someone buys Green Eggs and Ham or The Lorax, not to mention royalties on all the movie remakes of classic Seuss stories.  ComicMix, on the other hand, is a much smaller company…and apparently, their cash bucket isn't nearly as deep.  And unfortunately, unlike a certain fan production we all remember, ComicMix didn't find attorneys willing to work for free.
And so ComicMix has launched a GoFundMe campaign with a $25,000 goal.  So far, they've managed to get about 9% of the way there.
"Why is this worth donating to?" you ask.  I'll tell you…